You might ask, what's the big deal with a lot of people around the globe over a piece of clothing? Well, let us enlighten you. People kilt up for a number of reasons: to try something new, as a display of masculinity and manliness, as a fashion statement, and other reasons.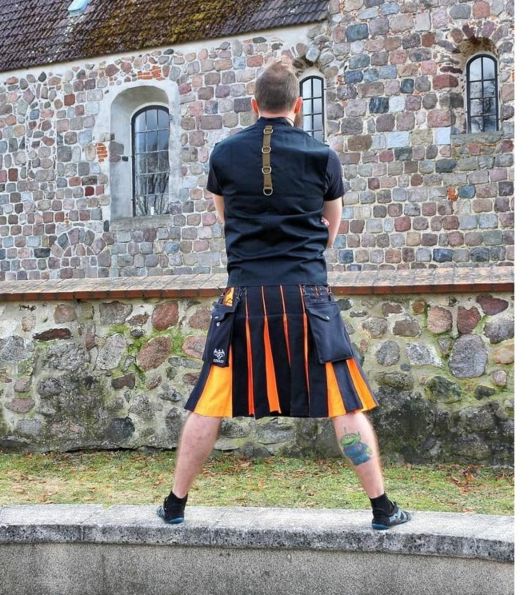 But for many kilt wearers worldwide, Australians included, the garment has popped up a number of times in men's fashion in various forms. We've seen it in shows, a few runway collections and fashion campaigns. To say it has been booming is putting it mildly.
The kilt has been reborn thanks to a combination of people's increasing approach to no label or gender approach to style, alleviated by a bold post-pandemic style of dressing. With respect to its Gaelic origins, modern interpretations of the traditional kilt are bold and demand attention in a way no pair of pants ever could. How awesome is that?
When it comes to wearing a kilt and going mainstream, perhaps no one can dispute Harry Styles' contribution to the canon. Styles was the first celebrity to appear solo on the cover of US Vogue in the mag that featured not one, but two kilted looks.
Kilted Up, Suited, and in Boots.
All this talk of kilts is great, but what if you'd need to attend an occasion in formal wear? Can you attend the event in a kilt with a dress shirt and tailored suit jacket to, say, a friend's wedding?
To which we say: yes! Trust us, you'll be in the spotlight, dead centre in your formal suit jacket, your kilt, and your boots. And who can blame them? It has already gained the status and foothold that charms both wearers and onlookers.
Want to go but not be too 'flashy'? Not a problem. Choose one in black with a tux, and it is more than enough to be subdued and different, but still enough to steal the show.  
Time to Kilt Up and join the Kilted Clan.
With the Australian summer already in full swing, and with the summer festival season underway left and right, it's the perfect time to kilt up. As far as modern utility kilts are concerned, there are no fashion rules or boundaries that may discourage you to bond with like-minded kilt wearers to congregate and have some good 'ol Aussie fun.
Seeing men wearing utility kilts the world over may not be all too common yet, but the good news is, there's no longer a need for them to justify why they are wearing it. This can be attributed largely to visionary designers such as Goddard and the late Virgil Abloh who reimagined the historic garment into modernity.
International celebrities wear them on the red carpet, Harry Styles got featured on US Vogue in a kilt. A rapper named Lord Ramar even wrote a whole song about the kilt. To say the kilt is now everywhere, is an understatement.
For us at Ozkilts, wearing a utility kilt is more than just a fashion statement. We come together because we are all awesome and bound by our love for wearing kilts. And the kilt wearing community is growing.
What makes the kilted community awesome is that it strengthens our social connection with like-minded kilted individuals. Kilts are for everyone, and all you need to do is love them, embrace the lifestyle, and connect with us through Facebook and Instagram. That's all there is to it.
The Kilted Clan Community is Awesome.
Wanting to belong in a group or community is natural for every individual. Wearing this fabulous garment helps boost our self-confidence, that works wonders for one's mental health.
Adding to our awesomeness as a community, is that we proudly support the Prostate Cancer Foundation of Australia and the Movember movement that's focused on changing the face of men's health.
Further, if you choose Ozkilts, you'll be supporting a fully owned Australian business. Doing so will not only keep dollars from seeping out of the country, but you also contribute to the increase of production and quality of our products.
Furthermore, just think, you'll look and feel awesome, and at the same time be a part in helping other men overcome their health issues. We believe, knowing that fact alone, is enough for you to wear your kilt every day. Not only will you look good, you will be doing good, which will make you feel good.
Be in the thick of things in the Kilted World.
It's only natural for new wearers to feel awkward the first time they get to wear their fabulous outfit. At Ozkilts, we can show you how to wear one properly.
This fabulous wardrobe staple is an investment, as long time kilt wearers, the team at Ozkilts can teach you on how to best maintain your kilts longevity and pristine look. Want to spruce things up to give your kilt a personal touch? We can help you on how best to accessorise your kilt.
If you enjoy getting discounts, plus getting regular tips and tricks, for getting the right fit and improving your look, simply sign up FREE by clicking here.
You're Built to Kilt
We've never heard of anything bad happening to someone due to kilt-wearing, because wearing one is awesome! Everyone always wants to feel and look good in the clothes they wear, and you're invited to join us.
What we love about utility kilts it is that they are so versatile that you can wear them with a wide range of outfits you might already have in your closet. This means you can easily wear it regardless of the weather and activity you had in mind. 
If you're looking to dip your toes into the world of modern utility kilts, sign up and be part of the kilted clan, and get a 10 percent discount on your first purchase. Let Ozkilts Utility Kilts be part of your journey in choosing the kilt to best represent your personality and style.