What better way to attend a formal event or occasion, wearing a kilt. You may not be Scottish, but there are couples having theme weddings or special events or occasions where wearing a kilt is not only for whimsy but constitutes formality.
The utility kilt is a cool, modern and more comfortable alternative to wearing trousers with conventional structure yet with stylish contemporary features. The iconic symbol of Scottish culture for centuries, now in its utility style, has become a global fashion statement for tough men.
The question you might ask is, "can I wear a kilt to a black tie event?" The straightforward answer is, yes. It is now possible to wear a kilt all year round for any occasion and without looking out of place.  It is a much bolder choice, but totally worth it, most especially if you get it right.
Semi-Formal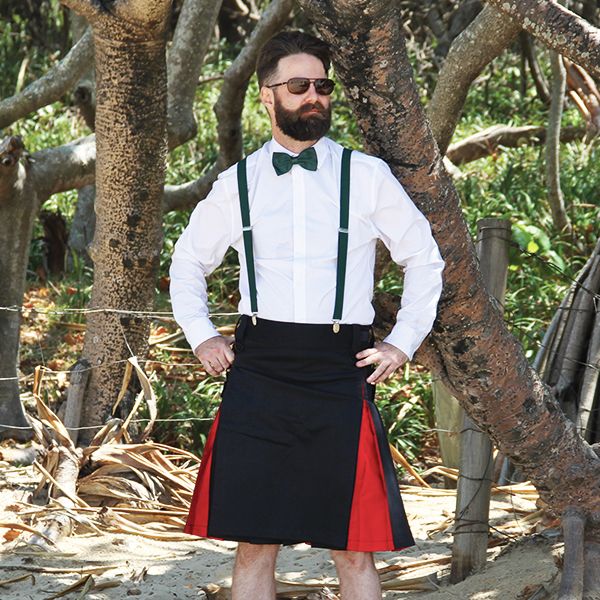 The individuality, elegance, and ease of new and high quality kilts are gaining in popularity. 
In formal events, and even for informal occasions, or even for stylish use, the modern utility kilt can be worn to add style and elegance.
Owing to their versatility and freedom of use, it is convenient to wear them over any dress. They are perfect for who like to look modern yet chic. It may be interesting for you to know that the utility kilt is no more a symbol of any culture, but undergoing a sort of renaissance.
A Semi-Formal attire can be quite tricky. If we have to grade it, it's a level below the black tie and a level above cocktail attire. A semi-formal attire can be classic yet provide a contemporary look.
Kilt as Formal Attire
Much like choosing a suit or a tuxedo, there are factors that you need to go into choosing the kilt to wear, the accessories needed (or not), and the overall look of the ensemble for the occasion.
The prime question you need to answer before determining anything about the kilt you are going to wear is "how formal is the event that you are going to attend to?"
Going for a more formal look, going for a dress shirt with a classic tailored suit jacket, and a tie fits the bill nicely. For daytime formal events, a light, or beige suit with your kilt would look smashing, while going for a darker coloured top jacket would be more than appropriate. 
The kilt has become a striking fashion statement for the tough modern man who wants to stand out of the crowd. One thing to remember is, that if all things fail, going for the classic look is a no-brainer.
The kilt's versatility makes it easy to match the colour of your utility kilt with any of your suit jackets. As for footwear, plain brogues are a great option, but you can definitely substitute them for a more casual footwear if you so wish.
The only thing optional in formal kilt wear is wearing a waistcoat. But, if you decide to wear one, make sure you wear a belt with it, also add a bow tie or a tie to the list. Just try to avoid kilts with secondary colours to make matching them with your wardrobe much easier.
Also, avoid wearing utility kilts with bold colours or unconventional patterns in formal events. Wearing a kilt is a loud enough statement. You may want to be noticed, but you may also not want to be the only source of attention.
If you want to go with a uniquely clean yet bold modern look, a black modern kilt with your tux will certainly steal the show.
Your Style, Your Rules
We are here to join you in your journey in your choice of kilt that matches your needs and personality. We have a wide variety of kilt selections available here at Ozkilts® that suits your style preference. Whatever your need might be, we have that specially made kilt for you.
We at Ozkilts® will not mince words when we say that we are proud to be the only Australian kilt company with a utility kilt range that are designed by professional designers. We are confident in the quality of our products, and we also ship your orders for free.
Final Note
Wearing a kilt is most certainly different and fun, and it sure will make any formal event you attend to will make people remember. More and more people today invest in purchasing kilts, even if they get to wear them too many times.
At Ozkilts® we offer kilts that you can wear both in informal and formal occasions, or even every day, from our wide range of selections including our Deluxe Utility Kilts. The options are you choose are completely up to you. What we go for is that you have an enjoyable experience being part of the kilted clan and create memories that you will cherish for a lifetime.
Utility kilts are so versatile, that much is true. One thing for certain as well is that there is no such thing as one kilt to rule them all. Each kilt out there may be more specialised than others, but all of them provide comfortability and breathability, that makes utility kilts simply awesome. 
Wearing a modern utility kilt from Ozkilts does not require for you to be Scottish or of Scottish descent, all that's required is that you be confidently man enough, and proud to wear one.