Everyone deserves to wear a great fitting kilt! However, just because you can wear it any time, doesn't mean that it is suitable for any event. Somehow, every occasion distinct is from one another. For example, at weddings, St. Patrick's Day Kilt is the best, while at parties, a kilt with metal bling can be great.  
Kilts are not like ordinary skirts and trousers, wherein you could just hit that "that-will-do" look. Here are our tips and tricks to getting a great fitting kilt (by following our very easy-to-use guide) that you will want to bear in mind to look best you are included in one of the valuable cultural heritage of Scotland!  
First Tip: Buy from Quality Manufacturers 
and 
Sellers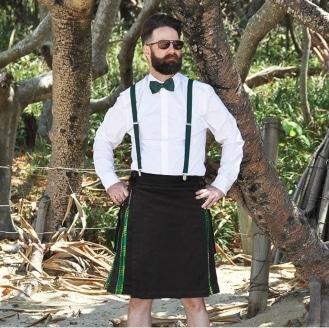 Based on your body shape and figure, regularly make sure to purchase your kilts from a legit kilt artist, designer, or manufacturer who will provide you the most desirable fit for your kilts. In the same manner, if you will be ordering your kilts online, take note, and follow the measuring guidelines provided, such as the size of the waist, hips, and length.
If you are not pretty sure of your exact measurements, there is a saying that goes, "measure twice and cut once." It means you should double–check your measurements, so you better retake them. Once you're certain of your measurements, preferably write it down for you to remember, your size measurements before doing your first kilt purchase. 
Second Tip: Try and Fit Them
After knowing your measurements, you can go on and try them on! Unlike the usual size of your pants or jeans, fitting with kilts may be a little different.
The acceptable sizing must get you pretty close to your perfect fit. Upon checking, see if there's a need for alteration. While fitting, it's also the best time to try on a shirt you think pairs well with it, along with the accessories to give you the full look. 
Wear your kilt not lower than your waist and too high over your abdomen, like your old denim trousers. It is good to note that the top of your kilt should just right at the navel. On the other hand, the length of your kilt should be in the middle of the knee, not higher nor lower.
Assure that your kilt is fastened comfortably tight on your waist. However, you may not want to tighten it too much for the reason that it may cause lines around your waistline, which may irritate the skin over time. 
For our women fans, we didn't forget about you! Our advice in trying and fitting kilts is simple – make sure to have the buckles on your left (this is what usually the standard is, but do what your heart desires!)  
Third Tip: Get Comfy
With
 It
If you are a newbie in the kilt world, it may take a few times to get used to wearing one and utterly do any movement for you to get a hold of it. If you discover something uncomfortable while wearing a kilt, it might need some alterations.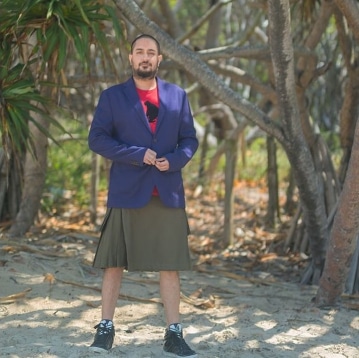 If you happen to choose to wear kilts daily, a Jacobite shirt is the best match because it is very elegant and comfortable! If you're feeling a bit extra on formal occasions, an Argyll jacket will do the thing. It will make you look more of a head–turner as it boosts up your personality for the event!
Furthermore, you can also wear a Prince Charles Kilt Jackets for that epitome look at special events such as weddings. Just make sure that you don't get too much attention. You don't want people to mistake you for a groom, do you? 
Here's a Stylish Pro Tip: Wear your traditional while short on your kilt, and it will surely look great with cuffs. These kinds of shirts suit well for weddings, funerals, or any formal events.   
It is definitely your choice whether to wear underwear or if you want to go commando, but we highly advise you to wear undergarments under your kilt, since wind can cause uncomfortable moments that you would not want to happen while in public, right? 
There are good accessories that can be paired to kilts. A kilt-hose for example should be folded below approximately 3-4 fingers down. Kilt pins are very helpful to avoid awkward moments because of your weight. 
So What Do 
you
 Think About Our Tips and Tricks?
Kilts are not only useful utility-wise, it can also improve your style and personality. Ozkilts is here to join you in your journey to choosing the kilt that represents you. We have a wide range of kilts suited for every occasion or activity you might think of. 
For more information you can get, you can check this link out: https://ozkilts.com/