The mere mention of the word "kilt" evokes thoughts of heritage, culture, ancestry, Scotland. It also evokes thoughts of romantic novels and heroes. The traditional kilt is a time-honoured symbol of Scottish patriotism, with deep roots first being mentioned in 1538.
The traditional kilt has moved on with time and has evolved over the years to look like what they do today. And to this day, it continues to attract attention and interest. Both traditional and modern utility kilts are worn by tucking it up and around the body.  
The kilt's long history of outside intervention and deliberate intervention has come to signify a natural and unmistakable masculinity. From its origins as the basic garb of Scottish Highlander's used as uniform, formal and semiformal wear, it has reached a point that it is now used as casual everyday wear.
Despite its evolution, it remained recognisable while responding to the changing of the times and consumer demands. In maintaining its popularity through generations, it slowly, but increasingly spread throughout the world.
The kilt's form and evolution.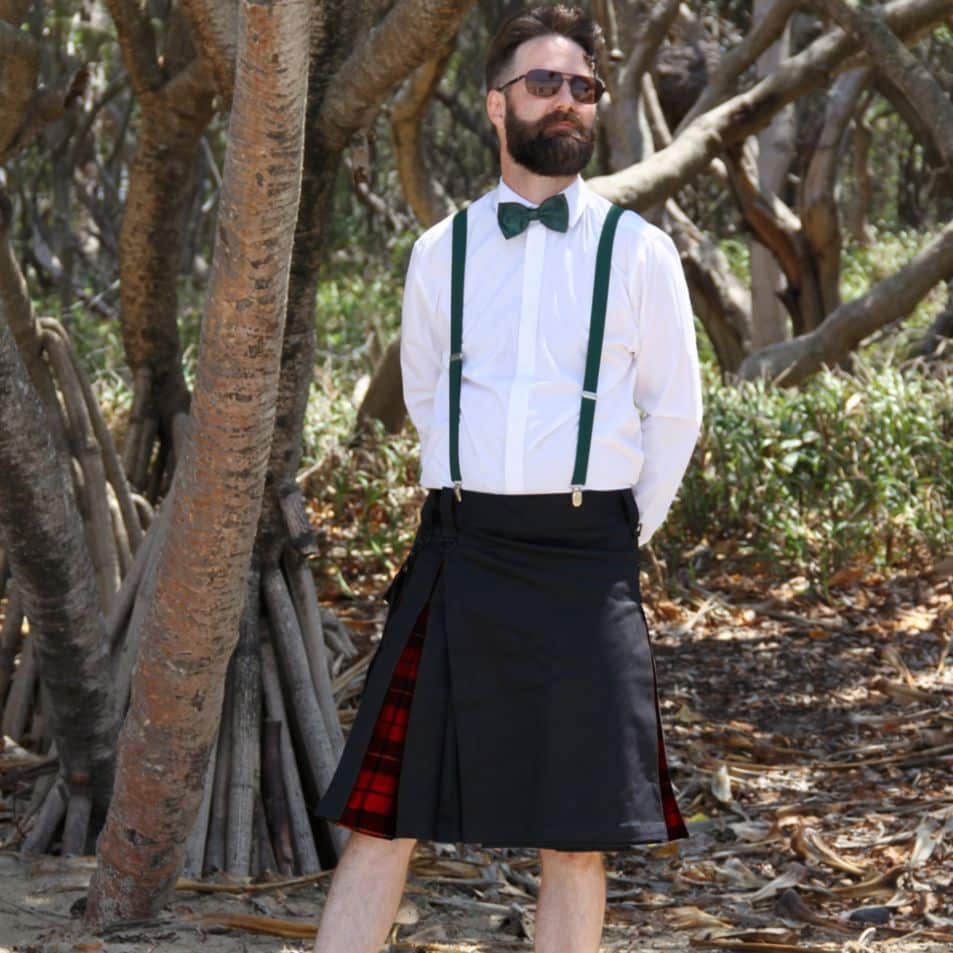 The kilt, as we know it today, originated in the 1st quarter of the 18th century. In the late 16th century, this belted plaid emerged as the first identifiable "Scottish" costume worn by Gaelic-speaking Highlanders, the "little wrap" (feieadh beag) that evolved from the "big wrap" (feileadh mor).
The kilt, as worn today, is the lower half of the belted plaid with the black pleats stitched up. The innovation is credited to an English iron master named Thomas Rawlinson, he employed Highlanders to work his furnaces.
Belted plaids were cumbersome to him, so he devised the "little kilt." to solve that problem. The transformation is more likely from the change from the warp-weighted loom to the horizontal loom with its narrower width.
Kilt in the new context.
So much went on that towards the end of the 20th century gained a new level of cultural and political confidence. A new generation of young radical Scots reclaimed kilt wearing from nearly 200 years of establishment.
In the period that followed the Victorian era, day wear and evening wear became more contemporary. Many young Scotsmen began wearing kilts for everyday use with a T-shirt, sweater, a denim or leather jacket, trainers or chunky, heavy-soled boots, and woolly socks falling around the ankles.
Young Scotsmen are now wearing kilts according to their own codes and on their own terms. And it has also extended and increased in popularity even among non-Scots who wish to project self-confidence and a fashionable image.
This can be attributed, at least in part, to the immense success of such films as Braveheart (1995) and Rob Roy (1995). These films portrayed the Highlander as a "warrior hero" in the tradition of the romantic movement of the late 18th and early 19th centuries, embodying timeless and masculine values.
Most recently, the beau-ideal of kilt wearing men has been promoted by Scottish football supporters. Their tribal antics and kilted uniform received widespread publicity in France during the 1998 World Cup.
Such images have come to represent ready access to Highland male sexuality. For non-Scotsmen, it provided the means of asserting a self-consciously yet unambiguous male persona.
The Australian Modern Utility Kilt.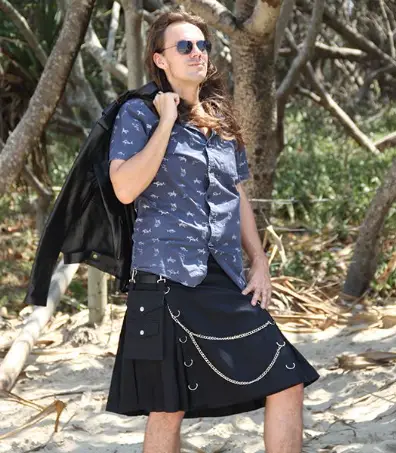 Banking on the kilt's appeal, contemporary designers drew heavily on its hypermasculine connotations and created new designs targeted to appeal to the young fashion-conscious male. 
Modern utility kilts are an adaptation of the wool kilt from the Highlands of Scotland. These kilts are built more robustly and are designed to be used for everyday use, such as those made by us here at Ozkilts®. The main difference is, these kilts are not burdened with history except displaying love for Scottish culture.
Ozkilts® Utility Kilts are made for modern needs. Not to mention, they look good and polished enough to be worn in any occasion. We will not mince words to say that we are proud to be the only Australian kilt company with a wide utility kilt range designed by professional Australian designers.
Our wide variety of kilt selections are made with quality and there will surely be one that will suit your style preference. The choice is completely up to you. What we hope for is that you have an enjoyable experience being part of the kilted clan.
The versatile kilt.
The kilt's versatility makes it easy to match the colour of your utility kilt with any of your clothes in your closet. The only optional items if you intend to wear a kilt as formal wear is a waistcoat, a belt, a bow tie or a tie.
Wearing a kilt is a loud enough statement that will surely get you noticed. Wearing a modern utility, such as those from Ozkilts, does not require for you to be Scottish or even of Scottish descent, all that is required is that you are confidently man enough, and proud to wear one.
If you have questions regarding our modern utility kilts, head on over to our FAKQS page.