UTILITY KILTS CARE INSTRUCTIONS
LET YOUR KILT LOOK AFTER YOU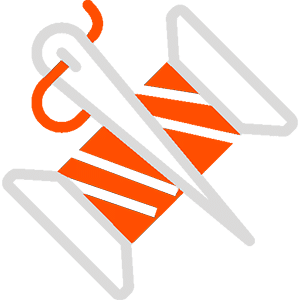 While it's true, Modern Utility Kilts are sturdy, comfortable and stylish, they do require a bit of extra care to ensure they look after you for a long time. It should be possible to get a long lifespan out of a quality Cotton Utility Kilt, the following care instructions should ensure you get the most out of your Kilt.
Some of these things are really just common sense, others are simply clothing care instructions, however, we suggest you give this a quick look through to ensure your Kilt looks after you for the longest time possible.
OZKILTS UTILITY KILT CARE INSTRUCTIONS:
Do not fast wash & avoid washing with other large items:
Kilts have buckles, clips, pockets and more, this can cause them to get tangled in the wash. We suggest slow spin cycles and/or delicate wash.
Avoid direct sun drying where possible:
Direct sun can cause materials and dyes to fade (as with any clothing). However, kilts contain layers of pleats which can make the fading over time seem more noticeable because of uneven fade between the layers.
Hang dry:
The dryer process may cause shrinkage or cause unwanted extra wear on your kilt. Some of our kilts such as our workmen's kilts should never be put in the dryer due to materials other than cotton being used.
Don't tighten too tight & use a belt:
By using a belt, the pleats, buckles and fasteners don't bare all the strain of wear. This will help prevent your kilt from warping or stretching over time.
Don't wash too frequently:
Unlike other clothes that sit close to, or hug the body, kilts don't need to be washed as frequently. This will vary depending on your use, but often simply hanging your kilt to air will be sufficient to ensure its ready for use again.
Fabric softeners... bad
Some fabric softeners have decreasing agents that can soften out the creases in the pleats over time. Our materials are designed to offer a good medium between soft and hard weighting ensuring your pleats remain intact.
Take extra care when ironing:
From time to time you will notice your kilts pleats may need an iron. Most our cotton kilts are also safe to dry clean but check with your dry cleaner first. A quick iron should be all that is needed to get your kilt back to its original glory. There is a great video on how to iron a kilt found here (or type, how to iron a kilt into YouTube): How to iron a Kilt
When ironing, ensure the iron is not too hot. Never iron over emblems, reflective edging or material other than cotton, if in doubt, use a cloth layer in-between your kilt and the iron.
We take great pride in the quality of our product. Should you notice any severe defects with your kilt upon delivery, please take a clear photo of the defect, and email it to us along with a brief description of the problem to: eden@ozkilts.com