The sun is out, it's summer, and it is in full swing. With it comes festivals and the season of partying. There has been much discussion about males wearing manly kilts to events, festivals, celebrations, or to simply make a fashion statement.
However, traditional kilts may be off-putting for Australian summers as they are too hot since they are made of wool. Modern utility kilts, such as what we offer here at Ozkilts®, are made of 100% quality cotton stretch fabric and durable blends. 
Cotton is the most preferable fabric for modern utility kilts because of their breathability, perfect for hot Australian summer days. Because of this, utility kilts can help you feel cool, a sensation you won't get from wearing a normal pair of pants, much more so, a traditional woollen kilt.
What makes kilts a perfect summer statement.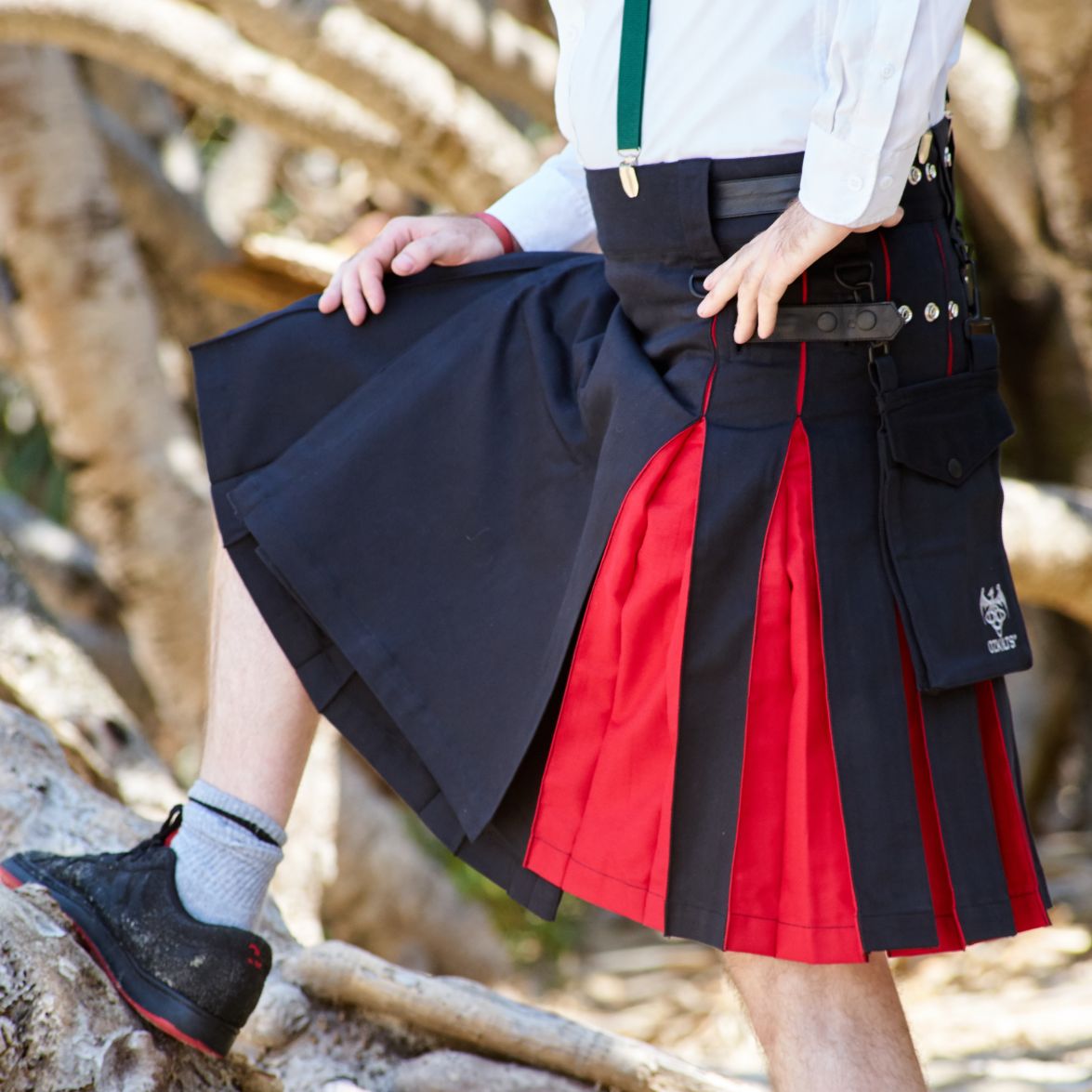 In Australia, the kilt is slowly being afforded its due consideration. However, although it is a fascinating piece of clothing, it still exudes an exotic air that people recognise. The good thing is, it does make a statement that even the best constructed pair of pants can't.
Kilts are now being worn intentionally and deliberately, some mainly doing it for the attention it brings. It is a timeless piece of apparel that can be worn at any time, anywhere, with or without occasion.
Perhaps, the only times it may be out of fashion is when it is improperly worn. But what's great about wearing a utility kilt is that it is always appropriate.
Appropriateness is perhaps more than enough reason for it to be considered the perfect summer statement.
Wearing a kilt sends out a clear message that the one wearing it is comfortable of who he truly is and is not burdened by the dictates of society as far as clothing is concerned.
The rugged nature of modern-day utility kilts, has that perfect mix of the familiar, both old and new, the modern interspersed with the traditional. That in itself is sexy and makes other non-kilt wearing man take a second look and perhaps consider trying it for themselves.
Utility kilts are versatile
Depending on the time of day, a utility kilt can be styled in various ways to fit any activity or event you intend to do or attend. With various colours and accessories, you'd be able to spruce it up to boost the look and style you are going for.
A utility kilt can fit into every style and be worn with any clothing combination that you already have in your closet. Going to the beach? Slap on a shirt and pair of sneakers or flip-flops, and you're good to go.
Going out for the evening at a formal dinner or party? A nice dress shirt paired with a jacket, a pair of brogues, and knee-high socks, you're all set. All you must do is decide whether to add accessories or not.
Even those who are not fashion risk-takers can make kilt wearing work. All one must do is to wear it with pride and confidence.
We have to reiterate that wearing a kilt is always appropriate and is perfectly fine to be worn on any occasion.
So why should you wear a kilt for summer?
It keeps you cool.

Being made of cotton, it can keep you cool even in the sweltering Australian summer heat.
Freedom of movement.

Wearing a regular pair of pants can restrict movement, even if they are loose enough. A utility kilt will not leave you feeling trapped, and you would be able it is what you want to do with a greater range of motion.
Durability.

A utility kilt is the most durable type of kilt out there. This frees your mind of ever thinking they get ripped or torn apart. This is also a prime reason why many prefer a utility kilt, especially during summers.
To Conclude
Summer is the perfect time for us to be cool and comfortable in whatever we wear, especially when attending summer festivals. Our selection of Ozkilts ® kilts are a good choice to wear to the festivities since they don't cling to the skin, are breathable, and are breezy.
 Knowing what type of kilt to wear this summer will help you rock your festival look, and you can also wear it to formal events without feeling uncomfortable. See what our customers have to say about our kilts.
 Kilts are a great addition to a summer wardrobe, so if you haven't tried them out yet, this summer is the perfect opportunity. See what our customers have to say about us and our kilts.
Order yours from Ozkilts® today and make your summer statement. And yes, we provide free shipping on all orders.