Kilts are the centuries-old traditional dress of Scotland for men and women. The kilt survived all these years, increased in popularity, and developed a strong global audience wanting to wear this unique outfit the world over.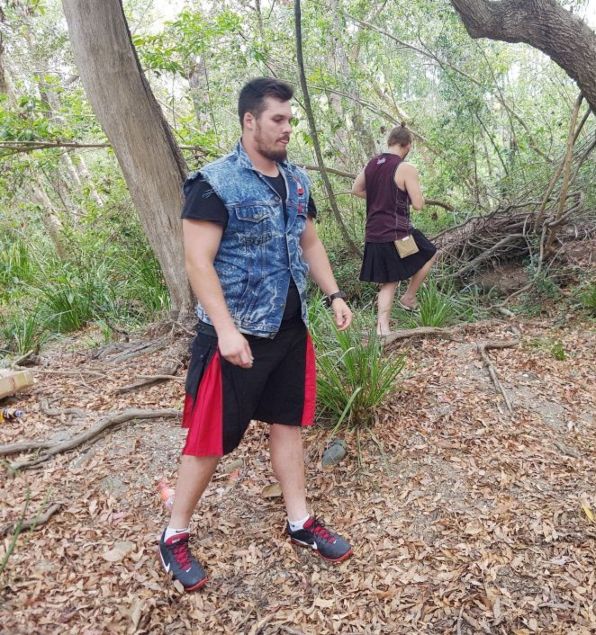 Previously, kilts were made predominantly of thick wool-like fabric in tartan pattern. This material is handcrafted to create a kilt with all of its design. With the advancement of technology and automation, various other materials are used in manufacturing today's kilt.
With automated machinery, kilts today are mass-produced, except for some who lovingly still make them by hand. It takes a considerable amount of skill and expertise to craft any kind of kilt from fabric. High-end kilts are generally fully handmade or, at the least, hand finished.
Today, there have been changes made to the traditional kilt to cater to its new consumer base. This is what makes the modern utility kilt.
The main construction of a modern utility kilt retains its traditional structure and design while incorporating modern-day features cleverly meant for extending the garment's utility and functional use.
The Australian Utility Kilt
The kilt's original purpose was not as a national symbol or to be used only for ceremonial purposes, but simply as practical attire. The basic construction of the garment allows for a more comfortable wear and freedom of movement than ordinary pairs of pants or shorts. In many ways, the kilt serves to make manual labour far slicker and so much easier.
If you are looking to give a touch of a highlander look to your style here in Australia, it's easy since there are Australian suppliers and places in Australia where you can get utility kilts from. There are even places where you can get a selection of both modern and traditional-style kilts and accessories.
Many kilt suppliers in Australia either are in partnerships with international suppliers or simply importing kilts for sale to the Australian market. Most of these items are poorly made and quite inappropriate even to wear at a costume party. 
This sets us apart from our counterparts, since we at Ozkilts are 100% Australian owned, and all our utility kilts are Uniquely Australian Designed. We follow a rigid design and quality control with all the products we produce, unlike those being sold by everyone else.
Ozkilts ensures that what we offer our clients are only of the highest quality range of products you'd be proud to wear on special occasions, or even on a daily basis. To make it even easier for you, we devised a smooth ordering process with various payment options, making buying your quality handmade Ozkilts Utility Kilts (and accessories) a fast and fun adventure.
Utility Kilt Materials
As utility kilts are a modern take on the traditional Scottish kilt, they are not made with tartan from the very beginning. Manufacturers use various materials such as cotton, cotton composites, denim, and other waterproof fabrics for utility kilts. This is in consideration for the uses it was made for.
Without question, tartan is beautiful and durable, but it's not quite like modern materials. Designed to withstand the rigours of the outdoors and the workplace, utility kilts are made from durable materials. These are part of the consideration that went to the design and creation of Ozkilts range of utility kilts.
Not only were we focused on creating our range of awesome kilts for you, but we also made sure to put in consideration where and how you are going to use them. With this in mind, Ozkilts Utility Kilts are created using 100% high quality cotton stretch material.
And there's a reason for our choice to use cotton for our utility kilts. It is the best material for every day and fashion wear. Cotton is a natural, breathable, and durable fabric that's easy to maintain. More importantly, it looks great and suitable for almost every possible design, shape, and fit.
In addition to textures, patterns, designs and prints, cotton fabric can virtually be transformed into your dream kilt. Sure, there are other materials being used for utility kilts by other manufacturers/suppliers, such as polyester or calfskin.
However, polyester tends to be on the heavier side and not recommended if you are an active individual since it's not breathable. Additionally, poor quality poly cotton blend can vary causing an uneven fabric texture, an absolute no from us.
Kilts made of calfskin or leather look good in movies, but in reality, they do require a lot of maintenance, and are generally hot and sticky to wear. In order to maintain their appearance, leather kilts must also be regularly oiled and maintained. 
To us at Ozkilts, a utility kilt is more than just a piece of clothing. It can help enhance a wearer's personality and style like nothing else can. So it's practical when you make a style statement, the kilt material is something to be thought about with care.
Utility Kilt Pockets
In addition to its traditional design and structure, the utility kilt incorporates many modern elements. There are no pockets or belt loops on traditional kilts even today.
A utility kilt, on the other hand, is designed to be functional and may offer a variety of pockets and belt loops depending on the style. Utility kilts usually have flapped cargo style pockets on the sides, while some also feature rear pockets and side pockets like trousers.
In Australia, Ozkilts is the only Utility Kilt company that offers detachable pockets on our range of utility kilts. The beauty of detachable pockets is that they can be removed to create a more traditional look, or if you don't have a specific need for them.
In Closing
Fashion can be individualistic, comfortable, stylish, or practical. A utility kilt strikes the home run in all these aspects. It's no wonder even the fashion world features kilts and utility kilts on the runway and fashion magazines.
Celebrities are wearing them as well as corporate executives adding them to their style and flair. And why not? Kilts deliver extreme comfort without compromising one's sense of style.
And here's a plus factor, getting a kilt from Ozkilts Utility Kilt means you are supporting a local Australian business. Buying from fellow Australians comes with the assurance that we have your best interest at heart.
Not only are you getting an Australian made kilt, but when you support Australian made kilts, you are also contributing and encouraging keeping the trade alive within Australian shores.
If you want the best handmade utility kilt in Australia, head on to our online shop now. We have a great range of utility kilts in attractive designs, colours, and features. Experience ultimate comfort, convenience, and style in an authentic Australian made Ozkilts Utility Kilt.