The use of accessories can make any outfit look better. No exception to this rule exists when it comes to kilts. There are a number of accessories that go with the traditional highland dress, and the types will depend on the time of day and the formality of the event or occasion.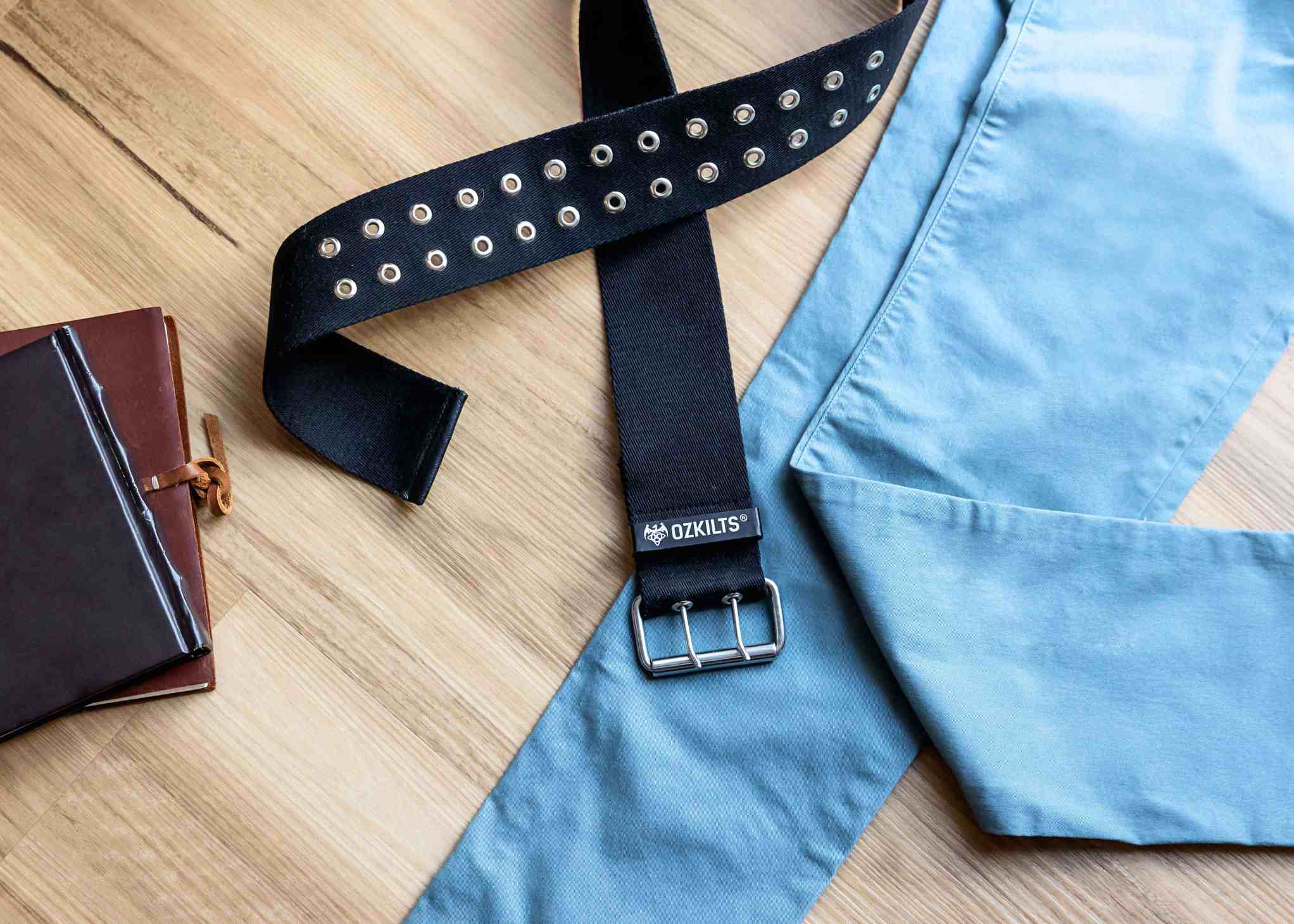 There is an extensive list of accessories you can use with kilts, and for every category of accessory, there are so many varieties. But that does not mean you need to have each one, that would probably cost you a small fortune. You can do with a select few essential accessories, so there is no need for you to despair.
You can even opt for going as casual as you can be by going without accessories and nothing else on but the kilt. But, we do suggest that for special occasions and events, we suggest sprucing up your outfit by adding a few accessories to help you rock your look.
Different types of kilt accessories include sporrans, kilt pins, sashes, and belt buckles, to name a few. You should choose accessories that are appropriate for your personal style and the look you want to go for. You can get any kind of kilt accessories for you, that you think style best according to the look you're going for.
Accessorising Your Kilt
With traditional and modern utility kilts, the swing of the pleats and the comfort it brings to the wearer are among the reasons to love kilts. But they are only just two pieces of the puzzle when it comes to the kilt.
It is extremely cool, fashionable, and comfortable enough to wear kilts every day. Wearing kilts is now possible all year round, for any occasion, and without looking out of place, be they be worn at weddings, during a normal workday, events, gathering, or during sporting events. 
A lot of the time, kilt accessories are overlooked or left as an afterthought. This is such a shame as kilt accessories are arguably the most fun part of buying a kilt outfit. Kilt accessories also help you show your personality by allowing you to add your own sense of style.
Thankfully, Ozkilts has two killer accessories that will help you rock your kilted look.
Ozkilts Utility Kilt Belt
In the late 18th century, before the introduction of the tailored kilt, some sort of belt was needed to help prevent the kilt from falling down. Modern utility kilts no longer need a belt to hold up your kilt, but a lot of kilt wearers like them. Not only do they look awesome, but they can be used by working men to hang things from them like tools that work well in conjunction with its detachable pockets, and also offer an extra level of comfort and security to hold up your kilt.
Ozkilts Utility Kilt Belts are designed for use on our utility kilts with our loyal customers, and followers in mind. We have been inundated by so many requests from them for a utility kilt belt, and are excited to finally bring that dream to life. In addition to being made to match Ozkilts Men's Utility Kilts, you can also wear the Belt with kilts from other suppliers as long as they have a 2.5 inch belt loop. Check out its awesome features:
It is made of heavy yet comfortable, flexible cotton weave.

Double Heavy-Duty Chrome Buckle

Double Heavy-Duty Metal Eyelets

Laser engraved logo

2.5 inch (6.35 cm) height

Large fitting range (see

our sizing guide

for more information)

Comes in Black with Chrome Fixtures

They are hand made.

Comes shipped in a bag
Utility kilt belts are functional, comfortable, and add a stylish element to your kilt. During active moments, wearing a belt makes it easier to concentrate on your work without having to continually adjust your kilt.
Since utility kilts aren't typically padded, they'll drag on your hips and cause discomfort when loaded with tools. You can solve this problem with a good utility kilt belt sitting comfortably just above your hips. You can then work in comfort, with as many tools as needed throughout the day, without any discomfort.
Ozkilts Utility Kilt Belt are an awesome accessory for utility kilts since it provides an elegant and smart look to your wardrobe. Its heavy duty flexible cotton weave material gives you an amazing look during any kind of physical activity, plus, it makes you attractive at any gathering.
Ozklits Utility Kilt Belt is now in stock.
Ozkilts Utility Kilt Hanger
Any kilt owner knows that acquiring a kilt is an investment. It is only natural to keep it looking at its best and maintained for as long as possible. It deserves special care, in the same manner you'd give to your formal suits and dress jackets.
The colour, shape, and fit of a utility kilt will remain the same if they are properly cared for, just as with a traditional kilt. Besides, it's not all that difficult.
Kilts must not be simply folded and stored like regular clothing, even though the predominant material used for utility kilts is cotton. Your kilt can be susceptible to damage if stored improperly.
Don't bother trying to hang your kilt using a skirt hanger, believe us when we tell you, it just won't work. A skirt hanger will simply not work due to the kilt's considerable weight and size.
There are kilt hangers that are specifically designed to hold kilts, and keep it in a nice and straight position. A utility kilt hanger is a must if you happen to have a kilt in your wardrobe.
Ozkilts have developed Ozkilts Utility Kilt Hangers, and as one of our most popular products, we have ensured that they fit in any normal-sized wardrobe and most garment bags. Using our specially designed kilt hanger, secures your kilt with four chrome clips that are sturdy enough to hold up to two kilograms of weight with ease. It's built to ensure your kilt will not slip off, damage the kilt fabric, or leave minimal marks when stored.
Now, why would you need a utility kilt hanger? If you want your kilt, crease and wrinkle free and ready to wear at a moment's notice. You'd need one or more if you happen to have more than one kilt in your wardrobe.
Having one is awesome since it will also keep your kilt's pleats straight and its apron smooth. Furthermore, its strength in design makes it sturdy enough to almost hang two kilts on the same hanger. A plus if you're travelling is that you will be able to fit it all nicely in garment bags for added kilt protection.
Why You Need Utility Kilt Accessories
A modern utility kilt is probably the most flexible piece of clothing you can have in your wardrobe. It is a great option for a more casual look, and it can also easily morph into formal wear as you make it to be by accessorising your kilt according to your taste.
You can pair it with almost anything you have, such as plain or printed tees with sneakers or working boots for a laid-back vibe. If you want to wear your kilt at formal events, choosing the right accessories can be a great way to optimise your look to any degree you wish.
If you intend to make your utility kilt as formal as it possibly can, a good suggestion we can give you is to wear a bow tie. This useful accessory can level up the formality of any given outfit in ways that would amaze even you.
Enhance your look further by wearing a spiffy jacket and shirt, a bow tie, and utility kilt belt combination, and you'll end up looking like a man of culture who does not adhere to unnecessary fashion trends. Being a fashion maverick, when done right, can set you apart (in a good way) from the rest.
Utility kilts can be worn by anyone with a basic sense of fashion. Wearing a utility kilt is very easy and has many benefits.
You can get them now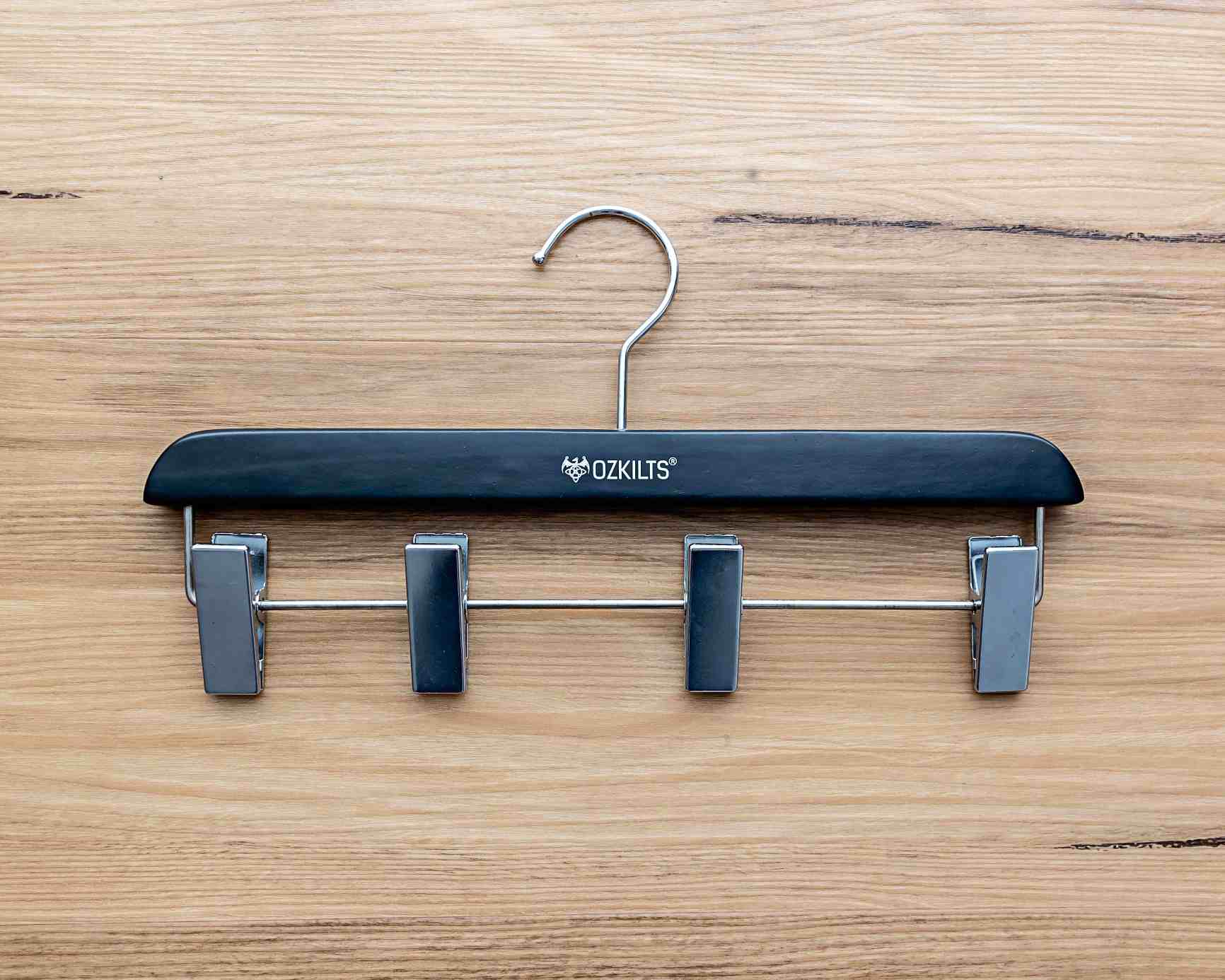 The good news is that Ozkilts Utility Kilt Belt and Ozkilts Utility Kilt Hanger are both in stock and ready for purchase HERE. We do have several payment options to choose from to make it easy to facilitate payment for your purchase/s.
For now, Ozkilts only offer our utility kilt belt in standard black with chrome fixtures. We would love to hear from you if you want us to come up with colour variations that you might prefer.
Go laid-back today, and go full posh the next, you can do it easily with a kilt. We at Ozkilts provide you with handcrafted utility kilts and accessories made by professional workwear designers that help you and your mates sport that legendary look.