For fashion aficionados, enthusiasts, and even mavericks the world over, Fashion Week has been viewed by many like Groundhog Day when it rolls around.
Yes, we've all been here before, and we've undergone the weeks leading up to the event like deer in headlights, and waiting for the week-long frenzy to begin. Needless to say, fashion weeks are among the most anticipated and highly regarded events that draws fashion enthusiasts the world over, to converge like bees to honey.
To the uninitiated, fashion week can seem like a mysterious, glamorous event that churns out countless runways shows with copious amounts of individuals and celebrities preening themselves in the front rows.
In a nutshell, Fashion Week is a time when there is a conglomeration of the industry's top and upcoming designers present their upcoming collections in a series of runway shows and presentations.
Fashion houses, known brands, models, stylists, buyers, and the media, from all-over converge in one place for a whole week. Currently, there are four well-known Fashion Weeks around the world, also known as the "big four," namely:
Paris Fashion Week (France)

New York Fashion Week (USA)

London Fashion Week (United Kingdom)

Milan Fashion Week (Italy)
Gold Coast Fashion Week
This week-long event is one of the most anticipated and highly regarded events known to Australian and international fashion enthusiasts. The festivities bring fashion houses, brands, models, hair and makeup stylists, to congregate and display their talents and latest collections on the runway.
Not only buyers and the media, but the entire country, come together in this annual fashion industry event that features seasonal collections from both Australian and Asia Pacific Designers.  
Kilts and Fashion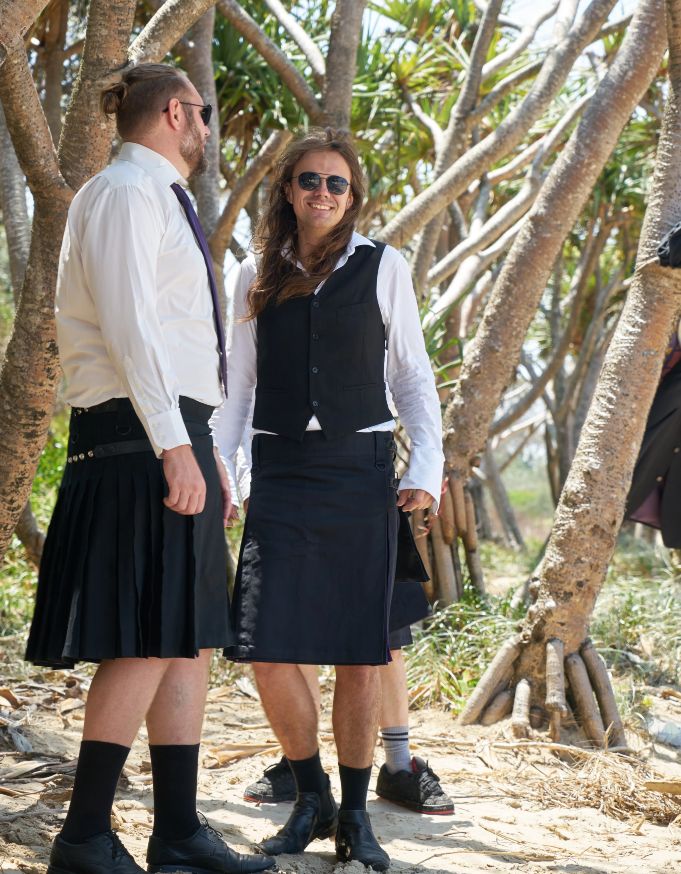 Perhaps when you think of kilts, thoughts of Outlander, Rob Roy, Braveheart, or maybe even Pixar's Brave springs to mind. It's highly unlikely that you will immediately think of the kilt being featured by designers on the fashion runways or catwalks of London and Paris.
We can't blame you if the thought never crossed your mind. But we are more than elated to tell you that it has been broken by Molly Goddard and Virgil Abloh's Louis Vuitton when they debuted kilts for Spring/Summer 2021 (SS21).
What does that mean for the kilted community? By re-imagining the time-honoured garment's association with a romanticised version of the Scottish past, designers like Abloh and Goddard have coaxed the kilt into modernity.
This is not to discount the efforts of multi-award-winning designer, Siobhan Mackenzie, who released her kilt collection back in 2018 in collaboration with Coarunn, a Scottish Gin Brand. Her designs are a testament of rebranding the heritage clothing by minimal use of tartan colours with the highlighting of black. The effect of her imaginative effort made black wool subtle when the eyes meet the lining.
The choice of materials matter with modern kilts, that's why many other designers, including us at Ozkilts®, use different materials such as, premium cotton and incorporating detachable cargo pockets to highlight its function and utility.
Effects of Seeing Kilts in Mainstream Fashion
Understand that the 2021 high fashion exposure of the modern kilt on the runway, admittedly, has been some years in the making. Looking back to the 90s and 00s, the kilt did receive considerable runway time.
Honorary Scot Dame Vivienne Westwood – whose AW93 collection featured legendary model, Linda Evangelista bedecked in a full Lochcarron of Scotland tartan. Following suit, designer Alexander McQueen, tapped into his Scottish heritage and came up with a tartan of his own design.
What makes it fascinating for the whole tartan community is that besides its camp factor, these designers adapted an item, played with the cut, length, and fit for a more modern effect and set out to define themselves against convention. They harnessed the spirit of rebellion surrounding Celtic culture, rejecting the refinement of high fashion for something a bit more devil-may-care.
Funnily enough, controversial celebrity figure, Kanye West, set the kilt's appeal for the menswear market when he wore a Ricardo Tisci-era Givenchy pleated leather kilt during one of his performances live in 2012.
Harry Styles was featured on the cover of US Vogue, even defended the style choice on its associations with masculinity. He said that there were kilt wearing warriors in the past. He further stated by asking, "who gets to decide what's hard and what's not hard?"
Today, designers have harnessed the kilt's fluidity and used it to gesture towards a more expansive version of masculinity.
During AW21, Virgil Abloh's menswear collection, saw cowboy boots and hats, Louis Vuitton monogram suiting, wraparound skirts, and motorcycle jackets sharing space with, you guessed it, kilts. He irreverently mixed different archetypes of manliness – from cowboy to business leader to the Highland warrior. He effectively invited us to pick and choose the symbols of masculinity which would truly empower us, rather than restrict us to a rigid mould.
Trickling Effect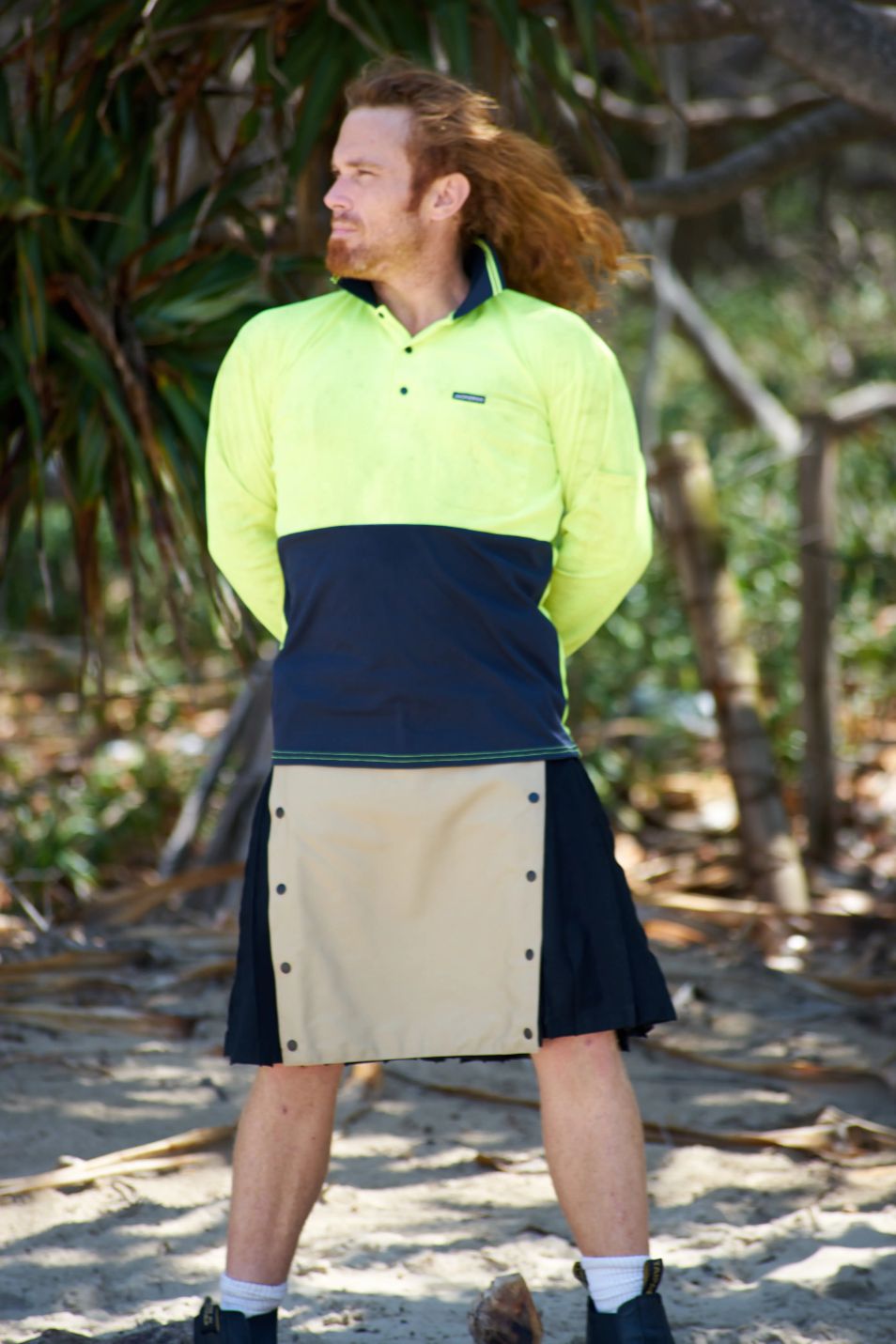 The exposure of kilts in high fashion, without a doubt, caught the attention of even those who are not fashion connoisseurs. The rebel and devil-may-care aura brought, to the masses, a healthy dose of appeal for a lot of men (and women).
The appeal has become generic and recognisable that all genders can wear them without too much side-eying from the public. It allowed the kilt wearer to try things out without being anxious about what people think.
The kilt's new-found relevance has already permeated pop culture and style. From high fashion runway, and now on the streets. 
Perhaps the best way to illustrate this tricking effect is how fashion was explained in the movie "The Devil Wears Prada." Meryl Streep's character, Miranda Priestly, tells Andrea Sachs, played by Anne Hathaway, how no one is exempted nor excused from not being fashion conscious.
Miranda goes on saying that everyone's fashion choices the world over are influenced by an elite few in the fashion industry, where style, colour, cut, do show up among the collection of various other designers. This, to some degree also happened with kilts. Then it goes down to the department stores, then trickles down to various other retailers.
Well, that didn't happen yet in a big way with kilts, thankfully. Kilts are special in the sense that wearing poorly made ones might just as well equate to wearing a stylised skirt and passing it off as a kilt.
This is what drives us at Ozkilts®. The fashion industry has broken the awareness factor, and we take the mantle as a reputable kilt supplier seriously, we are one who would not put out low quality garments for a quick buck.
Unabashedly, we drive this awareness factor brought about by high fashion, and present our clients with quality merchandise that are assured of Australian craftsmanship.
It is for this reason that taking an active part of fashion events, such as the coming Gold Coast Fashion Week, is an important step in pushing the envelope further. This is for the betterment of not only the kilted community, but more for those who are still on the fence to making the switch.
But one thing we would like to impart to everyone is that, kilts are here to stay. Besides, you'll never be out of fashion by wearing a kilt.
To find out more about The Gold Coast Fashion Project, please visit:
https://www.goldcoastfashionproject.com.au/
For interested parties who would want tickets, you may book your tickets by clicking here: https://www.goldcoastfashionproject.com.au/buytickets
See you there!