Humans by nature are social creatures, as such, we have terms unique to whichever social group we associate with. For us at Ozkilts, we affectionately call people who have joined us in our mutual love for wearing kilts as The Kilted Clan.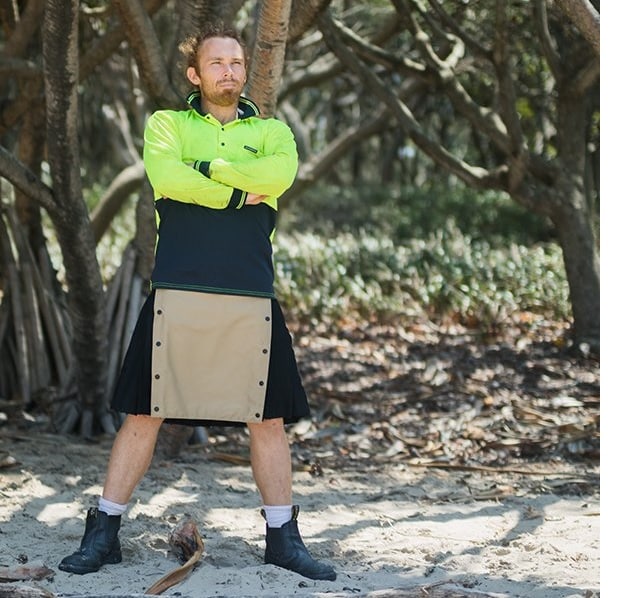 Being part of the kilted clan makes us feel uplifted, inspired, encouraged, and supported by like-minded kilted mates just like you. Being part of the kilted clan makes us feel we are part of something greater than ourselves.
Not only are we given the opportunity to directly connect with people just by the simple act of wearing an awesome kilt, regardless of family, geography, faith, race, or life stage. The presence of strong social connections can have a profound effect on our overall health.
As a kilted community, we band together to provide support in facing challenges, and celebrate life's lighter moments. Perhaps you like reading books and are a member of a book club? In like vein, we are bonded together for our unified passion and love for wearing kilts.
Knowing there are people out there who share this passion is meaningful. You will feel valued and be immersed in a group of individuals to a diversity of ideas, viewpoints, and personalities. There's bound to be benefits and something new to learn and appreciate from fellow kilt wearers.
Benefits of Joining the Kilted Clan.
Apart from the benefits we already mentioned above, when you join the kilted clan, you also qualify to enjoy more benefits, this awesome community extends to kilted individuals.
Members of the Kilted Community get to be the first to know about exciting Ozkilts News. Get to know what's new in the kilting world before everyone else. New kilt styles and accessories? How about styling tips and tricks to make you shine in your kilt? You got it!
First time kilt wearer? Not a problem. We understand that first time kilt wearers need basic guidelines on how to properly put it on. Now, what you wear underneath is entirely up to you. Although we don't recommend going 'commando', the choice is entirely up to you, besides, doing so also has its benefits. 
There's more. How about getting exclusive offers sent straight to your inbox? Get to see these offers and acquire them weeks or perhaps even months before anyone else. Isn't that cool?
But hold on to your kilt, there's one more item you get to enjoy for joining the kilted clan. You get awesome discounts for purchases you make at Ozkilts. With all the intangible and tangible benefits you get for joining, why wouldn't you want to be part of it? Sign up today and join us.
Why Wear a Kilt?
Kilts are no longer on the sidelines as a trendy outfit, because they truly aren't. And why wouldn't you wear one? They are extremely cool, fashionable, and are comfortable enough to be worn by tough men and women every day.
And due to the efforts of modern utility kilt makers, they have become more accessible to a lot of people who are now showing interest in the garment of champions. It's even possible to wear a kilt all year, for any occasion or event, without looking out of place. On the contrary, you might even end up being the centre of attention.
Modern utility kilts use more comfortable fabrics and can come in a variety of colours, making them a popular choice for daily use. Utility kilts are also designed for working use, such as Ozkilts Workman Utility Kilt. It has large detachable cargo pockets and sturdy leather straps to ensure it stays on while you work.
You can even flaunt yourself with a utility kilt on every occasion, be it daily, semi formal, or formal wear. They are made of durable materials aimed to withstand rugged and rough daily uses for the workplace or even at home.
A utility kilt is focused on durability, class, and beauty while being bold. They ensure perfect oscillation of movement, and they can be customised with accessories such as Ozkilts Utility Kilt Belt and many other accessories out there designed to be worn with a kilt.
Wearing pants is okay, but it's awesome to wear a kilt that won't limit comfort and restrict your movement during your daily grind. They are both practical and functional and won't bother you in any situation, in fact, they do add style.
There are no fashion rules to break when wearing a kilt. All that's required is to have a basic fashion sense. Like we said, there is no such limitation to wear with a kilt, although you may follow fashion recommendations either from fashion experts or from long time kilt wearers such as those from our kilted clan.
Keep in mind that a great quality kilt can be considered an investment. Be wary of acquiring one from those who offer them at a low price. Quality comes first when purchasing your first kilt. At Ozkilts, you are assured of quality, and they look exactly as it should, the way we intended them to be.
A utility kilt is a garment that gives a more confident appearance. For men, it helps in exuding a manly countenance.
Why wait to join the Kilted Clan, it's FREE?
A utility kilt is a piece of garment that can be worn in a lot of different ways. Its versatility is perfect for the modern man who wants to add that extra oomph to their style and their wardrobe.
A utility kilt can be worn for different purposes and for all kinds of occasions:
They are easy to

maintain

.

They provide you with more freedom when moving around.

Utility kilts are perfect for casual or

formal wear

.

You get to join the kilted clan community, who loves wearing kilts as much as you do.
Joining the kilted clan is easy. All it takes is for you to love kilts and the kilted lifestyle, connect with us on Facebook and/or Instagram, as well as by signing up with us today. Get 10 percent off your first purchase, and receive exclusive offers and more.