It is no longer unusual to wear a kilt today. Since utility kilts and modern kilts have been introduced, they are becoming more popular as an alternative to jeans and pants.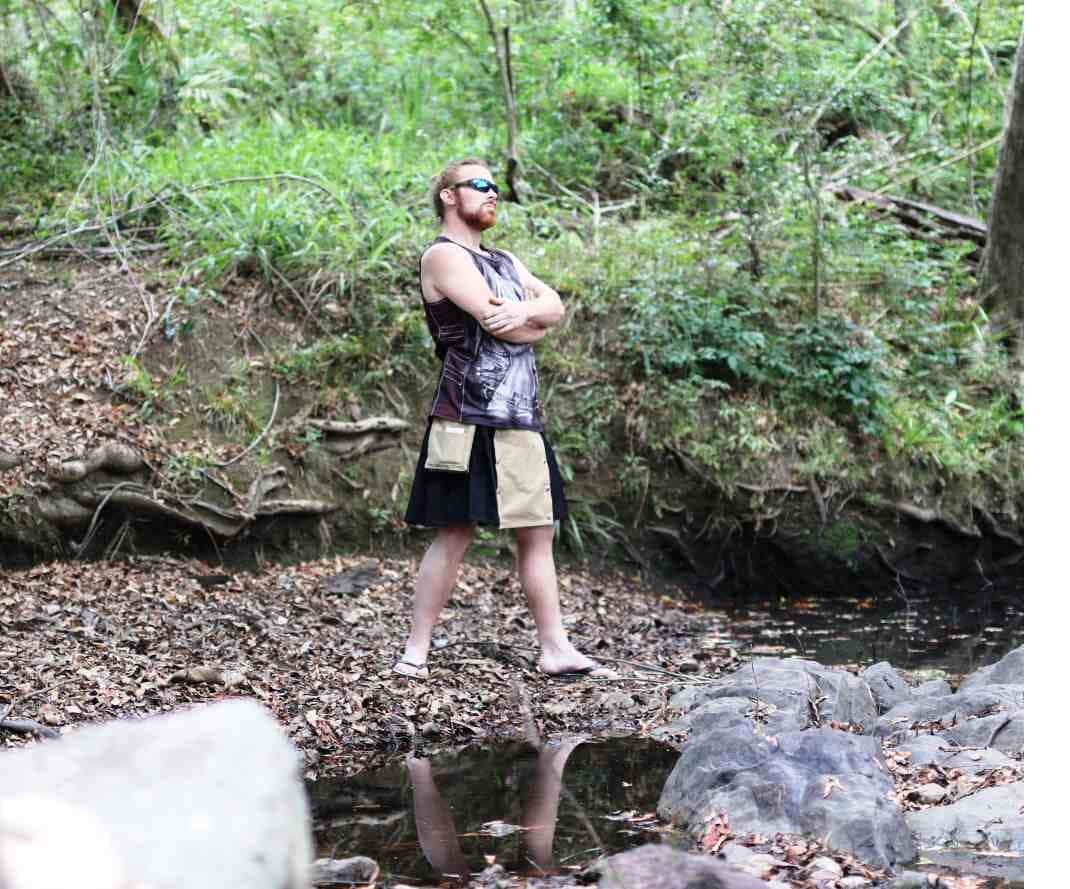 This garment has seen many ages and spanned the globe, yet still maintains its charm. Ozkilts® offers handmade utility kilts with 100% cotton and cotton blends, available in a variety of styles and colours.
An alternative to conventional trousers or shorts, the utility kilt offers cool, modern, comfortable features while retaining stylish contemporary designs. For centuries, Scottish culture has been reflected in its iconic kilt now in a modern utility style, becoming a symbol for tough men and women world-wide.
Increasingly endorsed by celebrities at red carpet events around the world, the kilt is quickly gaining worldwide popularity. Why is that, you ask? Simply because wearing a utility kilt is against the norm. 
And that's just one reason why we love wearing them. Additionally, wearing kilts and/or utility kilts boosts fertility rate in men, and produces mental health benefits.
Show off your individuality in an Ozkilts Utility Kilt
Wearing an Ozkilts Utility Kilt is a bold choice and totally worth it. You definitely can wear it any day of the year without looking out of place, especially if you get it right. And they are perfect for those who want to look modern and chic.
If you are a person searching for an option in contrast to ordinary pants or jeans, a utility kilt is a great choice beyond exemplary menswear staples. The utility kilt is the most fashionable kind of kilt from Scottish origins, which is getting more sought-after. 
And since utility kilts have grown in prominence in the fashion world, they have become a means for men to dress up and make their attire more trendy. A bonus is that it not only shows off one's stylish choice, but it can also be practical to wear kilts used for its utility.
The increased interest and understanding of fashion trends have opened their eyes that they can be worn over anything. This means you can create your own style, that utility kilts are adaptable and can be worn in a variety of circumstances.
A styled kilt is stunning when paired with a coat or suit or with a variety of other pieces of clothing you already have or those available at your local clothing shop. It's a no-brainer to see any reason why you wouldn't want to wear a kilt on a daily basis.
Utility kilts are functional, comfortable, and stylish. Utility kilts can be worn everywhere and at any time, take a look at these. Ozkilts Utility Kilts are built to last and are available in a variety of styles, sizes, and colours. When you wear a kilt, you are showing the world you want to create your own style and that you know what you want.
And we at Ozkilts have a wide variety of kilt selections that will suit the style you want to exude. Whatever your style journey is, we might just have that specially handmade kilt for you. 
Are Utility Kilts Comfortable to Wear?
One fact that is true about utility kilts is that they are versatile. It can be worn for work and play. It's true that some are more specialised than others, but all of them are versatile, comfortable, and provide breathability, which makes them awesome.
Wearing a utility kilt liberates you from the feeling of being restricted around your legs and groin area, most attributed from wearing pants. It gives you complete freedom of movement in any direction you want.
Usually the first feedback we get from new kilt wearers is how surprised they are at the comfort and 'breathability' of the garment… and we'd be inclined to agree.
Believe us when we say you might feel it's a little too free at first, but once you get used to the sensation of freedom, you'll feel more relaxed and enjoy being unrestricted.
If you live in a hot climate, your pants can cause you to overheat and bring along other health issues with it. Wearing utility kilts provides a cooling effect since they are made from tough yet lightweight fabrics. For Ozkilts, we use 100% quality stretch cotton with designs that preserves modesty.
During cold climates, not a problem since they also provide a natural warming effect while allowing natural air circulation.
Utility Kilts and our Bits.
Men who wear kilts on a regular basis have a higher sperm count and good sperm quality, according to the Scottish Medical Journal. It may not be a proven fact as yet, but it's still a great reason to kilt up.
Constriction increases the temperature in and around the crotch area, which is the most common explanation. Studies have shown that restrictive clothing impacts sperm production because sperm thrives better in cooler temperatures. Something worth thinking about if you plan on having children.
By wearing a kilt, you can increase airflow around the area, which keeps it cool and may help maintain male fertility. Research suggests that men who plan on having children wear kilts during those months.
Furthermore, it always feels great when a garment hits you just right. Kilts work best in this department. They sit just right where they should, and stay up thanks to the way they fit on the body, or pair them with one of our Ozkilts Utility Kilt Belts for even more comfort.
Rock your Kilt with Pockets.
Our Utility kilts come with detachable pockets that you can use to store stuff that you might need. Pockets are typically not found on traditional Scottish kilts. Ozkilts® Utility Kilts come with detachable pockets, which you may or may not use, depending on your preference.
With detachable pockets, they can come in handy not only for storing your wallet, keys, and stuff, but they are so much practical if you wear them to do a bit of work, in which case we would recommend getting our Ozkilts Workman Utility Kilt.
In addition, you could add more functionality to your kilt by adding more pockets or, you incorporate it with our recently released Ozkilts Utility Kilt Belt. Not only can you wear it as is for style, but it also allows you to attach small hand tools to do whatever it is you're working at.
Utility Kilts are simply Awesome!
Modern utility kilts are a more comfortable alternative to wearing conventional trousers, jeans, or shorts. They're more practical, more comfortable, and give total freedom.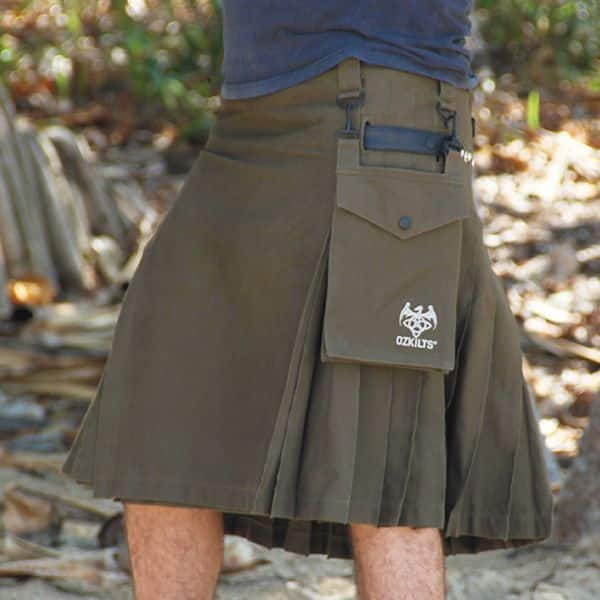 Not only can you wear one and be awesome as a tidy casual wear or for formal occasions, you're liberated from movement restrictions found when wearing pants. Now, what you wear underneath your kilt is entirely your business, but a utility kilt is more than enough to provide you with a decent amount of modesty.
What adds to their awesomeness is that they are perfect for any occasion and are never boring. You get to wear a timeless piece of garment and be extremely stylish at the same time. But don't just take our word for it, what our satisfied customers are saying is our testament to what we've been saying from the start.
Instead of asking Why Do Men Wear Utility Kilts? With all that it can offer, a better question should be, why wouldn't you wear a utility kilt?
Enjoy the comfort, freedom, and style an Ozkilts Utility Kilt can bring you from any of our utility kilt range and utility kilt accessories. All that is required is that you be confident enough and proud enough to wear one and be part of the kilted community.