It's finally here! Our most requested utility kilt accessory has arrived, and we are more than happy to introduce it to you, our kilt loving ladies and gents. The OZKILTS Utility Kilt Belt!
We couldn't be happier to welcome The Ozkilts Utility Kilt Belt into the Ozkilts superb line of utility kilt products and accessories. But what is it actually, you ask? Let us break it down for you.
Introducing the New OZKILTS Utility Kilt Belt!
Before the introduction of the tailored kilt back in the late 18th century, some sort of belt was needed by kilt wearing men from that time to prevent their kilts from falling down. Today's modern tailored kilts and utility kilts are fastened about the body securely.
Modern kilts are secured with straps and buckles, ensuring the kilt wearer there will be no 'whoopsie' incident from ever happening, at the risk of exposing what men really wear under their kilts.
However, at Ozkilts, we have received so many enquiries and requests from our most loyal customers and followers for a utility kilt belt. We took their noteworthy requests to heart, and designed a utility kilt belt with them in mind. Our new Ozkilts Utility Kilt Belt not just add security in holding up their kilts, but we made sure that they are built to last.
The Ozkilts Utility Kilt Belt is made to suit Ozkilts Men's Utility Kilts, but that doesn't mean you can't wear them with kilts made by other suppliers as long as they have 2.5 inch belt loops. Check out its features:
Made of heavy yet comfortable, flexible cotton weave.

Double Heavy-Duty Chrome Buckle

Double Heavy-Duty Metal Eyelets

Laser engraved logo

2.5 inch (6.35 cm) height

Large fitting range (see

our sizing guide

for more information)

Comes in Black with Chrome Fixtures

They are hand made.
Do Utility Kilts need belts?
Utility kilts have leather strap or Velcro fastening systems that ensure a perfect fit. Wearing a utility kilt belt (especially those working in their kilts) increases its functionality, comfort, and boosts your style. Wearing a belt allows you to concentrate on your work without the necessity of repeatedly adjusting the kilt during active moments. The wide range of adjustment on our belts gives a great range of fitting, and its flexible material construction makes it ultra-comfortable.
Kilts aren't typically padded, so if you load it up with a bunch of tools, it will drag on your hips and be really uncomfortable. A great utility kilt belt sitting comfortably just above your hips will solve this.
Our new belt allows you to load up your kilts and its pockets with as many tools or toys (or beers?) as you wish. Allowing you to work productively throughout the day in blissful comfort. Why should Batman have all the fun? 😉
Nowadays, kilt belts are also seen in formal and semiformal settings with a selection of other kilt accessories. Wearing a broad belt when wearing a kilt without a waistcoat is best, so while it can be seen as very much a "show" item rather than something that is required. Once you try one of our belts, you will be amazed at how your most comfortable clothing item just got even better.
PRO TIP: Do note, that our belts are sold with double chrome pins and roller fasteners. If you happen to attend any formal event in a jacket with a waistcoat, a traditional add-on kilt buckle may not fit over the belt.
The traditional kilt belt and buckle makes one seem overdressed for casual wear, and can be bulky and uncomfortable when sitting. However, we've designed this belt (without a big buckle), helping it aesthetically –  look quite good, while retaining the kilts' natural comfort. Our kilt belts are extra wide (ours is 2.5 inches (6.35 cm)) when compared to ordinary belts, as to suit our kilt belt loops perfectly.
Technically speaking, a utility kilt can be worn without a belt. But, if you are an active individual or simply want to add to your flair and style, your kilt will stay in place better and add to its functionality while looking your best. Give our new OZKILTS Utility Kilt Belt a try, you won't be disappointed.
How is a Utility Kilt Belt different from ordinary belts?
A utility kilt belt is not like an ordinary belt that you might be using in daily routine life. They are special accessories that not only worn to hold the kilt but also adds to the personality of the wearer.
Our Utility Kilt Belts are bigger than casual belts, and due to this, you cannot wear them with regular pants as they most likely not fit regular-sized belt loops.
Ozkilts Utility Kilt Belts are functional and durable. The belt gives your kilt the strength to stay up no matter how much you attach stuff to it or stuff your pockets. Your ordinary belt can't do the same. This black flexible cotton weave accessory is what you will need when carrying extra stuff, allowing you to remain hands free, and be ready for anything.
As a plus factor, they look great, and many kilt wearers swear by them. Hence, we've finally honoured the many requests received to develop and offer the perfectly designed kilt belt.
Where can I get them?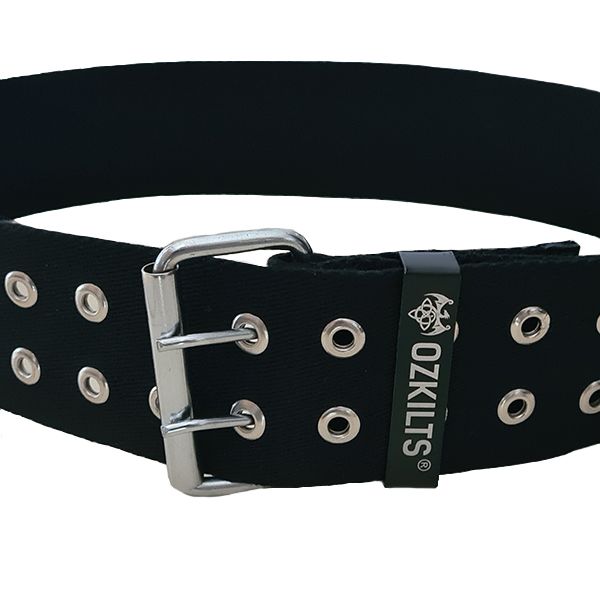 The good news is that The Ozklits Utility Kilt Belt is now in stock and available for purchase. Placing an ordering is easy, CLICK HERE to direct you to the product page. Choose the size you require (check our sizing guide). Then add it to your cart.
For now, we only offer our utility kilt belt in standard black with chrome fixtures. Do let us know if you want us to come out with other variations that you might prefer.
We have several payment options available for you to pay for your purchase.
Place your orders today as we celebrate the arrival of our first official kilt accessory that our Kilted Community asked for. And while you're at it, join us at Ozkilts and sign up for discounts, specials and amazing offers!