Utility Kits are a modern interpretation of the traditional Woolen Tartan kilts from the Scottish Highlands. Designed for more robustness and well, for a lack of a better term… Utility, these kilts were made with everyday activities in mind.
Think of Utility Kilts as Off-road SUVs like Raptors, Hummers, Range Rovers, or the Geländewagen (G-Class). They're built to be tough and basically go everywhere. With our Utility Kilts, you can do so much more compared to normal kilts since our utility kilts are made according to modern needs, not to mention that our utility kilts look good enough to be worn on semiformal occasions.
Tough, comfortable, and stylish, that's what the modern utility kilts bring to the table.
Enter our Deluxe Utility Kilts
Our Deluxe utility kilt is an evolution of the traditional Tartan Kilt, albeit aimed towards being compatible with more modern styles. Let's be honest, finding casual clothes that fit with tartans is pretty hard.
Can you wear traditional tartans casually? Yes, of course. I'm just saying that it's easier to find something in your wardrobe that doesn't make your kilt stick out like a sore thumb.
Before we go into styling and fashion. Let's see what our Deluxe Utility Kilts bring to the table.
Fabric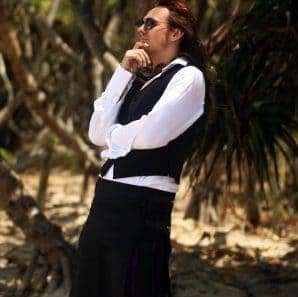 The fabric we use to make our kilts are 100% heavy-duty cotton. Cotton is a light fabric and that means it isn't as thick and hot compared to wool, which the traditional kilts are made up of.
This gives our kilts unparalleled breathability while maintaining their comfort. They said that the Kilt's best feature is the comfort it gives for its wearer especially, down under, (if you know what I mean), that's just due to the design.
Imagine the ventilation if you add a breathable fabric like cotton to that. Our Utility kilts also come with our Deluxe Leather Fastening System. It ensures that your kilt will fit you perfectly.
Our Utility kilts are perfect for high activity situations, especially in the summer. Since it keeps you cooler. No matter if you work either indoors or outdoors.
Cotton kilts will not cling to your skin and leave it irritated, chafing will be limited as well without constricting your mobility and
reducing your range of motion.
Construction
Our Utility Kilts come with either a more traditional knife pleated design, or a box pleated design. This design allows the pleats to hold tighter compared to the standard knife pleats of more traditional tartan kilts.
Aside from the box pleats, our kilts offer a deluxe leather or Velcro strap fastening system (depending on the model of utility kilt you order). The fastening system allows for micro-adjustments of the kilt size to ensure a perfect fit at all times. This fastening system is a modern reinterpretation of the traditional tartan kilt buckle hip fastening system.
With the combination of our heavy-duty fabric, our knife pleat design, and our leather fastening system. Whatever strenuous activity you might enjoy be it, running, working out at the gym, hiking, blacksmithing, or even fire juggling.
Our kilts will stay in place and keep you cool while you're at it. This is peak comfortability right here.
Other Advantages of Utility Kilts
Utility kilts are now more prevalent, especially in more Avant-garde neighbourhoods. What was once a symbol for rebellion and freedom, has become a symbol for masculinity, uniqueness, and being fashionable.
Since our utility kilts are modern iterations and are free from the baggage of tradition of the Tartan kilts. We can be more liberal and bold with our choices and design, keeping it modern but at the same time respecting where our kilt designs originated from.
Our utility kits also come with Detachable cargo pockets. No more worrying about where to put your wallet or your phone when rocking out your kilt. No more need to carry a Sporran as well (sporrans are still pretty kick-ass, though).
We decided to make our cargo pockets detachable, just so that you can use your kilt on different occasions. From Casual to semiformal events, you can use our utility kilts whenever you want.
Fashion
The unique advantage of utility kilts is that, despite looking almost exactly like traditional kilts, is that it lacks the burden of History. What I mean is that utility kilts don't hold meaning, it doesn't represent any clan, aside from the love of Scottish culture, and you can pretty much do whatever you want with a utility kilt.
Whether you wear it with a long-sleeved shirt or your favourite T-shirt with a faded classic rock group's logo on it. The advantage of utility kilts is in their colour choices.
Sure, tartans look good, but try matching them to your wardrobe. With utility kilts, they usually come in mostly solid neutral colours, thus making matching a (relatively) breeze.
Utility kilts as a fashion item are very versatile. If you want to go with a more traditional look, wear it with a Jacobite or Ghillie shirt (No. A Ghillie suit is different from a Ghillie Shirt, those are for snipers, Ghillie shirts are loose traditional shirts usually partnered with a kilt), add a waistcoat, vest, and other accessories, and you're done.
For a more modern approach. You can wear your utility kilt in a multitude of events, from black-tie events to relaxed casual, you could even use utility kilts for work. With that in mind, you can partner your utility kilt with anything from a suit jacket, blazer, shirt, and tie, to T-shirts. Here your fashion sense would be needed.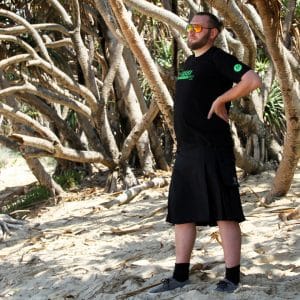 With flexibility comes the freedom to dress as you wish. Wear your utility deluxe utility kilt with your finest oxfords, tactical boots, or your pair of infrared Jordan 6's, it's all up to you.
Utility kilts are designed for working or daily use. That's why utility kilts are usually designed with belt loops, straps, and pockets. Carry your, phone, wallet, or anything you might want without the need for a sporran, bag, or other carrying accessories.
Utility kilts come in different materials, from leather, denim, wool, cotton, and many other more fabrics and colours. For our Deluxe Utility Kilts, they are made from 100% heavy-duty cotton, they come in a number of colour options that can be easily matched to your wardrobe.
Check out our Deluxe Utility kilt for our interpretation of what a modern, fashionably chic kilt should be.