The kilt is a recognised fashion item in its own right. More importantly, the kilt is a world recognised symbol of a country and the fierce national pride contained within.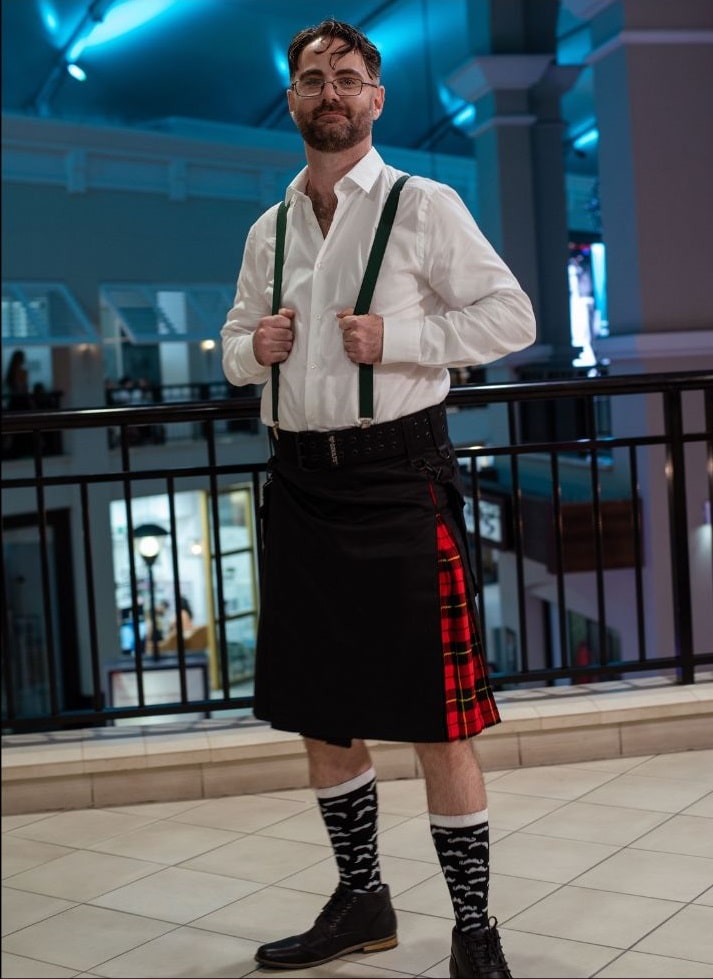 However, fashion does evolve over time. This can certainly be said about any subgroup of style, which can certainly be said about kilts. Kilts began as garments that were exclusive to the Scottish Highlands, and they were almost all exclusively made of tartan.
Tartan kilts are usually attributed to a family name or clan, to which the kilt wearer belonged, and that was about as diverse as it can get. As time passed, kilts were re-invented and became a more common manner of dress among people of all ages. The good news is, it also brought the incarnation of various styles that are now available.
At Ozkilts, we know the value of time-honoured kilt wearing tradition, but we also know the value that having more options for kilt styles is just as important to the modern day kilt wearer. We offer a variety of modern utility kilts for sale to fit anyone's needs, style, and tastes.
Kilts are coming back into trend
You might have noticed that kilts have made a major comeback and will be coming back to trend in 2023. The fashion statement is enjoying a resurgence in the 21st century.
Kilts have been around for hundreds of years, but their resurgence in the fashion world is hard to deny—appearing on runways, red carpets and in magazines. From the traditional Scottish tartans to their modern interpretations, this garment has been adopted by celebrities and public figures.
To put this into better perspective, the 2022 Met Gala counted at least three celebrities who attended the event in three different kilts. Of course, there's a reason that has nothing to do with making a political statement or misappropriating Scottish culture: Kilts are sexy, comfortable and look great both in casual and formal attire.
No matter what the wearer's reason is, wearing a kilt correctly and with confidence will definitely make you look badass. So if you're ready to ride on this fashion trend and beyond, keep reading to find out what you need to know about utility kilts, and find great selections of modern utility kilts you can order online.
Modern Kilt Styles
As modern kilts are becoming more and more popular, what does it mean for those who wear them? Are they actually trending among the fashion elite?
For those who dare to break the mould, modern kilts offer a twist from the traditional without sacrificing functionality, comfort, and style, a quality like no other garment can provide. The modern take on this classic design is apparently popular among millennials, who love expressing themselves through fashion.
Whether you're looking for a statement piece or perhaps adding a bit of colour and/or texture to your wardrobe, there's something for everyone when it comes to kilts. The modern utility kilt has proven that it has increased its popularity and a viable clothing option among today's trendsetters.
Celebrities in Kilts
The more recent resurgence of the kilt in mainstream fashion as well as in celebrity culture. From red carpet events, music festivals, and beyond, it seems kilts are everywhere these days.
Is there a reason behind this sudden surge in popularity? Is this trend temporary? What makes this timeless garment so desirable today?
Despite slipping out of fashion in recent years, there are signs that kilts may be re-emerging. More and more people are discovering the kilt's unique style, from runways to Hollywood stars. More and more people are discovering the kilt's unique style, from runways to Hollywood stars.
In 2020, fashion designers like Balmain and Gucci included kilts in their collections. Lady Gaga and Rihanna rocked kilts on the red Carpet. Oh yes, kilts, though it exudes masculinity, can be worn by women too.
Its popularity and acceptance in modern fashion can be attributed to its combination of classic styles and contemporary trends. Additionally, not only is it fashionable, it is also versatile.
The kilt can be worn for both formal and everyday wear. Furthermore, its unique design allows for endless styling possibilities, allowing the wearer to customise it and create their own individual look.
Is the kilt actually trending?
Let's address the question, are kilts actually trending? To put it plainly, kilts are back and better than ever. It is therefore no surprise it is having a moment in pop culture.
With so many modern takes on the kilts being sold today, there is something for everyone, and assuredly making waves with contemporary fashion around the world. Moreover, a kilt can go with anything from blazers to a T-shirt.
With fashion undergoing a cultural reset in recent years, it's not uncommon for men and women to wear sustainable and gender-neutral fashion. As more people do away with the outdated notion of male or female fashion, there is an influx of men pulling out kilts and playing with shapes and proportions.
With society relaxing its own strict and nonsensical ideas when it comes to traditional fashion, more men are coming to wear modern kilts and enjoying the uniqueness and freedom the garment gives. It is now more common to spot men and women attending functions dressed in kilted splendour.
Assisted by the internet with its ease of ordering and choosing—new styles and design ideas stemming from the traditional kilt are continually being tested and reworked.
What makes modern kilts such a hit in today's generation is the fact that they are available in a variety of styles. Ozkilts has a splendid selection in our range that will suit anyone's fancy.
Dress them up or down
One of the main reason why kilts are so hot in fashion right now is its versatility. The versatility they offer makes them irresistible for men who want to stand out from the crowd.
Depending on your mood or the kind of gathering you are planning to attend, you can easily dress it up or dress it down. For example, Ozkilts Active Utility Kilts are perfect for everything. Pair it with your favourite sneakers and a nice tank, you are then ready to head on out to go to the gym, hike, or run.
Going to the office? Our Deluxe Utility Kilt is your best bet. Add a few accessories to it (if you so choose) and you're ready for a night out around town.
These are just two styles from the Ozkilts Range of Utility Kilts, and we are coming up with new styles soon, worthy to be on the lookout for. So sign-up with us and get discounts on your first purchase.

Put on a kilt with pride and experience a new sense of well-being!