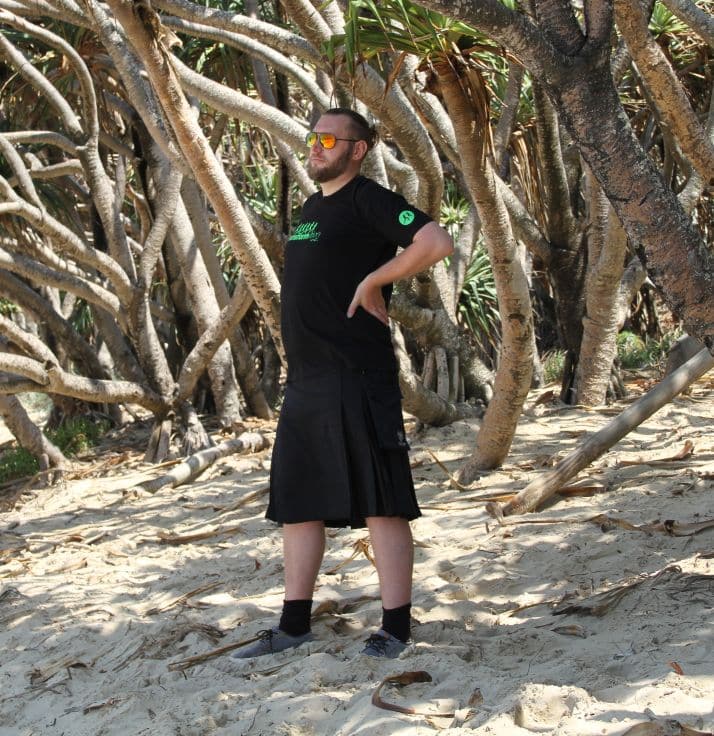 You need to gift someone you know on his birthday. What would you probably choose? A watch, perfumes, ties? All these are traditional gifting choices, and you will agree, quite boring in appeal.
Why not gift something unique?
Something that will make the person stand out in a crowd? Why not gift a utility kilt?
Why Choose a Utility Kilt as a Gift
It is not when you run out of ideas that you choose a utility kilt as a gift. In fact, a utility kilt makes for such a wonderful gift. And we can tell you why.
The most important reason why a kilt is a wonderful gift is that it is unique. Kilts are becoming popular by the day, and you know you made the right choice when you see the recipient applauding your thought.
Utility kilts are very practical. If you intend to gift to someone who loves woodwork, DIY projects, trekking, adventure hiking and similar activities, there is nothing more practical than a kilt. From the pleats to the fit and from the pockets to the fabric, a kilt is simply cut out for the task, pun intended.
A kilt is super fashionable, and you don't just have to take our word for that. Simply check out the celebrities who have shown up at events wearing kilts, and you know you are giving something that is really trendy.
Kilts have Health Benefits too
Not many people really think about the harmful effects of wearing tight pants and trousers. Or rough denim for that matter. From skin rashes to ailments, not wearing the right clothes can cause a lot of harm.
Kilts made from cotton are 100% natural, breathable, and more importantly do not affect the wearer's skin. Need we say more?
Looking Cool with Sports Kilts
Sports kilts make a fashion statement simply because you can get them in so many patterns, textures and of course, accessories like buckles, fasteners, pockets and more. A sports kilt is a superb gift choice, and you will only be too happy when the recipient acknowledges your fine sense of fashion.
Look beyond traditional gift ideas for men. Choose from a wide range of ready-to-wear and customised kilts. Pick a kilt for giving as a gift and pick one for yourself too. You know you just cannot resist the temptation when you see the kind of kilts available at Ozkilts.