Warning:
DO NOT USE YOUR PANTS SIZE WHEN ORDERING YOUR KILT!
– 10% of Movember Kilt Sales Donated
– Precisely Adjustable (For the Perfect Fit)
– Special Movember Red Tartan Accents
– 100% Quality Cotton Stretch
– Quick Fit Velcro Fastening System
– Flexible Side Pleats for extra Manoeuvrability
– Large Detachable side cargo pockets
OZKILTS Proudly presents the 'Movember Utility Kilt', the perfect kilt to wear in support of men's health this Movember (or just anytime!). 10% of all sales of this kilt will be donated to Movember.com, to support men's health.
Here at OZKILTS we are strong men's health advocates. Wearing a kilt has even been shown to assist with men's reproductive health as tighter restrictive clothing can be detrimental to the natural cooling function of your wrinkle purse.
Our Custom Movember Kilt comes with 'Box' style pleats with beautiful Red Tartan accents. Box Pleats hold tighter than a standard knife pleat, great for active people on the run. Our Heavy Duty cotton stretch material offers the perfect balance of comfort & breathability, the material fits to your body over time just like your favorite pair of jeans, without being a prison for your bits. Our Sports Kilt Velcro Fastening System offers the most precise fitting possible, while offering, as well as a.
The flex pleat system offered on this kilt, is featured on either side of the kilt. It allows for further movement of the kilt during high movement activity while offering superior comfort and flexibility when compared to traditional kilts.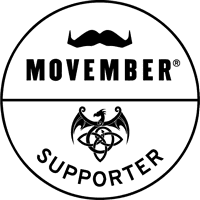 We recommend our Movember Utility Kilt for anyone wanting to support men's health this Movember!
Make sure you check out our sizing guide for more information on selecting the correct size for a perfect fit.
Additional information
| | |
| --- | --- |
| Size | S, M, L, XL |
| Color | Black and Red Tartan |