Our Australian Utility Kilts are always in development here at Ozkilts. And we are constantly in the process of updating our existing patterns, and always on a quest to develop the perfect piece, often leading to new designs. We've now lost count of the number of improvements, revisions and changes to our design specifications, but it's at least in the hundreds.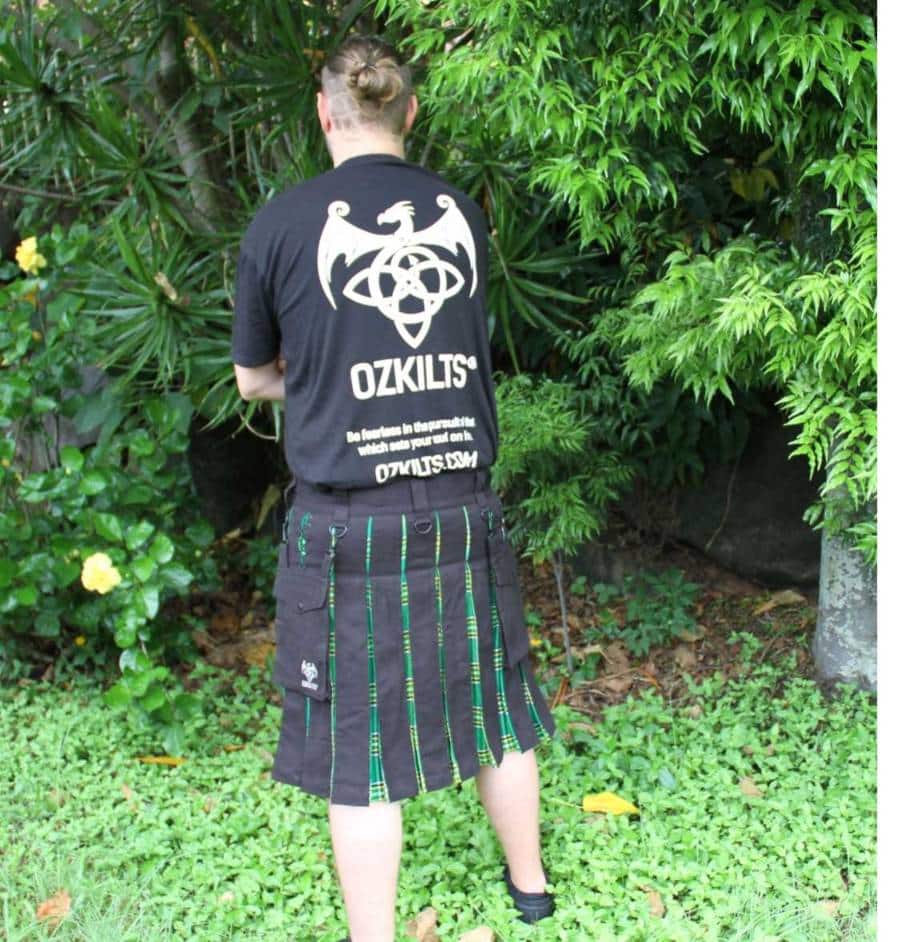 But that doesn't mean that we don't ensure the quality of all our existing designs, and the pieces we already have that our loyal customers love to have and are proud to wear. What's the greatest motivator for us at Ozkilts is that our clients are happy with their purchases.
It warms my heart to know that what we do helps our kilted clan to look good, feel good, and be proud in the kilt they wear. And as an avid utility kilt wearer myself, I'm happy that our kilted community is growing. For me, this is more than a testament of who we are, and the quality we provide.
Our goal is to offer the highest quality Australian designed kilts, not only in Australia, but throughout the world.
How Ozkilts Came to Be.
As a kilt lover who's been wearing one for years, I found it quite frustrating not being able to get quality kilts right here in Australia. The problem was, the Australian kilt industry (and the world over) has been flooded with inferior overseas manufactured kilts.
To put it bluntly, there are cheap kilts floating around in the kilt market. Note that getting cheap comes at a price and can potentially cost you more in the long run, usually we find these cheap kilts are more suited to a one use costume party (as long as you don't mind looking tacky).
Though we're not against sourcing items manufactured abroad, there has to be a rigid quality control. Inferior imported kilts often lack its front Z apron to cut down on the materials used, or use hot fully synthetic materials.
To make matters worse, local manufacturers started popping up and began shipping poor quality items to their customers. This is an issue I had to contend with, the lack of a reputable quality kilt supplier throughout Australia. Even worse, buyers down under often get the short end of the stick.
If I wanted to go for quality, I had to source items from the US. This means I have to shell out and pay for exorbitant postage and shipping fees, which they don't tell you about until you check out. Even then, the quality was slipping significantly from these suppliers, who were clearly lacking quality manufacturer and control.
I also had to contend with dealing with the dismal exchange rates that make a singular purchase much more expensive than they ought to be. Adding to my frustration, is the long wait time to receive my items.
This just won't do. Out of these frustrations, I created Ozkilts. I worked with experienced fashion designers, built manufacturer relationships, created the branding, and everything else to formulate a range of quality products.
Add to this, I also developed a smooth ordering process to make it easy and buying our kilts a fast and fun adventure.
Ozkilts Make Awesome Kilts.
Ozkilts Utility Kilts are modern interpretations of the traditional Scottish Tartan kilts. We designed them for their utility and robustness with everyday tough activities in mind and to go everywhere.
You can do so much more with Ozkilts Utility Kilts compared to traditional kilts since they conform to modern needs without sacrificing its look, in fact, they look good enough to be worn on semi-formal occasions.
Our Utility kilts are constructed from durable cotton that can take the stress of daily use. They are also low maintenance. You can chuck them in the wash once in a while. Lay them flat after washing, and you're good. We do prefer if you hang them to dry.
Are you concerned they won't fit you as you gain or lose inches on your waist? Not an issue since they can adjust to your body. Our kilts are fully adjustable within reason. Their design is timeless, will last a long time, and a great addition to your wardrobe.
What Makes Ozkilts Kilts Different?
All our range of utility kilts at Ozkilts are hand-crafted. We don't rest on our laurels, and we constantly update our existing patterns in constant search for that perfect piece.
Our updating process often leads to the creation of new designs, but at the same time, it ensures the quality of the pieces we already have. Do you want to take a peek at what's new? You can sign up and be part of our kilted community. You can also follow us on our socials on Instagram and Facebook to see what we are up to.
If you think utility kilts are appropriate only for work or play, you're in for a surprise. They are appropriate for any occasion and seasons. Unlike the traditional tartan, it's easier to find something you already have in your wardrobe to match your Ozkilts Utility Kilt.
Being made of 100 percent heavy-duty quality cotton, your kilt is assured of unparalleled breathability while maintaining their comfort, especially down there where it matters most. Not burdened with tradition, we can be more liberal and bold with our designs. They're modern but still paying homage to where our kilt designs originated from.
Ozkilts Utility Kilts come with detachable cargo pockets that you can use to put in your phone and wallet, or any other stuff and valuables you need to carry. It's a conscious decision to make our cargo pockets detachable, so you may be able to use your kilt on different occasions.
Utility kilts are usually designed with belt loops. If you want added security in wear, you can use our recently launched Ozkilts Utility Kilt Belt, for added functionality and style. Our kilts can come in either Deluxe Leather Fastening Straps or Velcro Fastening systems, to keep it at the right fit when wearing them.
What sets us apart from other manufacturers is that they use large scale manufacturing, Ozkilts utility kilts, on the other hand, are handmade. They ensure comfort and utility at any time of the day.
Why Choose Ozkilts.
Gives you comfort for your bits,

boosts your health and well-being

.

They are great conversation ice-breakers.

They promote better men's health.

Utility kilts are tough and long-lasting.
Regardless of its modern and slight deviation from its traditional origins, it is still an ode to a time-honoured piece that calls for respect and must be worn with pride, respect, and confidence.
When you choose Ozkilts, not only will you look fashionable, but offers you the perfect combination of style and comfort. And we do have styles to suit your taste and lifestyle. Be among our kilted clan and sport your kilt.