Trust us when we say, sizing yourself up for a utility kilt isn't all that tough, but it is important to do it right. Do it right the first time, and it'll save you valuable time and money later.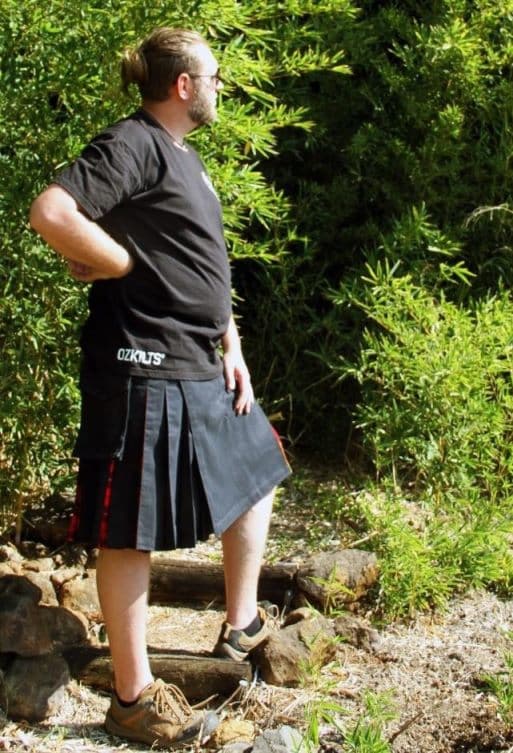 Proper measurement is the initial step for any type of kilt. One essential note to put into consideration is that the size of a kilt is different from that of your pant size.
The kilt should be comfortable to wear. It can sit anywhere that'd be best suited for you, but never higher than your rib cage and no lower than your hips. If measured correctly, your utility kilt should fit across your middle snugly with its drop laying on top or, in the middle of your knee bone. However, we recommend our customers to wear them in the way that feels most comfortable for them.
One of the biggest questions we often get asked here at Ozkilts is, "what size should I order?" Here, we explain that your pant size is different from the size you need for a utility kilt.
If you order a utility kilt based upon the measurement of your pants or jean size, chances are the kilt you order will almost certainly be too small for you. We don't want any of our customers to be disappointed, and measuring for a kilt is easy-peasy.
Obtaining precise measurements is important to ensure your kilt will fit correctly. Pants manufacturers unfortunately do not actually size their kilts following real measurements, so often one manufacturer's pants of the same size will be different to another! By measuring your fit, we know our kilt will be sized for you perfectly, and with our kilts offering a huge 8 inches of adjustment, there's usually plenty of wiggle room.
Finding Your Correct Kilt Size
Though it is possible to measure yourself, for a more accurate result, it is always best if you can get someone to help you out in getting your measurements.
1.  The first thing you'll need is a standard measuring tape.
You don't have one? No sweat, get a piece of string or your standard belt. Measure the length that comfortably wraps around you. Do be as accurate as possible when getting your measurements.
We suggest you get a couple of measurements to be more precise. But before measuring, ensure to remove any piece of bulky clothing for accuracy. Do a couple or of measurements, write it down before you buy.
Your kilt will normally sit a little higher than your pants or trousers, so the measurement may be bigger than your pant measurement. Though it's tempting to breathe in, don't.
It is instinctive for men to pull their stomachs in when they are being measured. Even though adjustable straps allow for some margin of error, do take a couple of measurements to make sure that it's correct. Please don't rely on second guessing your measurements, accuracy is up to you.
2.  Select Your Fit.
Note that there are TWO WAYS to get the measurement of your kilt, depending on how you are going to wear it.
How you wear your kilt is of great importance. The traditional method is to wear it around just below your navel. Another method is wearing it around your natural waist. This should be precise measurement, as you do not want your kilt to fall down during movement.
3.  Measure.
All Ozkilts utility kilts are of standard/average length of 24 inch drop (about 61 cm.) for men and 20 inches (51 cm.) for women. Generally speaking, in our years of selling kilts, we have not one customer have an issue with our standard drop length. What's more important is paying close attention to how your fabulous kilt fits. 
Comfort Fit (Waist Measure)
This is the most modern way to measure for a kilt. The first step is to measure your waist size around your body where you are planning to fasten the kilt.  Do not pull it, just slightly snug. Not tight, just snug.
Measure the point with normal breath. No sucking in or pushing out of your gut.
Traditional Fit (Belly Measurement)
Measure at your belly button. Do not suck it in. And take your measurement where you would like your kilt to sit. Just like a comfort fit, make sure it is just snug.
If you have a fair amount of girth on you, we would advise wearing the kilt just above your biggest point. This will prevent your kilt from falling/sliding down most of the time.
Regardless if you choose to wear your utility kilt in a traditional or comfort fit, a kilt is worn roughly around the knee, however this is more a guide than a requirement, which is why we have a standard drop length that's ideal for the vast majority of customers.
4.  Review Our Sizing Chart
Below are Ozkilts measuring guidelines:
Small – between 28 inches and 33 inches (71 cm to 84 cm)
Medium – between 34 inches and 39 inches (86 cm to 99 cm)
Large – between 40 inches and 45 inches (101 cm-115 cm)
X-Large- between 46 inches and 51 inches (116 cm-130 cm) 
5.  Select Your Size. 
Now that you have taken your measurements, and double-checked, but there are still issues you want cleared up, don't hesitate to get in touch with us. We will be more than happy to assist you with sizing to styling your kilt.
6.  Get Your Kilt.
It's not all that difficult to get the right kilt. It may be different at first, especially for first time kilt wearers. Regardless of style, you choose from our superb utility kilt and accessories range.
Getting your measurement right will assure you won't have an inaccurate fit that will hurt your style. Once you receive your order, give yourself ample time to get used to wearing it. The freedom you feel may be unsettling at first, but in no time, we guarantee that it will feel like wearing a second skin.
If you are on the lookout for the best quality kilt, look no further than Ozkilts. We offer a range of utility kilts for every occasion, from work, play, formal, or even for daily use.
With your correct measurements supported by our well-designed strapping or Velcro systems to ensure you get desired fit and ultimate comfort and style.