Kudos to you for starting your kilt journey! At this moment, your priority must be knowing how to move forward with kilts. Trust me – it is very understandable that working out what to wear with an outfit so manly, with centuries of tradition woven in it, can be quite intimidating – but it does not have to be.
With this intuitive guide on what to wear with your new fashion staple, you will be at the top of your game in no time. Whether it's the top you would pair your kilt with, or which accessories go with what, we've got you. Plus, if you have been wearing kilts for a long time, you can say hello to the new trends of the kilt fashion world.
Before we dive into mixing and matching, you must not forget the basics: Kilts are not omnidirectional. Pleats to the rear, fringes on the right-hand side, and aprons should be up front overlapping. Kilts are super high-rise; they should reach above your navel and then drop to your knees. Pro-tip: shirts should be neatly tucked into your kilt.
Various Styles of Wearing Kilts
Kilts are truly versatile, so whatever you decide to pair them with sets up the look you want to achieve. If you are going for a traditional vibe, a Ghillie Shirt would work the best. Ghillie Shirts, or Jacobite Shirts, are popular for being lightweight and loose-fitting. They allow you to opt out of ties, and they have nifty leather lacing around the neck that adds to the comfort.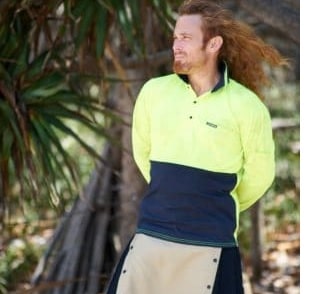 Should you want to go for a more laid-back feel, remember that there is no need to skimp on class. You can avoid full patterns of knots with stylishly plain sweaters and shirts with colour that match up with your kilt's hues.
From there, you can upgrade to wing collar shirts with bow ties for more formal events or festivities. If you want to go full-on formal, a Victorian collar shirt is a good bet. Pair it with a cravat, bow tie, or a ruched tie, and you'll be good to go.
Waistcoats, vests, as well as speciality kilt jackets go very fashionably with shirts. With those complementary pieces, you must always consider the colour with regard to your kilt – otherwise, they wouldn't be so complementary.
When choosing not to wear a waistcoat, kilt belts and buckles can come to your rescue. These run along the entire waist and are wider than ordinary belts. They are fastened up front on top of the Sporran.
When your base pairs are set, you can decide on the accessories. Typically, after putting on the top and kilt dress, Sporrans are linked around the waist. They come in varieties such as the very formal silver cantles and ones with fur fronts to the modern faux leather and suede.
Sporrans are also about functionality, since they make up for kilts' lack of pockets (if they don't have one.) They are usually fitted with brass and can come with a button clasp and pouch lids.
You might ask, "Is my kilt wear complete now?" Well, the answer is no. To fasten your kilt's flaps more securely, especially during times when you go au naturel, a well-crafted Kilt Brooch is the way to go.
Not only are they efficient, they add even more personality to your already unique look. Now, your tartan, utility, or hybrid kilt will strike anyone speechless and leave them gagging overlook.
Of course, you're born to go beyond. Therefore, to fully achieve a sophisticated and stylish look, you can complete your attire with Kilt Brogues and Hose.
For shoes, you can never go wrong with wearing the highest-quality and most chic Oxford shoes there are. The way you wear kilt hose depends on the shoes you choose.
They mostly reach just below the knee with the decorative top folded. Finish everything off with kilt flags on your hose and that's it, you're ready to strut your stuff around the town!
Are you ready to put some style on your kilt?
We are here to join you in your journey in choosing the kilt that best represents your personality and your utility needs. A wide range of high quality kilt selection is available depending on your personal preference.  Maybe you want to feel like a rocker for today, and by tomorrow, you are going to a barbecue, whatever your need is, we have a kilt for you.
Ozkilts is very proud to say that we are the only company with utility kilt range designed by professional workwear designers. This gives men (and even women) a room to breathe and a sense of complete freedom. For more information that you can get from wearing a kilt, you can visit this link: https://ozkilts.com/