Heads up! This post contains an important announcement, so make sure you read all the way through.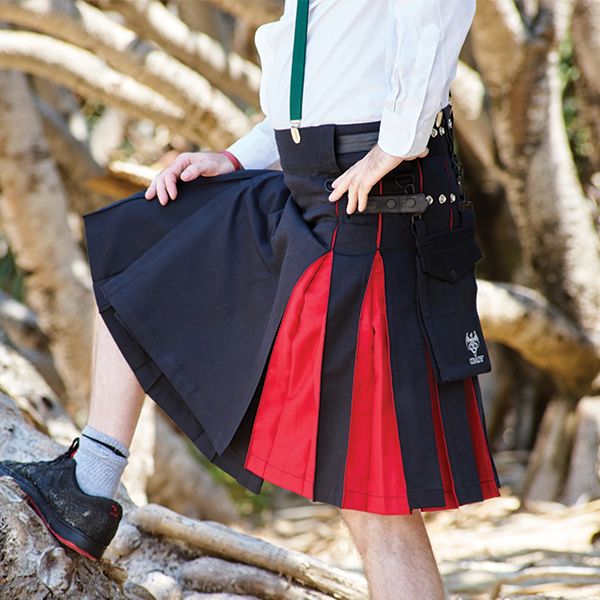 When we started Ozkilts, it was our goal to bring quality handmade Utility Kilts throughout the world. This was brought about by the frustration of Eden Brownlee, our founder, about the influx of poor quality kilt products one wouldn't even dare wear at a costume party.
Eden took it upon himself to sit down and slaved away working with fashion designers to create a quality range of products, including the branding, forging manufacturer relationships, and creating a smooth ordering process. He made it a point to make buying a quality kilt a fun and fast adventure.
The Ozkilts Hybrid Utility Kilt
Among our utility kilt designs that we have from the very beginning is our much loved Hybrid Utility Kilt. It is with a heavy heart that we have to say goodbye to our signature Hybrid Utility Kilt that comes with 'Box' pleats and two-tone colour options: Hybrid Red and Hybrid Purple.
Being among our pioneer utility kilt designs, we simply can't have it simply vanish from our kilt range page without giving it the proper send off it deserves. Any utility kilt from our range of quality products deserves this much respect, nothing less. We also can't let it go by not informing you, our valued clients, of its departure. 
We know this may sound a bit disappointing, but it doesn't erase the fact that customers have purchased our Hybrid Utility Kilt in the past and enjoyed their purchases. And you still can have that opportunity, we still have some Hybrid Utility Kilts left in stock. This is your chance to get the few items left in stock before they are gone for good.  
The Ozkilts Hybrid Utility Kilt is made from 100% cotton and features our Deluxe Kilt Leather Strap System and large cargo pockets on either side. In comparison to traditional kilts that use a buckle hip fastening system, the leather strap system allows the kilt to be adjusted for a perfect fit at all times.
Exciting Changes Ahead
For many, goodbyes are an uncomfortable situation, but they also do provide the opportunity for us to enhance the value of our relationship and interaction with you. We are constantly evaluating customer demand and trends in order to provide the best products for our followers and customers.
Exciting changes are coming to Ozkilts that's worth looking out for, so stay tuned. We may be saying goodbye to our Hybrid Utility Kilt, but we are coming up with new designs soon. This is something to look forward to, like our new line of Utility Kilt Accessories.
Just recently, We have introduced the Ozkilts Utility Kilt Belt, after receiving a lot of enquiries and requests from our most loyal customers. Utility Kilt Belts are made to fit Ozkilts Men's Utility Kilts, however you can wear them with kilts made by other suppliers, and you'll definitely add personality to your look wearing one.
For now, we offer our Utility Kilt Belt in black with chrome fixtures. We'd love to hear from you if you'd like us to come up with other colour variations and designs. Do let us know by getting in touch with us, we're here to listen.
The Ozkilts Utility Kilt Belt is now available HERE.
Of course, we didn't forget about the best way to safely store your kilt. Although Ozkilts Utility Kilts are predominantly constructed with durable high-quality cotton, like any garment, they can crease if improperly stored. We don't encourage kilts to be simply folded and stored like regular clothing, they do need special care and a little extra attention, attention similar to what we normally do for our formal suits and dress jackets.
Ozkilts developed and specially designed Ozkilts Utility Kilt Hangers that fit any normal-sized wardrobes and most garment bags. It features four chrome clips that are sturdy enough to hold up to two kilograms of weight, and it's specially designed to hold your kilt securely. It's designed to prevent kilts from slipping off, causing fabric damage, or leaving marks while being stored.
Get your Ozkilts Utility Kilt Hangers HERE.
You Love Box Pleats?
Apart from two-tone colours, many of our customers are fans of 'box pleats.' In the event you can't get hold of our remaining Hybrid Utility Kilt stocks, we do have other styles in our utility kilts range, sporting box style pleats:
Regardless of the style you choose in lieu of our outgoing Hybrid Utility Kilt, an Ozkilts Utility Kilt provides you with superior comfort and flexibility no matter the weather, occasion, or activity. Best of all, you're never out of style in an Ozkilts Utility Kilt.
Watch Out for Something New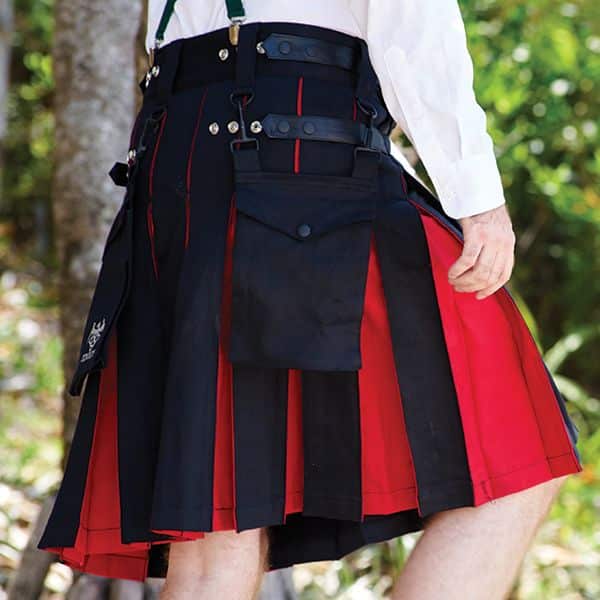 Change is both scary and sometimes uncertain. But we are confident that with your continued support and patronage of quality Ozkilts products all these years, the coming new range of products will surely be worth looking out and waiting for. We have exciting times in store for you in the coming days.
One constant we do have for you is providing several payment options to remove the guesswork on how you'll pay for your purchases. Let's face it, it's not fun trying to figure out how to pay for purchases online and/or be constricted by payment options.
Rest assured that Ozkilts will continue providing you with the best quality handmade kilts. We may be giving our Hybrid Utility Kilt its final bow, with only a few stocks left you can still get hold of, do keep abreast with our coming offerings. Join the Kilted Clan and sign up for our Kilted Clan Newsletter today.