Let's lay it down, St. Patrick's Day is the national holiday of Ireland and now everywhere, and a kilt is the national dress of Scotland. This conundrum begs the question: Do I wear my kilt on St. Patrick's Day? Won't people think that's foolish?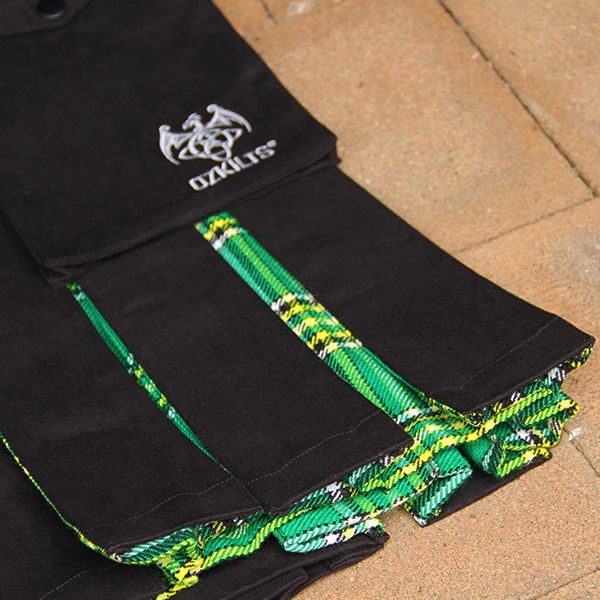 Well, there are definitely folks dressed in the Irish National on St. Patrick's Day. Everyone is not against it, in fact many liked it. If you were to ask me, I'd say, go for it.
For a regular kilt wearer who wears kilts as much as possible, St. Patrick's Day is just another great excuse to wear it. The only difference is, there are a lot of people, men and women who wear their kilts on that day, and why not? It's stylish and FUN!
St. Patrick's Day is a holiday to look forward to each year, the perfect time to spend with kilted brothers and sisters and have a great time. It took 1,200 years for St. Patrick to get his due, with the holiday being made official in the early 17th century.
The celebrations might have evolved over the next few hundred years from then. The inclusion of parades, traditions, and an incredible knack for throwing great parties, copious amounts of green dyed beer, and other libations flowing down throats in celebration.
Part of wearing a kilt is not caring about what other people think. If you want to wear your kilt on St. Patrick's Day, then you should. If you don't want to, then don't. Heck, if you want to wear a kilt on Cinco de Mayo, just because, nothing's stopping you. 
It's Easy Being Green.
Green is gold on St. Patrick's Day. Though it's an excuse to pinch someone not wearing green on that day, but please don't. So what are we celebrating anyway?
Without going into any deep religious association, the day is celebrated in honour of Saint Patrick, who became the patron saint and apostle of Ireland. There are a lot of legends attributed to St. Patrick, making him a figure of legends as well, and it continues to grow.
A most popular legend attributed to St. Patrick, is that of the shamrock, which to him explained the concept of the Holy Trinity to the pagans. Traditionally, Irish folk wore shamrocks for good luck and malevolent magic protection, prior to Christianity.
Oddly, blue was the colour traditionally associated with St. Patrick. However, green is now more commonly connected with the day. People commonly participate in 'wearing of the green' – sporting items of green clothing or with touches of green and/or shamrock inspired prints or accessories.
St. Patrick's Tartan
Ironically, St. Patrick was not even Irish. Being the patron saint of Ireland, what better tartan to wear than the 'Pride of Ireland' tartan that we've used in our St Patrick's Day Utility Kilt? Celebrate the feast of St. Patrick with an Ozkilts St. Patrick's Day Utility Kilt, created specifically for St. Patrick's Day.

You might find yourself wearing our unique and versatile utility kilt more than just on St. Patrick's Day, and why not? They're awesome. Instead of going full green tartan, a little splash of bright green tartan accents in our utility kilt goes a long way, and helps you look awfully sharp.
The Beef With Pleats
Our Utility Kilts come in two common pleating styles. There are traditional knife pleats and the more modern box pleats. Ozkilts St. Patrick's Day Utility Kilt come with box style pleats, perfect for active people who want adventure both in activities and their looks. 
Typical kilts are knife pleated. Box pleats make the kilt different from the average kilt. To many, this is a plus in making them stand out. Box pleats allow you to move around more comfortably and allow us to add a splash of colour too!
The garment is more balanced with about the same amount of cloth in the front and back of the kilt, making it lighter and very comfortable to wear. Knife pleating is the oldest (and most traditional) form of the tailored kilt, but the box pleat adds a new spin on a traditional garment.

Box pleats offer easy movement, but they also appear more utilitarian, which appeals to many wearers. Utility kilt wearers are drawn to this style, which is most certainly suited for modern wear.
If you are not too keen on wearing full traditional green tartan on St. Pattie's Day because it is difficult to find casual clothes that will fit and match with them. Wearing this Ozkilts "hybrid" utility kilt would surely not make you appear like a stick in the mud.
Do you require moving a lot in this utility kilt? Not a problem! Its flexible side pleats are designed to give you extra manoeuvrability, no pair of pants will allow you to. So go ahead, celebrate, chug a brew, join the parade. You can do it in style and have the ultimate comfort.
Safely Secured
The Ozkilts St. Patrick's Day Kilt is handmade using Heavy-Duty stretch cotton that provides the wearer the perfect balance of breathability and comfort, much better than what your favourite pair of jeans can offer. That's all fine and dandy, but how do you keep it securely on without having an 'oops' moment?
The utility kilt is secured on you using our Sports Kilt Velcro Fastening System, ensuring as precise fitting as possible.
It has Velcro along the front apron belt line, which can be adjusted for a perfect fit. Our Velcro-fastened kilts also feature crisscross elastic pleats on either side, adding comfort and longevity, and each kilt with flex-pleats has detachable pockets (more on this below).
Especially for those who sit, run, or work in their kilts, this highly versatile fastening system allows for a great deal of movement. Not only that, did we mention the St. Patrick's Day Utility Kilt is fashionable?
If you are a first time kilt wearer or struggling to choose between a utility kilt and tartan kilts, you'll have the best of both worlds in this utility kilt. You'll love the traditional styles that most kilt wearers love, with a modern twist and convenience that you won't find anywhere else.
Rock Your Pockets
Traditional kilts use a sporran to complete its look. In jest, others even say that wearing a kilt without a sporran is akin to simply wearing a skirt, but we don't think so! For St. Patrick's Day, the Irish apart from wearing green tartans sport an Irish shamrock sporran to complete the look. Those who want to be more fancy choose a muskrat fur sporran with a shamrock.
With Ozkilts St. Patrick's Day Utility Kilts, you get detachable cargo pockets with your purchase. What's great about them is that you can have a personalised look. Additionally, they have their own style to show, and they are made with the same best quality material as that of all Ozkilts range of utility kilts.
Our detachable cargo pockets are not only convenient to store your wallet or keys, but it is big enough for you to store your spare beer while on the go. And since they are detachable, you can remove them when you don't want them or need them.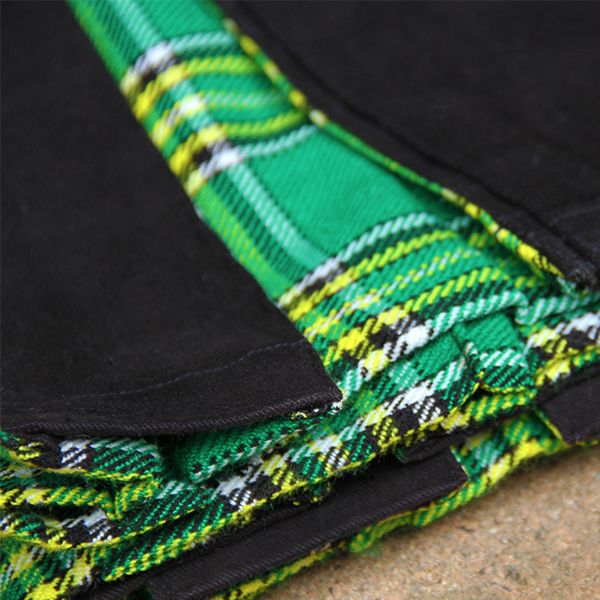 Don't Get Pinched
Wearing green on St. Patrick's Day, as tradition goes, is supposed to make you invisible to leprechauns. It is said that these mythical creatures will pinch you as you come upon their radar if you don't wear green.
We know leprechauns aren't real, but the folklore and mythology is all part of the fun, so why not play along with this one? At least, for just a day. Of course, you can still wear the utility kilt any other day of the year. 
Don't want to get pinched? Wear at least a bit of green with Ozkilts St. Patrick's Day Utility Kilt and ward off the leprechauns. We all can definitely do that.