If you are donning a kilt for the first time, the rules can be overwhelming. What is the correct position of the pleats? Should you wear it above or below the knees? What accessories are appropriate? Find answers to all these and many other questions in this post.
The Correct Kilt Posture
The kilt should be at, or a little above, the navel. The kilt's pleats should face the back and the aprons on the front side. A kilt should come down to the middle of the knee.
Pairing Up Your Kilt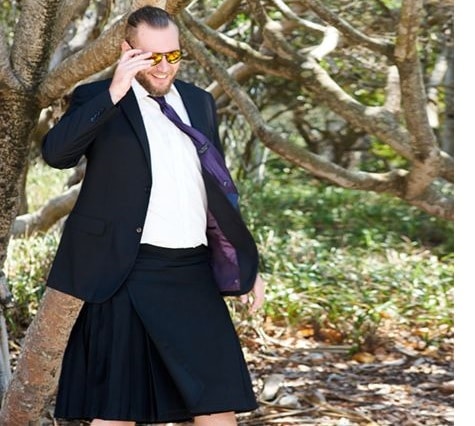 Shirts and jackets pair up beautifully with a kilt. Whether you are wearing a shirt or jacket, remember to do the following for the right kilt etiquette.
Choose shirts with winged collars. A bow tie will complete the look.
Wear a standard shirt with the kilt if you prefer a straight tie.
Wear a loose-fitting shirt with knots at the neck, such as a ghillie shirt kilt if you prefer to go tie-less. Tie the knots at the neck to create a traditional kilt effect, or let them loose, hanging down, for a stylish effect.
Never forget to tuck your shirt inside your kilt.
Opt for traditional kilt jackets. You can use a 3-buttoned or a 5-buttoned waistcoat to go with the kilt, for a complete formal look.
Try modern tweed jackets for a fresh, contemporary look.
Leave your jacket open to reveal the shiny buttons on your waistcoat.
Get the Accessories Right
Go for kilt belts if you are not wearing a waistcoat. These are wider and serve as a stylish alternative to a waistcoat.
Enhance the style quotient with a kilt pin. This accessory also prevents embarrassing situations such as your kilt opening up.
Go for kilt brogues and socks for the complete traditional look. You can also opt for other types of boots.
Kilt brogues have long laces, and they need to reach above the ankles. Pull the laces up tightly and twist them up 5 to 6 times. Bring them to the front and make a knot on the front. Leave the rest of the lace portions hanging.
Wear the socks such that they are right below the knees. Fold them down by one round at the top. This arrangement reveals the decoration on the socks.
If you are planning to go the kilt way, visit Ozkilts for a fabulous range of kilts. We have kilts in different colours and patterns for a variety of occasions. Our kilts are made of 100% cotton and come with modern features such as large detachable pockets, which translate into complete comfort for you.
Explore our kilt range today.