Christmas is a special time for everyone all over the world. Many countries celebrate the season in their own special and unique ways, but if there is one thing, most have in common is the wearing of special outfits to add colour to the festivities.
And speaking of colours, Ozkilts® is not lacking in this department, and we can add to the jolly feel of the season by providing you with our most festive kilts that you can wear for this special time of the year. The beauty is, these kilts can also be worn even after the season.
Utility kilts are among the most versatile piece of clothing you can have in your wardrobe that you can wear in any activity, event, or season, day or night.
Colours of December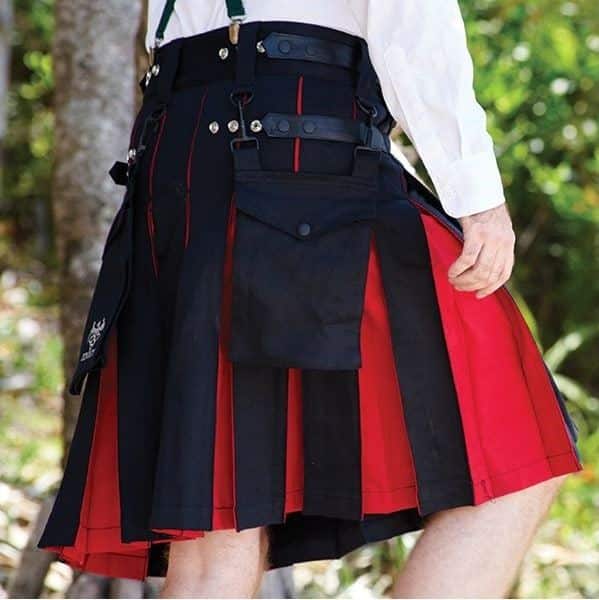 Before we dive in on what we recommend from our line of utility kilts, let us discuss traditional colours that are usually associated with December and its most famous date, which is Christmas.
Depending on whom you ask, there can be up to 12 official colours of December. The good news is, all of them are apt for Australian December's since it is technically summer in Australia, up to February of the next year.
When it comes to fashion, there are no rules when it comes to wearing colour in the summer. Simply put, any colour can be a summer colour.
So why go drab, right? Summer is a fun season, it's hot, and it's a season to flash colours with wild abandon. It's also a perfect time to notice and be noticed.
With that said, let's explore our recommendations for the most festive kilts we have at Ozkilts® that you may pick for your December get up.
Don't Dread, Go Red
Red is perhaps the most identifiable colour associated with December. Dare we mention Rudolph's nose? Let's not go far and go for St. Nick himself, who is represented wearing red, primarily in his Christmas uniform.
 Ozklits® is replete with kilts that have a dash of red. Choose among our Hybrid Utility Kilt and our Movember Utility Kilt that both will guarantee to make people see red, literally.
Ozklits® Hybrid Utility Kilt comes in red and black box pleats that get flashed as you move about. The good news is, it also comes in purple, which is also considered a December colour that symbolises royalty.
You cannot go wrong with Ozklits® Hybrid Utility Kilt regardless of which colour variant you pick since you will sure fit in and still be in theme. Not only that, not only will you look cool, you'll feel cool where it counts.
On the other hand, Ozklits® Movember Utility Kilt is our special kilt with a very special intention. This kilt has been designed for a noble cause in support of the Movember Movement for men's overall health.
This kilt features box style pleats with black and red tartan that fits right in the season. The Movember Utility Kilt is a kilt that is not only stylish, but it is also our line of kilt that keeps on giving. 10% of Movember Kilt sales are donated to the Movember movement to help fund their noble cause.
It's Easy Being Green
Green is another colour associated with December and Christmas that represents the evergreen Christmas trees, holly leaves, and traditional green Christmas wreaths. Green can also be seen in abundance during Australian Decembers in grass and leaves.

With that, we have a couple of utility kilts in our range that can fit the bill and be festive for the season.
Ozklits® St. Patrick's Day Utility Kilt might be apt for St. Patrick's Day, where it is named after. But, who can say if St. Nicholas does not wear green before or after his Christmas run?
That said, St. Patrick's Day Kilt come with Green Tartan Accents perfect for celebrating St. Patrick's Day but can also transcend during St. Nick's month. Add flare to your celebrations with this hybrid kilt and celebrate in style and freedom of movement with its flex pleat system.
If the look you are aiming for is to get noticed, you cannot go wrong with our Loki of utility kilts, the Ozklits® Rave Utility Kilt. Its main feature is its Fluro Strip Lime, which is actually sort of a bright yellow green, that may also represent new leaf growth, which is both attention grabbing and eye refreshing.
Sure, the build of the kilt is in black, but that strip line is more than enough to announce you mean business when it comes to partying, be spotted and noticed among a group of revellers.
The Phoenix Rises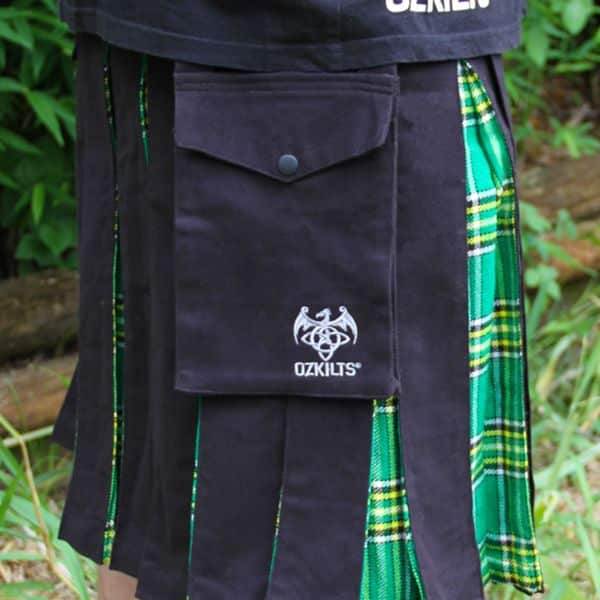 In ancient Greek and Egyptian mythology, the phoenix is associated with the Sun God. Helios for the Greeks and Ra for the Egyptians. Can there be a more apt utility kilt to wear for Australian Summer in December by being seen in an Ozklits® Phoenix Utility Kilt?
Celebrate the festive season is style, while also celebrating that we are lucky enough to have the sun in December. The Ozklits® Phoenix Utility Kilt come in Fireburst Yellow and Orange Fire, two variants that can sure turn heads.
This kilt comes with a bonus since it is also our fire-resistant model. That sure will come in handy for those working in fire risk areas or for performers who use fire in their performances.
Not only will you look great when out celebrating, but you'll get premium comfort, style, and with the bonus of fire safety. Or you might just want to exude that you may just be too hot to handle.
Australian December's are unique, in the sense that we have summer. This means we can wear any colour we want during this season. Choose among Ozkilts® line of Utility Kilts that suits your style and fancy, and celebrate the season with wild abandon.