Christmas is just around the corner. When the calendar flips to December, most of the world starts focusing on gift-giving. Celebrating Christmas is a fun and memorable occasion that is usually celebrated with family and friends.
But reality typically hits hard, after so many years of celebrating Christmas and gift giving to the same friends and family, to come up with something new and unique. Simply said, cousin Caleb wouldn't want to receive new sports equipment/gear every year.
Christmas is generally hot in Australia during Christmas. Why not consider giving something totally different and memorable by giving the gift of a utility kilt? A kilt is totally different and is a refreshing change from the usual pair of pants.
Don't pull a Scrooge during the holidays and join in the good cheer Christmas brings – despite the sweltering heat. Celebrate the season with the gift of an Ozkilts® Utility Kilt.
Active Utility Kilts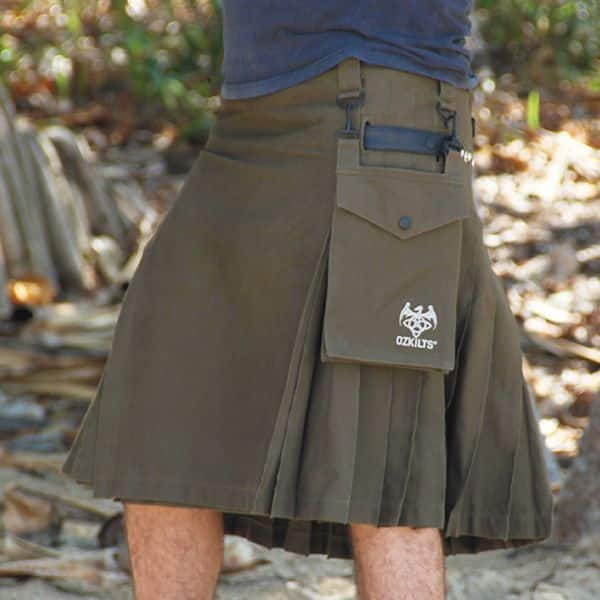 Have you got that person who is always on the move and on the run? For a person who is constantly moving, or doing strenuous activities, they would need a wear that will not inhibit movement. Ozkilts® Active Utility Kilt would be a perfect gift for them.
Run, hike, go to the gym, and more. It's box flex pleat system on each side of the kilt gives the wearer maximum movement while offering superior flexibility and comfort.
Need to carry stuff? No problem, Active Utility Kilts also come with large detachable cargo pockets.
You don't need to fear it coming off during any activity with its Sports Velcro Fastening System that offers a precise fit. Additionally, its heavy-duty cotton stretch material provides the perfect balance of breathability and comfort that no pair of pants can match.
Deluxe Utility Kilts
When people think of a kilt, knife pleats are the style, they would imagine that is the standard form of pleating with kilts.
The swish and swing that Ozkilts® Deluxe Utility Kilt gives you that sophisticated look and flow that a traditional kilt gives. The Deluxe Utility Kilt comes in 100% heavy-duty cotton and Cotton Poly Blends, fitted with our Deluxe Kilt Leather Strap System, providing you with the perfect fit at all times.
Here's a plus, choose among available colours: Army Green, Jet Black, and Plum Brown, all offering premium comfort, fit, and style.
Workman's Utility Kilts
Any workman is a hero in our book. He is one that works with his hands in a positive display of true manhood.
For the working man who wants to work in maximum comfort, we recommend giving him Ozkilts® Workman's Utility Kilt, for him to have that great air flow and manoeuvrability while working the forge, chopping that wood, or any type of work that requires physical manpower.
Stay cool, look cool, and in comfort while on the job. Regardless if you select black or khaki colour, they come with an upgraded Leather strap System for that secure and comfortable fit. Both colours come with a Khaki Apron on the front and with heavy-duty detachable khaki pockets.
Metal Utility Kilts
For the man who wants to take style to a further level, Ozkilts® Metal Utility Kilt comes with a tonne of extra D Shackles you can use to attach accessory chains for that edgier look.
The Metal Utility Kilt is the best option for people who want to rock out. But make no mistake, this kilt still provide great versatility, comfort, and functionality. Put it on and keep it on with its Deluxe Leather Strap System, which keeps it in perfect fit at all times.
Metal Utility Kilts are handmade with 100% cotton and are available in a range of colours with chrome features.
St. Patrick's Day Kilts
It may not be easy for some to be green, but not if you give Ozkilts® St. Patrick's Day Utility Kilt. Although we have this kilt on a limited edition offer, we can always bring it back at anytime.
This amazing hybrid kilt features green tartan that adds to its flare that one can wear not only on St. Patty's Day, but every day. Like all our line of utility kilts, it doesn't sacrifice comfort for style. Its box pleats hold tight, perfect for people on the run and out for a bit of harmless fun-filled mischief.
Heavy-duty stretch cotton provide comfort and breathability, assuring freedom for your bits. Enjoy the most precise fit possible with its Sports Kilt Velcro Fastening System.
With Ozkilts® St. Patrick's Day Utility Kilt, it's easy being green.
Movember Utility Kilts
Ozkilts® are strong advocates of men's health, and we show this with our Ozkilts® Movember Utility Kilts. Wearing a kilt has been proven to assist with men's reproductive health, as regular pants are detrimental to providing natural cooling of your family jewels.
This kilt comes with box pleats to provide maximum movement and comes in black and red tartan accents. It offers precise fit possible with its Sports Velcro Fastening System.
Ozkilts® Movember Utility Kilts are a gift that keeps on giving. When you purchase this kilt, you also help raise funds for the Movember Movement, a leading charity that aims to change the face of men's overall health on a global scale.
A portion of sales is donated to the Movember Movement. Keep in style, stay healthy, and give a gift that keeps on giving with the Ozkilts® Movember Utility Kilt.
Phoenix Utility Kilts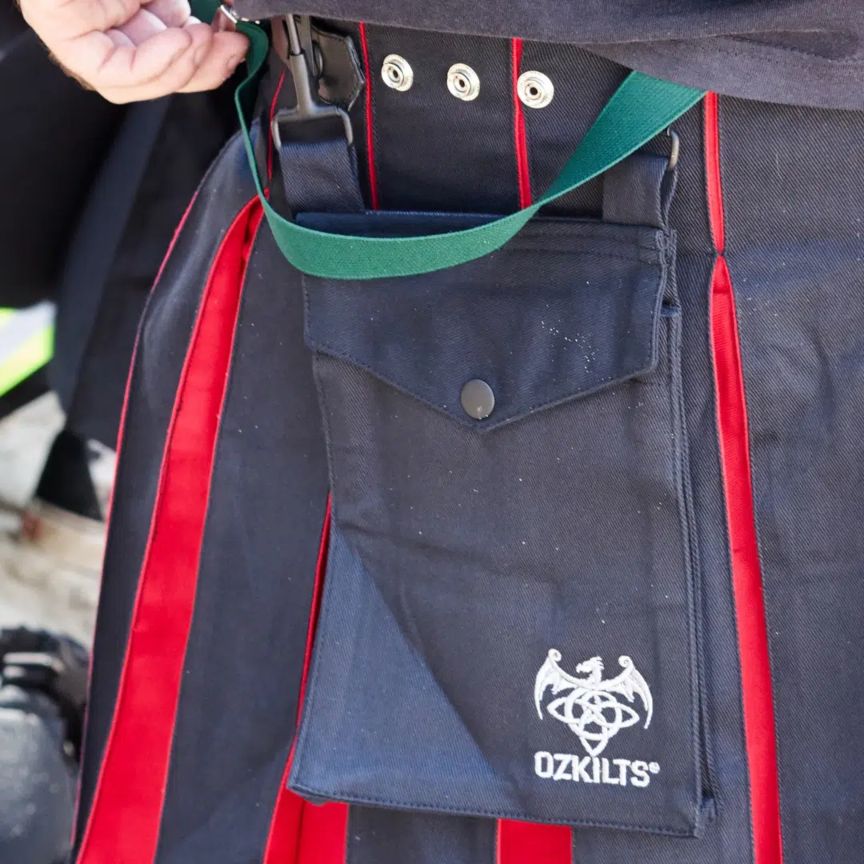 Tradition dictates to fight fire with fire. At Ozkilts®, we add a layer of protection and style by fighting fire with a kilt. Ozkilts® Phoenix Utility Kilts is our special fire-resistant utility kilt that is constructed with fire-resistant cotton.
This special kilt is a 'BEST THING IN LIFE' awardee on the Life in a Kilt Podcast, won't make you invincible to fire, but it surely provides its wearer with a +5 resistance to fire. Keep in style with a choice of stylish two-tone colours of Fireburst Yellow or Orange Fire, with detachable pockets that you can keep out of the way if they are not needed.
This kilt is perfect for the adventurous type and for those working in fire risk areas. It is also perfect for fire performers that would need maximum movement that is provided with its box pleat in heavy-duty cotton design. 
Securely keep it on with while doing any activity using its Deluxe Kilt Velcro Fastening System. For someone deemed too hot to handle, gift them with Ozkilts® Phoenix Utility Kilts.
Give a gift of style and comfort
Ozkilts® offers a range of daily wear utility kilts with many convenient features that will make the recipient happy they received them.
These cotton kilts are great to look at, and easy to maintain. You can adjust the fit of our kilts to ensure that you are comfortable both at work and play.