At Ozkilts, we care so much about our customers and encourage everyone to share their experiences and adventures wearing their kilts.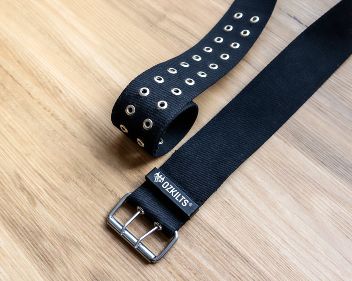 There is a big difference between a utility kilt belt and a normal belt that you might use on a daily basis. A kilt belt is a kilt accessory that is worn both to hold the kilt and to add character to the wearer.
A utility kilt belt is not the same as what we are using with pants, trousers, or jeans in daily routine life. These are special utility kilt accessories that are bigger than casual belts, and built for the purpose of fit and comfort of the wearer.
Ozkilts use high-quality heavy-duty cotton for our utility kilt belt. This utility kilt accessory not just provides added security in holding up your kilt, but we assure you that they are built to last.
Ozkilts Utility Kilt Belts features heavy-duty Chrome Fastening components, eliminating the need to use a buckle for fastening, a necessity with traditional kilt belts. Traditional or Modern day kilt, a kilt belt is a must-have accessory when wearing a kilt with a 2.5 inch height belt loop.
Wearing a Utility Kilt Belt
Wearing a utility kilt belt is not all that difficult as many people might think. A utility belt is different in size than conventional belts, offering huge adjustment.
Ozkilts Utility Kilt Belts made from comfortable cotton weave are suitable for many waist sizes. We have awesome sizes available that are designed to match Ozkilts Utility Kilt's sizing chart.
At Ozkilts, we provide the following two sizes for our utility kilt belts
SM (small to medium) adjustable from 28" up to 48" waist
LX (large to X-large) adjustable from 39" up to 51" waist
Do check out our sizing guide for more information on this.
The beauty of wearing our utility kilt belt is that you can wear them using kilts made by other suppliers and still rock the look you are going for. It can increase and enhance your own personal sense of style.
Our Utility kilts do have detachable cargo pockets. You can easily detach the pockets, and match it with a formal jacket, and you're good to go to formal events.
All our kilts have D-shackle loops under each belt loop to attach whatever accessories you like. A utility kilt belt does add a completion to the entire look of your outfit.
Ozkilts Utility Kilts and Utility Belt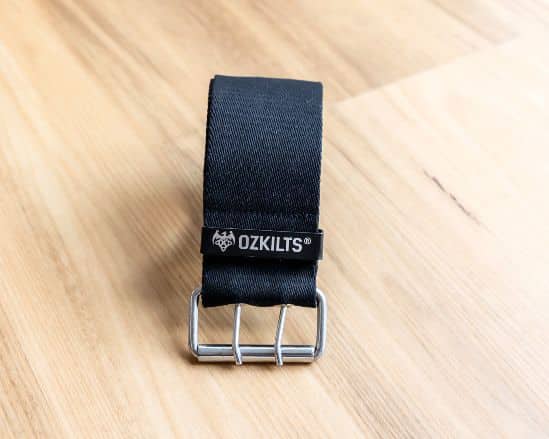 With utility kilts, the barest of essentials, as in the kilt itself, is enough to turn heads and be potential icebreakers in conversation. A utility kilt is a classic apparel to have in your wardrobe.
As earlier stated, you can easily wear a kilt at any casual and/or formal events. You can also don it at other crowd events or ceremonies. In the modern world, the influence of the utility kilt has increased.
Its flexibility makes it suitable for both men and women to wear in contemporary fashion. All it takes for anyone to wear a kilt is to have a basic fashion sense and confidence to wear one with pride.
If you are open to wearing a kilt casually, or for manual work, you are open to adapting any accessory you might want to wear with your kilt. A utility kilt belt would be the most awesome choice to start.
In formal settings, there is no need for you to wear a kilt utility belt unless you don't want to wear a waistcoat.
Technically, there is no requirement for you to wear a utility kilt belt all the time with your kilt. Your kilt will stay on and in place with our superbly manufactured fasteners. However, a utility kilt looks its best when paired with a 2 ½ inch wide utility kilt belt, and it also offers the highest level of comfort.
If you intend to wear an untucked sweater, a belt will certainly also add some extra flair.
A Style of Your Own
You more than likely have outfits, including shoes, in your wardrobe that will work well with your utility kilt. All other accessories can be optional and be acquired by you later on.
You might overlook it, but apart from the health benefits that wearing a kilt brings, is that your family and friends now have ample gift ideas for your birthday, and special holidays. The most affordable kilt accessory is one that is gifted.
Kilts are not limited in what can be worn with them specifically. It is possible to follow fashion recommendations, however, you can also start a trend of your own.
By all means, be a fashion maverick. Wear your utility belt in ways you can think of that will show your personality and what you think will suit your style best.
Final Word
All Ozkilts Utility Kilts are hand made for your comfort and style in mind, this includes our beautifully handcrafted Utility Kilt Belt. We believe that once you add a utility kilt belt to your wardrobe, you'll rarely wear your kilt without it… yup… they are that comfortable!
We certainly won't dictate any definite guide on how or when you will want to use your new belt. What we've suggested here are just some simple points to consider for you to start off adding accessories to go with your utility kilt. Be bold and confident, your fashion, your rules.
Once you get familiar with using Ozkilts Utility Kilt Belts, it will not take a long time to wear one to go with your go-to wear and steal the show in comfort.