A kilt is not something that you exclusively wear to special events. But wearing one is something that can make any occasion special, memorable, and personal, and that includes donning a kilt at Christmas.
There may be standard traditions your family carry on through the years that are already etched in each of your family members' minds. Sometimes there is that wee voice inside that whispers, ''can we do something new this year?"
Why not make it more memorable and personal by starting new traditions into your family's Christmas festivities by wearing a kilt. As it's generally hot in Australia during Christmas, a kilt is a welcome and refreshing reprieve from wearing plain trousers.
The Colours of Christmas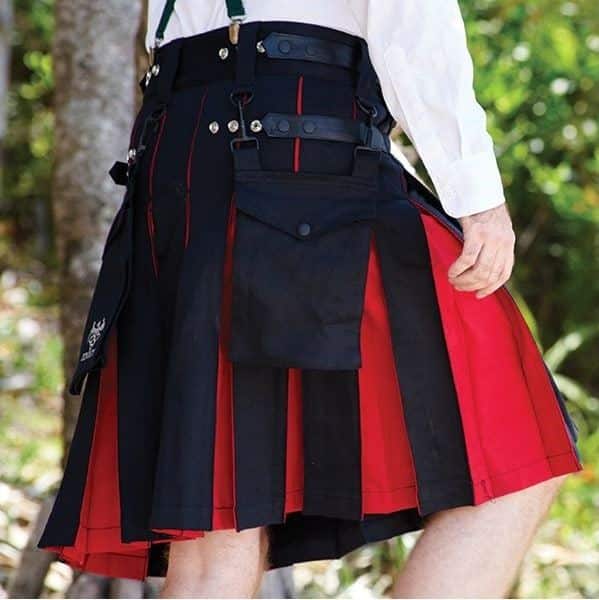 Regardless of where you are in the world, or whatever type of season wherever you may be at have, it simply doesn't feel like Christmas without the predominance of red and green. However, red and green were first associated as Christmas colours due to a different holiday: the winter solstice.
Ancient Celtic people, centuries ago, believed that holly plants brought beauty and good fortune in the dead of winter. As such, they then began decking their homes with the red and green pants as their way to usher in a prosperous new year.
This Celtic tradition evolved over time with hanging red and green decorations apart from the traditional red and green holly plants. This idea was passed down from family to family, and ultimately spread across the world.
Another reason why red and green became such a major part of the holidays is due to a world-famous soda brand, when they introduced a character in 1931. This character is still familiar to all of us to this day. That's right, the character is none other than the red garbed, Santa Claus.
Modern Christmas celebrations now feature other Christmas colours other than red and green. Other colours now associated with Christmas are gold, silver, blue, white, and purple. This modern depiction of colours has an underlying meaning to each of them. But seeing these colours, or a combination of them, brings out that holiday mood in most of us.
Take Part in a Kilted Christmas
Almost all people of the world dreams of having a white Christmas. Australians refuse to pull a Scrooge during the holidays and abandon the good cheer the season brings – despite the sweltering summer heat.
Make no mistake, kilts are perfect and an acceptable wear in all events. And it is not surprising that kilts are a viable wear for summer because it can keep you cool.
With this in mind, you can keep cool, still celebrate the season, and be colour festive with Ozkilts® line of kilts. We have several models that will not only keep you cool down there, but also make you look cool and manly as a whole.
Deluxe Hybrid Utility Kilt
First in our recommendation is our Deluxe Hybrid Utility Kilt. This model comes with 'box' pleats and comes in two-tone colour options, hybrid purple and hybrid red. If that is not festive enough, regardless of your colour choice, you get to flash these colours as you move about.
We offer a Deluxe Hybrid Utility Kilt made from 100% cotton with our Deluxe Kilt Leather Strap System. This feature allows for adjustment for a perfect fit for the wearer at all times. Additionally, they offer premium comfort for new and existing kilt wearers.
Movember Utility Kilt
We were proud when we released our Movember Utility Kilt in support of men's health. But this kilt is not exclusive to Movember alone, the kilt can be worn anytime. This kilt is one that keeps giving. With each purchase, we donate 10% of all sales to Movember.org in support of men's reproductive health. Perhaps one of the noblest wish we can give to anyone during Christmas is continued good health.
Our Custom Movember Kilt comes with beautiful red tartan accents with box style pleats that hold tighter than standard knife pleats, perfect style for active people on the run. It is made with heavy-duty cotton stretch that offers the perfect balance of comfort and breathability. It also features our Sports Kilt Velcro Fastening System that offers the most precise fitting possible.
Limited Edition 'St Patrick's Day Utility Kilt'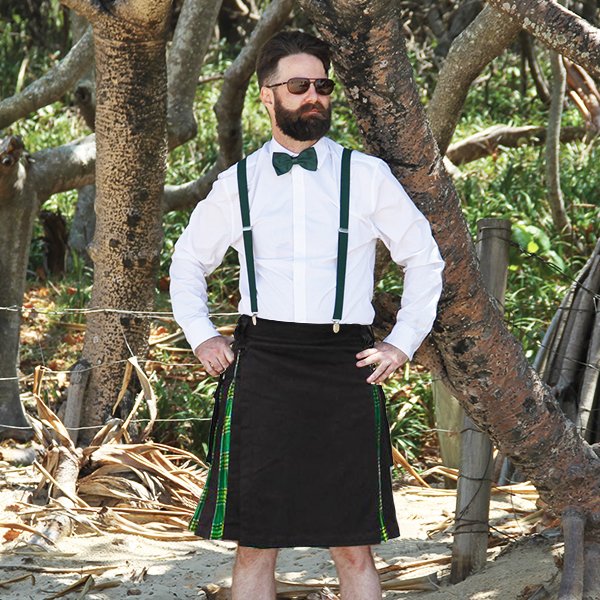 Our Limited Edition 'St Patrick's Day Utility Kilt' was originally released to celebrate St. Patrick's Day. But practically, this line of special kilt can be worn just anytime. In keeping in line with Christmas colour themes, this kilt feature green tartan accents with our signature box style pleats.
It's flex pleat system allows for further movement of the kilt, which is favourable during high movement activity. Similar to our other line of kilts, they offer superior comfort and flexibility compared to traditional kilts. And to keep it in place, it also features our Sports Velcro Fastening System for that precise fit and ultimate comfort during your Christmas festivities.
Kilts are a Great Christmas Gift
If you're still in a quandary on what gift to give your mate this Christmas, why not choose to give your mate a gift of freedom in a kilt?
A well thought of gift should have a use, be that an experience or be a consumable. The gift of a kilt checks these boxes. Giving kilts is not only thoughtful, but also a practical one. Every time that person slips into their kilt, they will remember who gave it to them.
From there, great friendships and strengthening brotherhoods are forged. Giving the gift of a kilt shows thoughtfulness and will have a positive personal feeling to the lucky recipient.
This fashion statement leaves no room for doubt about sharing pride and fraternal connection. Besides honouring a well-established tradition, kilts represent freedom and individualism.
Let us, at Ozkilts® help you celebrate the holidays with a festive and cool look with our range of Utility Kilts. Share that confidence with giving your family and friends the gift of a kilt which you, and your mates can be proud to wear, anytime, anywhere.