Derived from traditional Scottish wear, the kilt has been worn for hundreds of centuries – and it continues to be a hot topic and item, including its latest incarnations. While the kilt is synonymous with traditional Scottish attire, it has been reinvented to suit the likes of modern-day society.
You read that right. With the kilt's reinvention, you are no longer stuck with the classic ensemble and paired with knee-high socks and loafers. Traditional kilts are made of woven wool with colours ranging from traditional red to forest green. Modern utility kilts are made of different fabric materials and may have various colours accents and/or various colours.
Traditional kilts are commonly worn during formal events and other important ceremonies. Today, trendsetters have re-styled the kilt and worn to symbolise rebellion and counterculture. It is not bound by rules of strict uniformity – as fashionistas, even ordinary folk, wear them on an everyday basis.
Kilts are being worn today with other normal pieces of clothing such as jumpers, leather jackets, and with street-style sneakers for the adventurous. Of course, styling tips depend on the cut and colour of your kilt. There are versions that fall below the above or below the knee. 
Styles and Colours
In our opinion, kilts are appropriate wear for almost any occasion. There are activities and situations where you will need a bit more mobility, such as hiking or other out-door activity.
The way you casually dress your kilt will depend primarily on the circumstance and the weather, just like any other attire. We encourage you to express yourself depending on your unique style, here are some styling tips.
The Kilt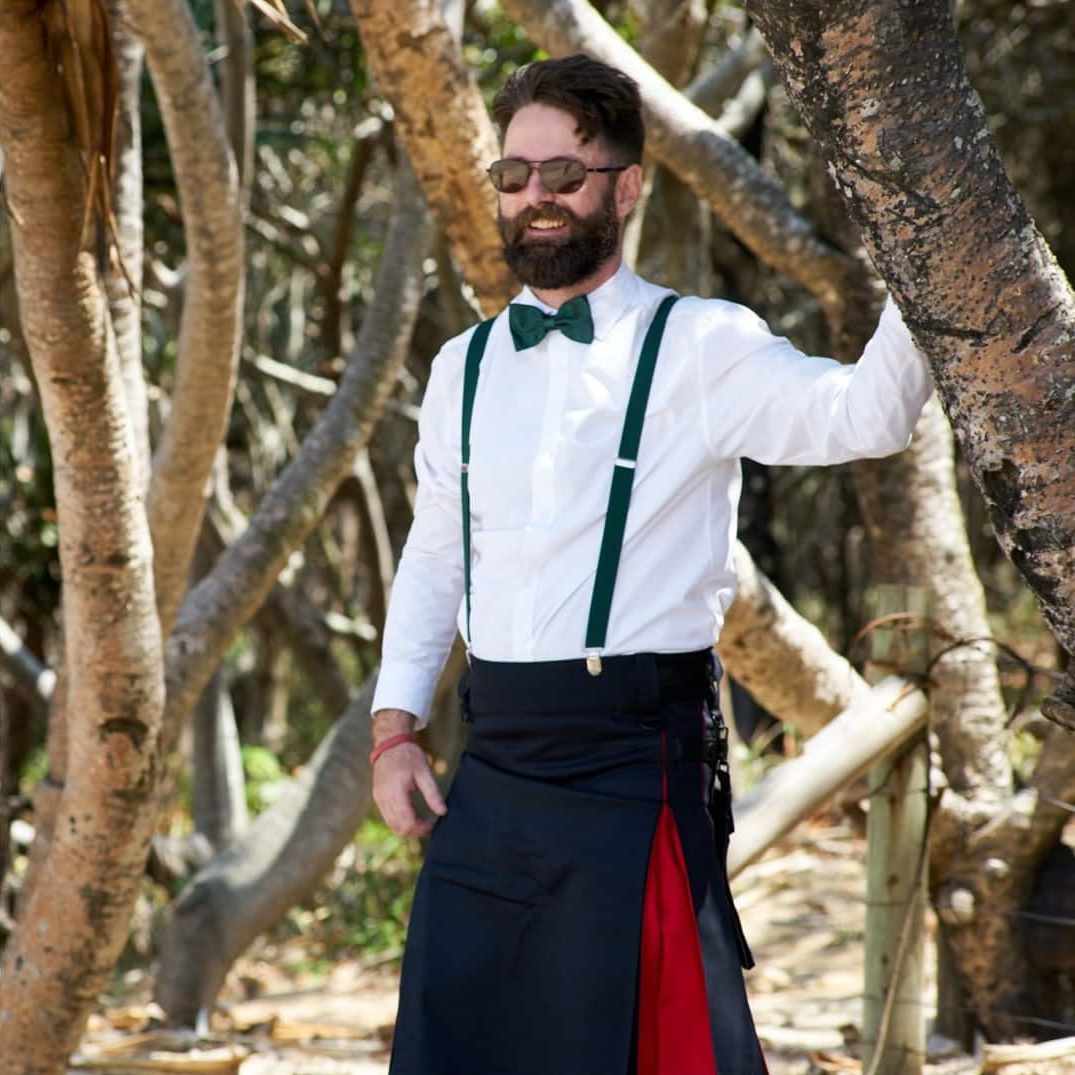 Utility kilts are ideal both for casual and formal wear. Invest in quality kilts such as Ozkilts® Utility Kilts that can be worn not just for winter but all year round. Our kilts come in various colours, such as Ozkilts Deluxe Utility Kilts that come in Army Green, Jet Black, and Plum Brown.
For those who'd want colour accents to their kilts, we can provide you with our Ozkilts St. Patrick's Day Utility Kilts that come in black and features green tartan that adds some beautiful flare. St. Patrick's Day or not, you can wear it for superior comfort and flexibility during high movement of activity.
If you feel green is not your colour or if you just want to add on to your kilt collection because they are just awesome wear, go for Ozkilts Movember Utility Kilts. This style comes in black and features red tartan. The great thing about this style of utility kilt is that not only will you look great in them, but you also take part in being men's health advocate.
With the purchase of this kilt, Ozkilts® donates 10% of all sales to Movember.com in support of men's health.
If kilts with tartan accent is not your cup of tea, we suggest going for Ozkilts Phoenix Utility Kilts. This style of kilt is our fire-resistant style that is built for people who work in fire risk areas and/or fire performers.
We recommend our Phoenix Kit for premium comfort, style, and fire safety. It comes in black over your choice of fire burst yellow or orange fire. If you think you are too hot to handle, this kilt is perfect for you.
Upper Body
Kilts look great with loose-fitting shirts or thick knit jumpers to help ward off the winter cold. We advise picking colours that complements your kilt colour and style for a genuinely elegant effect. Avoid patterns that are too detailed with pictures or patterns. For a more polished look, consider wearing your top in a tuck for a relaxed yet polished look. You may also add on a coat to ward off chilly air when you need to go out.
Footwear
Any good 'ol pair of boots are great for casual wear. Or, if you, so, choose knee-high black leather boots during winter. Casual brogues, brogues, boat shoes, and suede shoes are also great choices, just make sure you will wear nee-high socks to protect your exposed legs from the cold.
Accessories
The great thing about utility kilts is that you may or may not add accessories to it and still look great. A stunning belt buckle, however, can add some individuality to your outfit. Depending on your need, you may use its detachable pockets or completely go without.
Buying a Utility Kilt
For many, the dilemma isn't so much about how to dress or wear a kilt regardless of season, but where to get a quality made one. Ozkilts Utility Kilts deliver quality and functional utility kilts not only to Australia but to the world. We also offer quality updates to our existing styles, and we will release new styles soon.
Ozkilts® creates a quality range of utility kilts and provides a smooth ordering process, making ordering your kilt a fast and fun adventure. We also provide various payment options when checking out and paying for your kilts.
That's not all, we also provide free shipping on all orders to spare you from working out shipping costs.
Final Thoughts
Utility kilts are built not just for the winter, but can be comfortably worn all throughout the year. Your choice of a kilt can make you stand out regardless of the occasion. If you are confident in your choice of kilt style, colour combination, and the accessories you choose, you will never stop looking comfortable, cool, and smart.
Wearing one of Ozkilts Utility Kilts will make you the centre of attention and stand out in the crowd in winter and all-year round.