More and more people are discovering their Scottish and Irish heritage, it is part of the reason kilt-wearing has become a growing modern trend. Without a doubt, kilts are conversation pieces.
We want to arm you with the best kilt lore and functionality, so you will not be deluged with awkward questions when you boldly display your kilted pride.
Though we are not here for an extensive history lesson, we thought a few words about utility kilt function and origin would be a formidable entry in why you should be wearing a kilt this Easter.
A Very Brief, ahem, Utility Kilt History
So, a few centuries back, men wore kilts in the Irish countryside and the Scottish highlands as a protective wrap and as a moniker of their clan ties. Kilts also used to signal affluence, membership in a clan aristocracy, an even heightened family status.
Fast-forward to our century, utility kilts came into origin in the late 90s. Back then, the only purpose of wearing utility kilts is that they provide maximum comfort, yet they can be worn even on formal occasions. Pairing it up with different accessories, they can be utilised as formal, semiformal and informal wear at the same time.
Today, the more modern, high quality utility kilts are gaining high popularity due to their comfort, style, and uniqueness. The modern kilt can be worn casually too and even as fancy wear.
Kilts and Easter
There's a lot to love about Easter, the springtime setting with newly bloomed flowers to fun Easter traditions. Although a resurrection may be the most familiar Easter tradition, it is certainly not the oldest. The holiday has roots in Judaism and in paganism. 
And since Easter is closely related to resurrection, what more apt apparel to wear than a kilt that has its popularity resurrected in the most recent fashion history. Regardless of Christian or pagan celebration, a kilt is a piece of attire you can wear anytime, anywhere.
Kilts are typically made from durable yet light-weight materials. Being open at the bottom, it allows air to circulate around your legs, keeping you cool. Surprisingly enough, it can also be worn during colder weather without leaving you feeling cold, especially when you match it with a warm shirt and jacket.
We won't deny that there are people who wear their kilts as a costume, not only on Halloween. However, men (and women) love the fit and function of kilts enough for them to wear them all the time. 
A good kilt, such as utility kilts we provide at Ozkilts®, moves with you. It looks great with almost anything you have in your wardrobe, and shows the world you want to stand out in style and significance.
Utility kilts lend themselves naturally to more conventional fabrics that wear well and provide an extra function. Kilts fit on the trail, mowing the lawn, hiking, camping, in the office, and even tossing the odd caber on the weekends.
Pro Tip: Ozkilts® has a range of utility kilt styles that will suit your discriminating taste and sense of personal style. All are suitable for ceremonial, formal, and casual events or activities you plan to wear them at. Additionally, Ozkilts® will be coming out with new styles and accessories soon, so we invite you to sign up for our Kilted Clan Newsletter.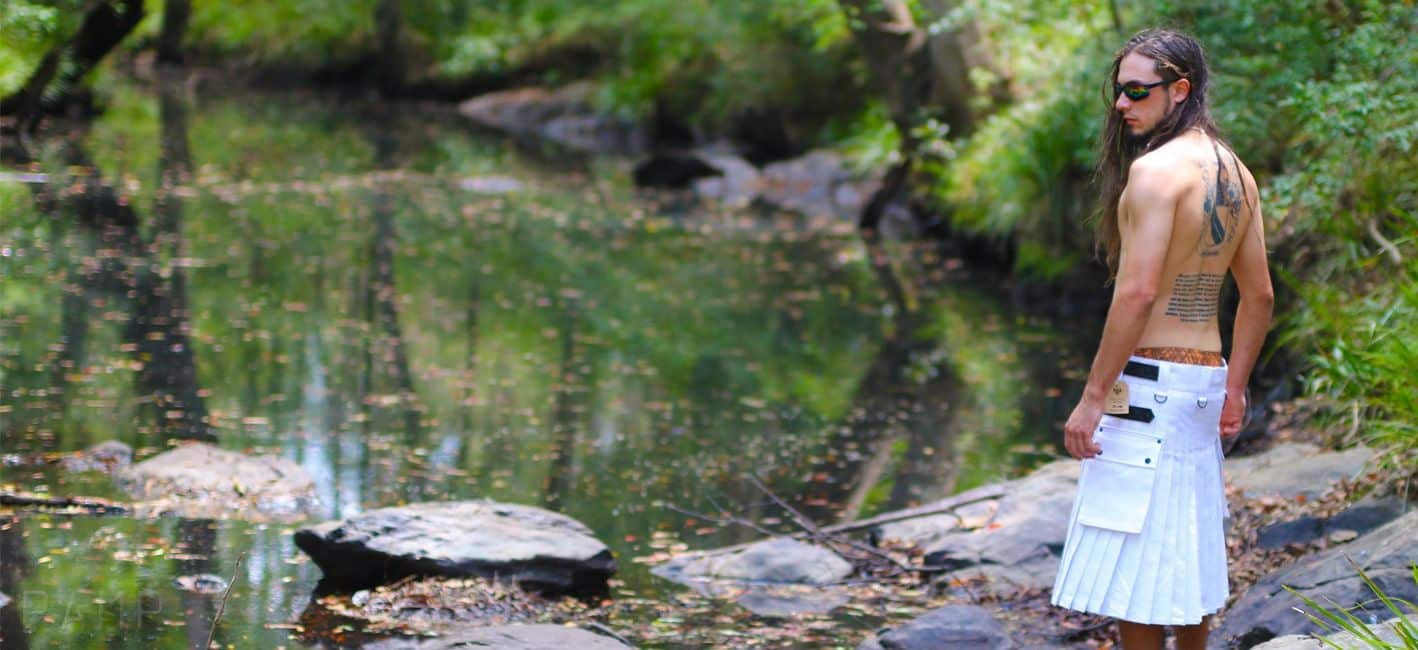 What is it like to wear a kilt?
Wearing a kilt is great. They look so smart and makes you stand out and gets a bloke a lot of attention. And many men attest that wearing a kilt provides for them:
The feeling of masculinity

Total liberation

Freedom of movement

Comfort with no crotch binding or inseams to worry about

Fun to wear

Great alternative to pants or shorts

Women find kilt wearing men intriguing, and some will come up just to say "hi."
Needless to say, apart from the kilt being comfortable and unconfining, it is also a great conversation starter. In much the same way as wearing a suit, a kilt gives you a sense of pride about yourself. It also helps you build your confidence, more so if you meet up with other kilties at festive events.
For a first time kilt wearer, it can be a bit scary as you don't know what sort of reaction you are going to get. But trust us when we say that reactions are generally good. Yes, you might get a few cat calls and weird questions, but you'll eventually learn how to deal with these as your confidence grows. Besides, 99% of people won't even mind or even negative notice you are wearing your fabulous kilt.
Should I wear a kilt for Easter?
Wear what you like, when you like, and stop caring what anyone would say. There are a lot of advantages that can be gained that outweighs a very few disadvantages.
Be ready with a witty response when giggling women come up to you, asking if you are commando under your kilt.
Pro Tip: A nice girl wouldn't dare ask. A naughty girl, on the other hand, would soon find out for herself. As gentlemen, we wouldn't come up to a girl and dare ask what she wears under her skirt. Same thing.
In conclusion
A kilt is a perfectly acceptable garment for most occasions, including Easter celebrations. The good thing about wearing a kilt is that it is always appropriate. All you have to do is accessorise it that is appropriate for certain special occasions.
If you just want to wear a kilt as everyday wear, rock out! Convinced? Ozkilts® has quality utility kilts that won't cost you an arm and a leg. And we ship all orders for FREE.