The short answer is all the gosh-darn time, but that wouldn't make for an interesting blog article, wouldn't it? So let's take a deeper dive into the world of kilts… and male fashion (gasp) and talk about when is it appropriate to wear a utility kilt.
A utility kilt is made from heavy-duty cotton, instead of wool. It comes in different neutral colours and patterns and as such can be worn on a multitude of occasions. That being said, you would not want to be "THAT GUY" that wears the Camo kilt at a wedding, so we're here to suggest what is the appropriate kilt attire in different occasions.
1) Casual Wear
It's Casual. Call it the most relaxed out of all the dress codes.
When in casual wear, the sky is the limit since comfort is key. Wear your Electric Neon Orange Utility kilt (we don't offer this kilt, btw) with your Adidas Ultraboosts or flip-flops. The only thing that might limit you is common fashion practices, but let's be honest, we're wearing kilts, so that won't stop us anyway. Lol. The only thing we can suggest is that wearing solid neutral colours like Black, Tan, or brown can open up a lot more compatible shirt colours.
2) Work Wear
Whether you're just doing woodwork in your garage, tinkering with your car, or going on a long hike. The utility kilt is perfectly at home here.  When utility is key to you for your activity, look no further. Your workwear should provide function over form. So dress for the activity. Also, if you're going outdoors, wear sunblock on your skin. Just a friendly reminder.
3) Smart Casual Wear
Smart Casual is a step-up to regular casual wear. Think an elevated version of your casual wear, still relaxed but with a dash of sophistication. Try combining your neutral-coloured Utility kilt with a t-shirt and add on a blazer or maybe a long-sleeved shirt like chambray, would up your kilt style.
4)  Business Casual
Wait…. Smart Casual and Business Casual are different?
Yep. Let's put it this way. Business Casual, although it's a smart but relaxed look, should still have an air of professionalism. Think of it as if you're going to the office but don't need to wear a suit. Would you go wearing your Metallica or Dragon force t-shirt with a blazer thrown over it? Yeah, I don't think so.
In modern offices, business casual has been a norm when a suit is not required. In a less formal setting, a sweater, maybe a blazer matched with a neutral-coloured utility kilt, works perfectly. When choosing a shirt to match that, a classic oxford would be a good choice as well. For footwear. Sneakers or boots will not cut it. Try smarter footwear like brogues, loafers, or derby shoes in matte leather.
5) Business Formal
Okay, we're going into more formal territory now.
And at this level, just a simple button-down shirt will not cut it anymore. Business formal is a dress code for corporate events, meetings, or in a more conservative kind of office. Business formal is meant to be smart, stylish, and most importantly simple.
To dress business formally, an office-appropriate attire. Maybe a dark-coloured, notch lapel suit. Now if you, really, really have to wear a kilt, pick a colour that matches your suit jacket and tie.
Pick a shirt with a subtle colour or pattern. Keep the loud ones for business casuals. For footwear, your bog-standard Oxfords would be the go-to choice. As for accessories, keep it simple, a leather sporran and kilt hose. The key term here is keeping it simple.
6) Cocktail Attire
This is a dress code for evening events and parties.
So the subtlety of the business formal is out the window. You're looking to look good, not blend in. A slim-fit suit jacket would be just the ticket to match your utility kilt.
Cocktail suits should have a modern feel and be tailored for nighttime. Yes, there is a difference. Modern takes on the cocktail suit usually are in a darker colour and with a sheen to the fabric.
I don't expect you to have a utility kilt with the same fabric, but at least try to match the colour of your suit jacket. A dress shirt, polished dress shoes, a sleek sporran, a slim tie, maybe a pocket square. It would complete the look. If you want to stand out, nothing says look at me than rocking a kilt to a party.
7) Semi-Formal
Now, you might ask. Isn't Cocktail Attire already semiformal?
Yeah, Nah. Semi-Formal can be tricky.
It's a level above cocktail and a level below the black tie. While you are looking for sophisticated yet flashy cocktail attire since you're at a party. In semiformal, you're going for a classic yet contemporary look.
We haven't reached peak formality, so you don't have to bring out your Tuxedos yet, a classic tailored suit jacket, dress shirt, and tie still fits the bill here. For daytime events a light, maybe beige suit, while at night a darker coloured navy would be appropriate.
Remember, if all else fails, go for the classics. As for kilts like what was mentioned above, you should match the colour of your utility kilt with your suit jacket.
The Limits of the Utility Kilt.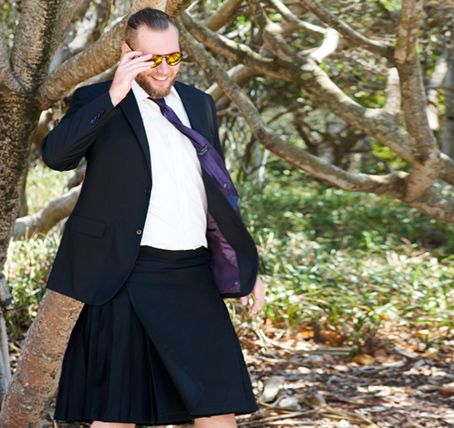 You might wonder why I didn't put in Formal wear here. Well, as versatile as a utility kilt can be, it still has its limits. For black tie and white tie events, one should go with the more traditional wool kilt and accessories.  That's my take on it.
A utility kilt will serve you well in almost all scenarios, but black ties and white tie events are very rare. Wouldn't you want to go to something extra special? I would. I hope you have learned something here, fellow Kilt Enthusiast.
Thank you for reading. If you'd like to begin your utility kilt journey, make sure to check out our top-selling utility kilt our Deluxe Utility Kilt which has the versatility to be worn in all of the above occasions!