Utility kilts, or working kilts, are designed to be durable and hard wearing. If you love kilts, and love to work in a kilt, they are a great choice. Working kilts are a great way to show your work pride, and if we may add, comfort.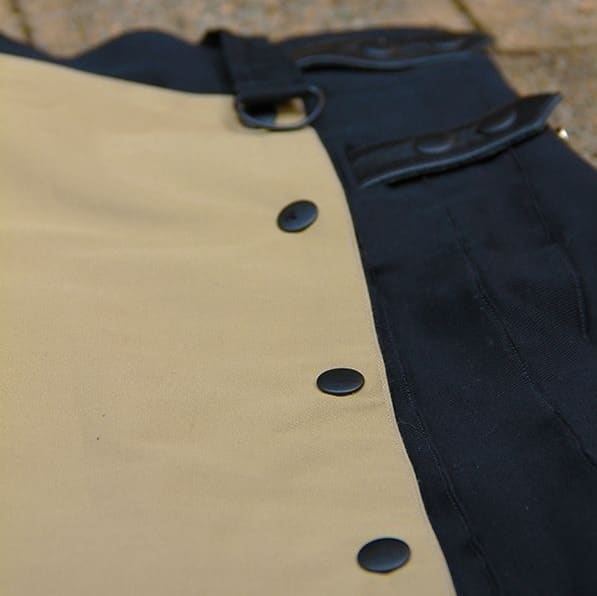 If you love the kilted look but need something durable and more practical for work, then an Ozkilts Workman Utility Kilt is the perfect choice. It is a common belief that kilts are reserved for certain uses. Some contend that they can only be worn on special occasions. This may be true if you are referring only to the traditional Scottish kilt.
The Scottish kilt's refinement and high sophistication does deserve for it to be worn with reverence and respect. Modern utility kilts also deserve such treatment, but not as strict as to follow proper protocols in wearing one.
A working kilt is a wonderful wear for almost all utility needs, field or in-house work. The great thing is you can still choose to wear them casually as a fashion attire, yet be functional enough to perform jobs in comfort.
There are a number of reasons one should wear an Ozkilts Workman Utility Kilt, read on to find out why you should choose this kilt in your work and play environment.
The perfect Kilt for Tradies/Workmen.
A working kilt provides a more comfortable and efficient way to perform work. At Ozkilts we have the Workman Utility Kilt made from 100 percent quality cotton and other durable materials that are built to last.
They are growing in popularity among many tradesmen and metalworkers. These kilts are a perfect option for people who require more freedom and mobility while working, absent the constriction brought on by wearing typical cargo or tactical pants.
Granted, they may not be necessary to some people. After all, we at Ozkilts have other fabulous styles you can choose from that will fit your style. But there are also people who'd opt for the added protection the kilt will serve and add value to the type of work you are doing.
1.  Beat the Heat
Regardless if you work indoors or outdoors, or perhaps you have work that forces you to work in the sweltering Australian heat, you can keep yourself cool and comfortable. Being open at the bottom, the freedom of movement is unmatched from wearing constricting pants.
Wearing conventional pants traps body heat indefinitely, add to other external heat sources like the weather or central heating in your workplace.
2.  Better Freedom of Movement
Pants are the type of garments that cling to your form, even the loose fitting ones, and can impede with necessary movement. This can pose a challenge, especially if you need to move your feet around to get a footing to get the job done.
Since a kilt is open, no such problem exists, which means you can move your legs at any angle without your legs being constricted, especially on your groin area.
3.  Work Kilts for Convenience
A Workman's Utility Kilt is one that doesn't shy away from being bold. It comes with large detachable cargo pockets that you can use for storing supplies and tools you might need around the job. If you choose to add on a utility kilt belt, you can achieve even greater convenience by attaching tools to the belt as well.
You'll have everything you might need to do your tasks right there at your fingertips. This means less reaching into your toolbox, fewer to your work truck or workbench.
4.  Adjustable Fit
You can't move around too much at the risk of having your kilt fall off and giving everyone present a sight they would rather not see, right? More so if you went commando. Yikes!
Good thing, Workman Utility Kilts come with our Deluxe Leather Strap Fastening System, that offers a wide range of adjustment. It's fully adjustable to conform to your body size to keep your kilt on, secure, and comfortable.
5.  Easy to Clean
One of the main features of the Ozkilts Workman Utility Kilt is that its apron can also be detached. Being a working kilt, it is normal that its apron is the main part of the kilt that gets dirty. You can take it off and wash it separately apart from the kilt in your normal wash cycle.
What makes a Working Kilt awesome?
If you're like many of us who wake up everyday only to struggle to find a breathable outfit good enough for the job site, well look no further. Though the Workman Utility Kilt can be used for the looks department, it is designed primarily for the tradies in mind.
They are designed to handle physically demanding work situations. What makes our kilts special from cheap overseas manufactured kilts is their handmade quality we are proud to put out there for our clients here and throughout the world.
Yes, they are more than suitable for work, but they can be worn in semi-formal scenarios. You can, if you choose, wear it for hiking or other outdoor activity. Its rugged design makes it the perfect choice for hard and tough jobs, yet suitable enough for leisure activities.
Check out some of its awesome features:
They are super comfortable to wear for both work and everyday use.

Large detachable heavy-duty khaki pockets on either side to store your tools and supplies.

Made from heavy-duty workwear cotton stretch.

Deluxe Leather Strap Fastener System for a secure and comfortable fit.
When to wear the Kilt?
To give you a short answer: all the darn freakin' time. But, versatile as the kilt may be, it still has its limits. Perhaps the only event where you should go for a traditional kilt is during strictly formal black or white tie events.
A utility kilt will serve you well for most occasions, events, or scenarios, and since black tie and white tie events are rare, let's stick and go with something special. That's just our take on it.  
When doing work, going on a long hike or camping out, a utility kilt is right at home. Note that doing anything physical, your workwear should provide function over form. Just don't forget to apply sunblock if doing any activity outdoors.
How can you get your kilt?
Even for the uninitiated, it's not a confusing process to buy an Ozkilts Utility Kilt. We have a smooth online ordering process in place to make buying your quality kilt from Ozkilts a fast and fun adventure.
For first time buyers:
Simply go to our

Product Page

.

Choose the Kilt or Accessories you want from our range of products.

Choose the Kilt Size you need by following our

Sizing Guide

.

Select your Kilt Colour (for kilts with various colour options)

Choose the Quantity of Kilt you wish to order.

Click Add To Cart.\

Check out our

utility kilt belt

and add one of those to your order 🙂

View your cart and fill out your billing and shipping details.

Choose your payment method.

Place your order.
For return customers, all you have to do is login to your account and your details will be filled in automatically. All you have to do is place your order, it's that easy.
A working kilt is a kilt that works for you! See you all on the dance-floors, workplaces, hiking trails, and everywhere in between! If you want to acquire Ozkilts Workman Utility Kilt, just follow the steps detailed above.