Estates are fascinating places. An event at an estate with utility kilts has got our interest for good. The inaugural year of the Hunter Valley Highland Games celebrated the strong Scottish connection to Australia by bringing several stone events and estate wine to participants. So we are all excited about the 2nd editions of Hunter Valley Highland Games 2020.
Several notable activities for this day set this event apart. One is the opening with a stone put, and another is the premier catering. A blacksmith demonstrates at these games as well, which is something rare.
This Event is being Organised at an Estate
Unlike some other Celtic or Scottish events around Australia that make use of large sporting grounds, this event takes place at an estate. This setting makes use of the wonderful scenery at the Saltire Estate in Lovedale. The surrounding country is hard to beat as well.
Something to note about this area is that James Busby of Edinburgh planted the first vines in Hunter Valley. The Hunter Valley Highland Games hopes to celebrate this connection between Scotland and Australia and continue the legacy of wine.
You can walk through the vines at this event.
Premier Catering and Estate Wine are on the Menu
The Crafty Pit, Poppy and Myrtle, and Ice Creamery on Wheels all bring food to this event. Sounds like fun to us, counting food alone! But there is a ton to do at this event besides eat. Consider this wonderful catering the fuel for an action-packed day.
The estate serves its wine during the event. Two of the featured wines include a 2019 Moscato and the Alasdair Shiraz. They pair well with the gourmet catering at this event.
A Blacksmith Demonstrates His Craft
One other surprising thing about the Hunter Valley Highland Games is the demonstration by a blacksmith. Bat Country Forge operates in Newcastle and makes knives, among other things.
It's rare to witness this antique art these days. Blacksmithing still plays a valuable part in culture in industry, even though it is a rarer sight than it was before the turn of the 20th century.
Blacksmithing used to be a part of everyday life, like utility kilts. What a great thing that we can witness both things in one day! It seems that some of these rich traditions mean so much more these days as they become rarer.
Is it too crafty to think you might have a better chance of booking an appointment if you wear one of our Utility Kilts? Ozkilts can definitely make you appear more serious about the trades, in our opinion.
A Special Day at Hunter Valley Highland Games
This is definitely a unique event. It is rare to have so much fun for both adults and the young ones in one event. Even if your child is a picky eater, they are sure to enjoy the ice cream. They can burn off all that energy in the bouncy castle after they eat their fill.
Our kilts are just the thing to meander the field in as you taste some Shiraz. We think they lend themselves well to participating in the stone events also. Whatever you fill your day with, take in the scenery and enjoy some good food.
Get Your Utility Kilt On!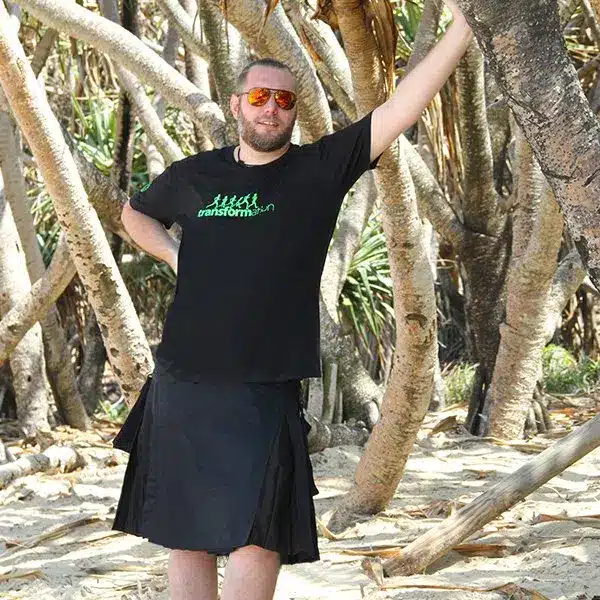 Get your hands on one of our handcrafted utility kilts to dress your best on the day. Explore our kilt collection here. May we suggest as an option the Workman Utility Kilt if you plan on attempting the blacksmithing demonstration?
If you are the active type and want to participate in the caber toss or one of the other physical feats, we recommend going for the Active Utility Kilt. Both this kilt and the Workman Utility Kilt are fully adjustable pieces in sturdy 100% cotton. However, the Active Utility Kilt brings you the best in flexibility and breathable fabric.
The high-performance cotton in the Active Utility Kilt stretches so that you can move easily. Furthermore, the flexible side pleats allow you to keep competing as you manoeuvre your way to stone victory.