The kilt is perhaps one of the most recognisable pieces of garment the world over. In its most original form, it uniquely suited the practical needs of Scottish Highlanders. It has evolved a LOT since, and it is now often seen not only in ceremonies and official occasions.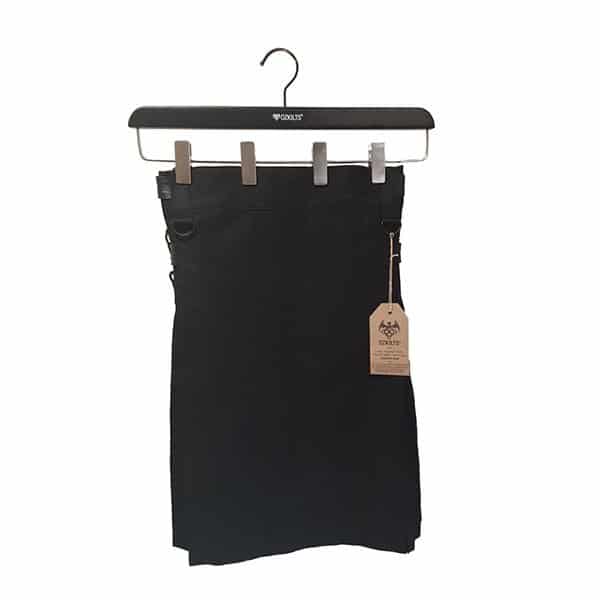 A traditionally made kilt uses 8 yards of tartan fabric that's pleated at the back. Plain colour wool is also commonly used to make traditional 8 yard kilts.
Yes, they are still being made today, with care and respect, honouring its deep cultural and historical roots in Scotland. Its modern incarnation in modern utility kilts can now be seen being worn on a daily basis.
A utility kilt on the other hand uses fabrics other than wool, with patterns other than tartan such as: Poly-viscose fabric, cotton, denim, even leather, which are all great options for casual and semiformal occasions. They are also available in a range of colours and patterns, making it easy for the wearer to find a style that will suit their individual taste.
Regardless if they are traditional or modern kilts, it needs to be carefully stored between wearings. A kilt is a true investment that will last you a long time if you care for it properly. The good news is, it's not that hard to maintain your utility kilt.
What is a Utility Kilt Hanger?
A kilt hanger is an accessory to help your kilt remain in pristine form when stored in your wardrobe or during transport. 
With regular clothing, storing them can be as simple as folding them and stacking them on top of each other in a drawer or your closet. Kilts should not ideally be stored in such practice. First off, you should not fold a kilt because it will crease its pleats and look unsightly when the opportunity comes to wear it again.
Whether you have a traditional tartan, a formal piece, or even a modern utility kilt, storing your kilt is essential to keep it looking its best. The first thing you should do is to make sure that you air your kilt thoroughly. If there's moisture in the kilt when you store it, mildew might set in that could end up damaging your kilt.
Once fully aired and dried, the best way to store a kilt is by hanging it using a kilt hanger that allows you to clip the kilt along the entire top of the kilt without sagging. 
Ensure that its pleats are downwards and place it inside a garment bag. If you opt to store it in a drawer, it's good practice to lay it down flat with a couple of cedar blocks to ward off pests like moths. The last thing you'd want is having a kilt with little holes in it.
Why Kilt Tailors Should Use Kilt Hangers.
The Ozkilts Utility Kilts Hanger is the perfect way to keep kilts in pristine condition, either for storing finished kilts in your sewing room or for transporting. The kilt hanger helps in keeping its pleat flat and straight and its apron smooth, sparing the need to re-press the kilt before each use.
Hanging the kilt keeps it crease free and makes them easy to store. Our specially made kilt hanger has four heavy-duty chrome metal clips with rubber protectors ensuring the kilt never slips off. It has the right amount of strength to hold even the heavier kilts without causing harm to the garment.
Durable
Have you ever attempted to hang a kilt on a skirt hanger or regular pant's hanger? Don't bother, it simply won't work. Imagine the weight of a 5 or 8 yard kilt. A simple skirt or pant hanger will not suffice to hold it up for an extended period.
Ozkilts Utility Kilt Hangers are durable and will support up to 2 kgs easily without buckling or leaving any imprint on the kilt. If you've got kilts or work on kilts, you'll definitely need kilt hangers.
Sturdy
Ozkilts Utility Kilt Hangers will securely hold the heaviest kilt you make and ensure the kilt won't fall off even during transport. If the kilt can stay on the hanger during transport, it can certainly survive your closet.
Our hanger's main body is handmade from wood rather than plastic. They are appropriately sized at 360 mm in length to ensure they fit any normal-sized wardrobes and appropriate for travel or transport.
It is possible to hang two kilts from the same hanger when travelling, since an Ozkilts Utility Kilt Hanger is sturdy enough to handle the weight. A bonus factor is that they fit nicely in garment bags to give your kilt/s added protection. We do however recommend utilising one kilt per hanger for best practice storage and to keep your kilts in the best condition.
Easy to Store in a Tailor's/Sewing Room
A kilt hanger is revolutionary in its design, solving problems associated with hanging and storing finished handmade kilts. Whether you have them ready for transport from your sewing room or waiting to be picked up by your clients, the kilt's pleats will remain neat and smooth with Ozkilts Utility Kilt Hangers.
Unlike standard wooden clamps or bulldog clip hangers, they are not difficult to use. Its highly effective design makes it simple to use and does not cause kilts to fall off the hanger. What this also means for the kilt maker is an end to ironing and pressing crumpled kilts. The garment can be hung neatly, helping the kilt keep its tip-top condition. 
A Utility Kilt Hanger allows you to store your finished kilts in a neat and organised manner. Its clips hold kilts securely, preventing them from getting wrinkles or tangled with other garments. The kilts remain in pristine condition, ready for clients to appreciate the superb craftsmanship you put in making the kilt.
Kilts do take up a significant amount of space in a kilt tailor's sewing room. By using a kilt hanger, you can hang multiple kilts vertically, maximising the use of your storage area. This frees up valuable space for more garments and/or accessories, making your tailor's/sewing room more efficient and clutter-free.
With a utility kilt hanger, you can easily see all your finished kilts at a glance. This makes it convenient to pick a specific kilt without rummaging through a pile of folded kilts or searching for the right one, saving you time and effort.
A Utility Kilt Hanger provides gentle support to the kilt, preventing it from developing creases or folds that can be quite a challenge to remove. This ensures that your kilts retain their original shape and drape, allowing your clients to enjoy their kilt for years to come.
For a kilt tailor or kilt enthusiast, a Utility Kilt Hanger can serve as a display piece in your space. Hanging kilts on a hanger showcases your craftsmanship and creativity, which can also serve as an inspiration for a robe. It also allows you to admire and appreciate the intricate details and patterns of the kilts that fuels your passion for tailoring and sewing.
In summary, a Utility Kilt Hanger is a must-have in a tailor's/sewing room due to its ability to provide organised storage, save space, offer easy accessibility, ensure gentle care, and serve as a source of inspiration. Investing in a Utility Kilt Hanger will enhance your tailoring or sewing experience, making it more efficient, enjoyable, and professional. For kilt wearers, it can save you time and effort making sure your kilt is always looking its best.
Bulk Order Discounts
Although a kilt is made from durable fabric, it will still require proper care for you to be able to showcase it to your clients. Using a utility kilt hanger is one best practice you can impart to your clients on how they can store or transport their kilt in pristine condition for each wear.
At Ozkilts, we provide a range of quality handmade utility kilts that will suit our client's personal style. We also provide Utility Kilt Hangers to help them store their kilt and keep it looking its best.
For kilt makers and craftsmen, the best way to keep your finished kilts in pristine condition is by hanging them up using utility kilt hangers. Hanging the kilt allows it to breathe and dissipate any moisture it may have come into contact with during production.
We understand the needs of kilt tailors, sewing professionals, and enthusiasts who require multiple kilt hangers to efficiently organise and display their kilts. We at Ozkilts recognise the importance of providing cost-effective solutions for individuals or groups to stock-up on quality utility kilt hangers. 
Ozkilts do accept bulk orders for utility kilt hangers. The good news is, we give discounts for bulk orders of 50 or more hangers.
By availing yourself of this bulk order discount, you can enjoy significant savings on your purchase. Not only will you benefit from the superior quality and functionality of our utility kilt hangers, but you will also be able to take advantage of a discounted price per unit, ensuring excellent value for your investment.
Don't miss out on this opportunity to enhance your tailor's/sewing room with our top-notch utility kilt hangers while enjoying substantial savings. Contact Ozkilts today and elevate your kilt storage and display capabilities with our bulk order discounts.
Your Kilt is an Investment.
You can ensure you enjoy your kilt for years by taking the best possible care of it. Like what we said earlier, it's not that difficult. You only need to take care of it as the need arises. In the event you need to stow away your kilt for a short or long period of time, a utility kilt hanger is one accessory you can't do without.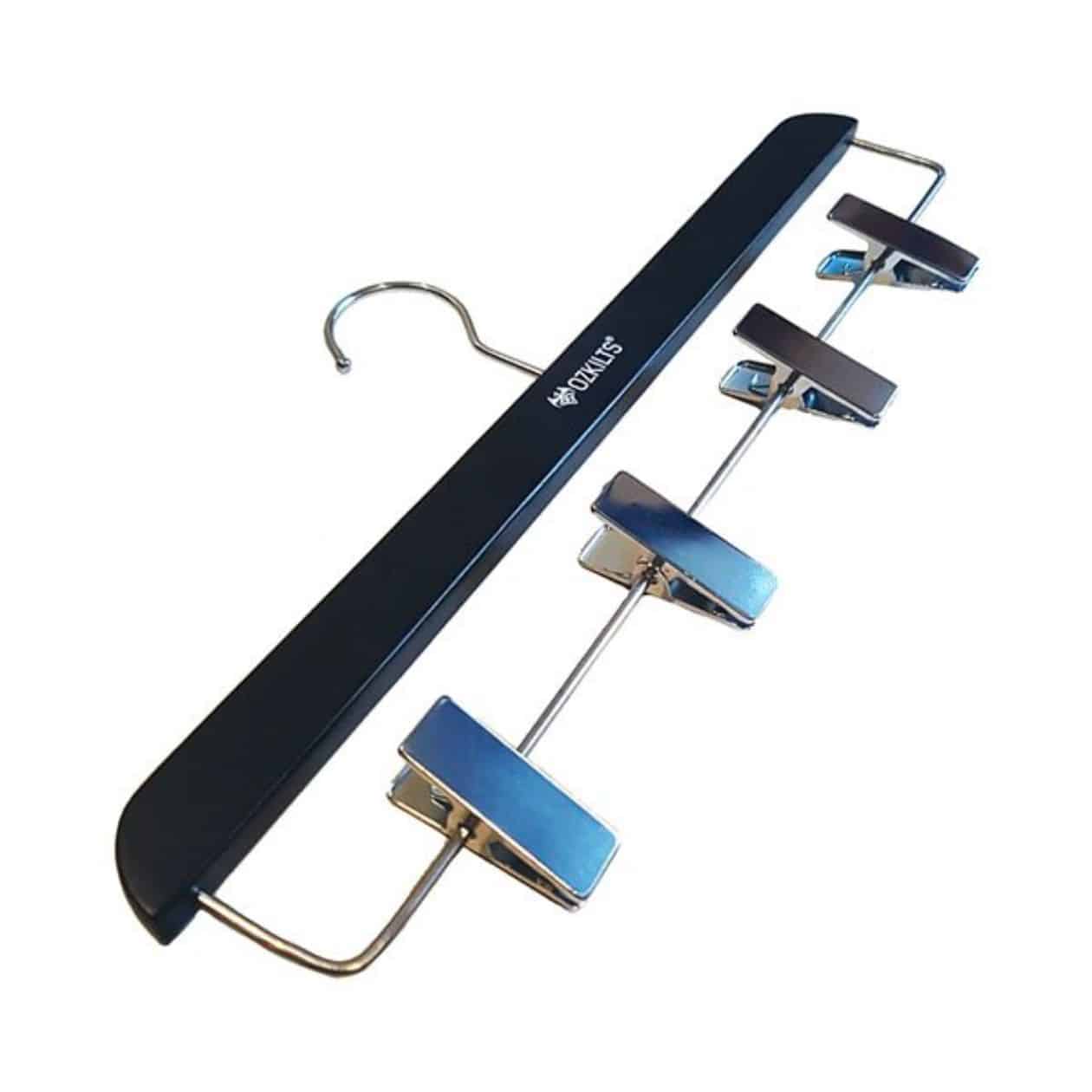 Ozkilts takes pride in crafting utility kilts of exceptional quality. Each kilt is meticulously designed and constructed using premium materials, ensuring durability and longevity. The attention to detail in the stitching, hardware, and overall construction guarantees that your utility kilt will withstand the test of time, making it a reliable and enduring addition to your wardrobe.
Ozkilts utility kilts are not only practical, but also stylish. They offer a unique and eye-catching alternative to conventional clothing options.
With a variety of designs, colours, and plain and tartan accents to choose from, you can express your individuality and personal style with confidence. Whether you prefer a classic, traditional look or a more modern and contemporary aesthetic, Ozkilts has a utility kilt that will suit your taste.
With proper care and maintenance, your Ozkilts kilt can be worn for many years. If you are a kilt maker, each finished kilt you make will be more presentable by showing them off, being held securely by an Ozkilts Utility Kilt Hanger.
Get your Utility Kilt Hanger from Ozkilts and enjoy discounts for bulk orders of 50 or more units.