A kilt is not just any ordinary piece of clothing. Being one of the now popular types of clothing, many men (and women) now wear utility kilts in attending various occasions. Many even opt to wear it every day in doing various activities, at work, or even during a backyard barbeque.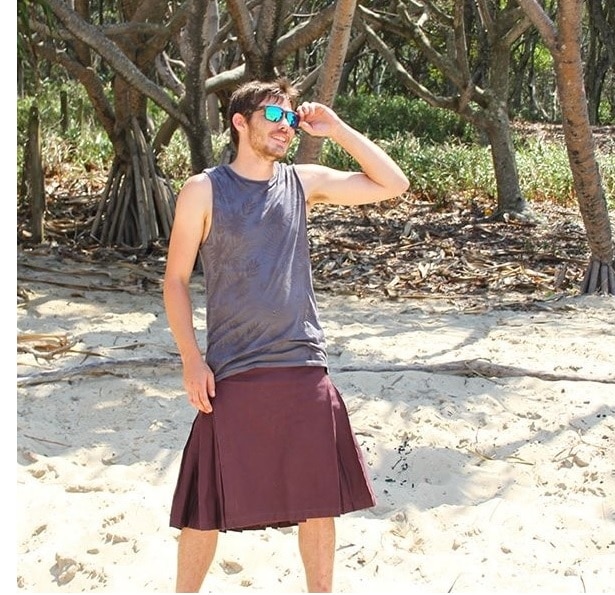 Kilts are durable pieces of clothing that are commonly handed down among kilted families from one generation to another. However, it would only be possible if the kilts are treated with respect and with utmost care.
No one wants to go around wearing faded kilts or visible stains on it, or heaven forbid, torn or ripped, right? It is therefore important to know how to properly care for your kilt.
Traditional kilts were made of 100% wool, materials used for modern kilts and utility kilts are varied from cotton, denim, leather, the list goes on. Regardless of new options to choose from, proper care, can become a necessary chore.
Proper care, cleaning, and storage for your kilt is essential for keeping it looking its best.
Kilt and Winter
When the weather gets colder, it is but natural for people to bundle up. But for people who like to wear kilts every day, bundling up may mean storing your kilt in the closet and break out a regular pair of pants. But we at Ozkilts® being avid kilt wearers, believe that you shouldn't have to sacrifice style because of a little cold.
Regardless of weather, kilt care is essential for it to retain your utility kilt's colour, shape, and fit. Here are our top essential tips in maintaining the great quality of your kilts during winter.
1.  Keep it Dry
There is a great possibility that your kilt may get a little damp during winter, especially if you have been outside in an area where there is snow. Regardless of the situation, letting your kilt dry thoroughly before use and/or storing it is crucial.
Avoid the temptation of treating your kilt like an ordinary shirt or pants. Simply shoving it in your closet unceremoniously will not do good at retaining its shape. Besides, storing a kilt without properly drying it out may cause mildew to set in. You wouldn't want to wear a mouldy kilt.
2.  Cleaning your Kilt
In any ideal situation, cleaning something immediately is an automatic reaction when you spill something on your clothes. The same goes for kilts.
Surprisingly enough, using baby wipes are excellent for cleaning something immediately off a kilt. Or in its absence, a piece of cloth with warm water dabbed at the stain will work nicely. Just don't rub, or it will make it worse.
3.  Don't Wash too Long
Yes, you can wash your kilt. But avoid washing your kilt with any other cloth as it may ruin your kilt. Also, don't wash your kilt too long, as it may contribute to the kilt's colours to fade or lose its shine.
Additionally, if you must use any cleansing agents, use one that suits the fabric of your kilt. There are many cleansing agents out there which affects the colour and quality of your kilt's cloth.
NOTE: Fabric softeners = BAD! They contain decreasing agents which can soften out the creases of the kilts' pleats over time.
4.  Hang Your Kilt
After washing or cleaning your kilt, using the dryer may bring about shrinkage or cause undesirable wear on your kilt. When drying, avoid exposing your kilt to direct sunlight since it will cause bleaching for colours to fade.
Hang it to dry using a kilt hanger on an airy place away from direct sunlight. Also, when fully dried, keep it hanging with the kilt hanger before placing it in your cabinet. For added protection, cover it with a wardrobe cover bag.
Wearing Utility Kilts in Winter
It is easy to wear utility kilts during spring or summer because it is warm out. The weather is perfect for your legs to breathe, especially if you intend to go to a music festival or concert. 
But when the temperature drops, you might feel a bit of kilt withdrawal if you pack or store your kilt during winter. The good news is you can wear a kilt in winter! Here are some easy kilt-styling tips for winter, so you can wear your kilt all-year round. 
1.  Skinny Jeans and Pants
Normally, one wears a utility kilt barelegged, especially if you own one of Ozkilts® Utility Kilts. But did you know that it is possible to wear your utility kilt over skinny jeans and pants?
If you browse for kilts online, you might come across a few streetwear looks of men in kilts layering them over pants. The look is actually a popular urban streetwear look for casual occasions.
2.  Leggings and Meggings
It is not an option for men to wear pantyhose, so the next best thing is leggings! Men's leggings (meggings) not only have the same skin-tight fit, but it will also keep your legs warmer than any sheer pantyhose.
Leggings made of thicker fabric can keep out the cold. For an even edgier look, try matching a pair of faux leather leggings with our Metal Utility Kilts for that edgier and gothic look.
3.  Knee-High Socks
Traditional kilts are normally worn with knee-high socks, but it is also perfect to be worn in winter with utility kilts. The only downside to wearing long socks is that there is a small bit of skin exposure at the knees, leaving your legs open to the cold, winter air.
To avoid this, finish your look with a floor-length coat that will guarantee you stay warm from head to toe.
4.  Leg Warmers
It may no longer be the 80s for you to wear leg warmers, but if you're going for an athletic look with your modern kilt, then leg warmers are the sporty accessory to keep your outfit on point.
You can easily wear leg warmers with our Active Utility Kilts, paired with any style of sneakers or boots.
5.  Knee-High Boots
For utility kilt wearers who insist on wearing their utility kilts without anything underneath them, boots are your best bet to keep you warm during the winter months. For this to be effective, choose boot styles that reach the knee or higher for maximum coverage.
Similar with knee-high socks, you can pair your Ozkilts® Utility Kilt with a floor-length coat to keep you warm and guarded against icy temperatures.
So you see, there is no reason for you not to wear your kilt all-year round. Don't hesitate to share this piece with other kilt lovers out there, as it may prove helpful and worthy for the kilted clan.