Have you heard of Movember? If you still haven't, Movember is an annual event during November which involves the growing of a moustache to be able to raise awareness of men's health issues. Movember is the combination of the Australian-English diminutive word for 'moustache,' or 'mo,' and 'November,' which has been used as a branding strategy.
These health issues include prostate cancer, testicular cancer, and men's suicide (in which cases have risen in recent years). It began in Melbourne, Australia in the year 2003, according to the Movember Foundation, with an aim to increase awareness on testicular and prostate cancer. As men participate by growing a moustache, women also join by pushing the men in their lives to develop our moustaches and getting them to be dynamic as part of Movember's modern "Move" initiative.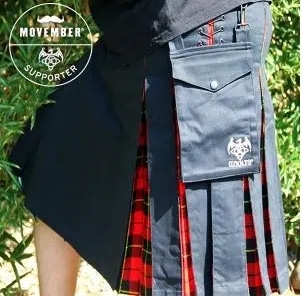 Nowadays, with regard to their wellbeing, such a large number of men don't talk, don't make a move, and die at a very young age. Movember challenges men to grow a moustache. Men and women move actively and, or much better, host a fundraising event. 
According to the Prostate Cancer Foundation, millions have joined the development to disrupt business as usual, raising a fund of $911M and subsidising more than 1,250 ventures only focused on men's health issues, including prostate cancer, testicular cancer, mental health, and suicide prevention. The number of cases of all three is rising at an alarming rate, so this is a cause that affects you! 
The funds raised from the Movember Foundation will go directly to the organisations for research purposes. In the long run, if you're a man, these will benefit you! They have also planned out short-term benefits, such as what happened two years ago, in which Movember Foundation has asked people to run 60 km as part of their fundraising efforts. 
You will be overwhelmed about how people are engaged with similar charities to support and deliver innovative research programs for men to be happier, healthier, and to live longer lives. As part of the progress, the most recent revelations in prostate cancer genomics have brought us closer than ever to a remedy, but there is still so much work to be done. 
Meanwhile, according to Forbes, about 1.3 million men are examined with prostate cancer each year, coming about in assessed 360,000 cases, usually in men in their mid-to-late 60s. Whereas high-risk prostate cancer, are frequently treated with surgery, radiation, or hormone treatment drugs, not all men react to those medicines.   
Workout makes a difference in patients with early prostate cancer adapt with weariness, improves wellbeing and huge prosperity, and diminishes the probability of passing on from disease, which claims the lives of 380,000 men globally, each year.  
In the United States, the rate of male suicide is dismaying high: 3 out of 4 suicides are men, and we can't just sit back and accept this. As part of Movember's movement, by the year 2030, it is said that we'll reduce the rate of male suicide by 25%. Suicide issues are very complex, but for Movember, one thing is for sure: establishing better social connections can incredibly reduce the risk of suicide.
They want men to understand that stepping forward, taking action, and talking about new health is not a sign of weakness. Widespread need for apprehension, understanding, and shame only create more silence around men's health issues. 
Movember is more than raising awareness. Celebrate and have fun with your friends and family while sprouting a moustache, while supporting a cause!  
Let's Go Movember!
This Movember, Ozkilts supports special attention to men's health issues. Movember marks the start of the holidays: what perfect gift suits the event and, at the same time, to help the men in your life with their health? We will give you a hint! Kilts are better with a Movember moustache. Giving a kilt shows your support and help this Movember! 
Ozkilts proudly presents the 'Movember Utility Kilt' – the perfect kilt to wear in support of men's health this month of November. Here at Ozkilts, we are solid men's wear to solid men's wellbeing advocates. Wearing a kilt has been indeed been appeared to help with men's regenerative wellbeing, as more tightly prohibitive clothing can be hindering to the characteristic cooling work of your wrinkle purse. 
This customer Movember Kilt comes with 'Box' style pleats with beautiful Red Tartan accents. Box Pleats hold tighter than a standard knife pleat, great for active people on the run.
Our Heavy Duty cotton stretch material offers the perfect balance of comfort & breathability, the material fits your body over time just like your favourite pair of jeans, without being a prison for your bits. Our Sports Kilt Velcro Fastening System offers the most precise fitting possible. 
The flex pleat system offered on this kilt is featured on either side of the kilt. It allows for further movement of the kilt during high movement activity while offering superior comfort and flexibility when compared to traditional kilts.  
We highly recommend Movember Utility Kilt for anyone wanting to support men's health this Movember!