Do you want to try out something new today and buy a kilt, but not sure how to wear it or add perfect accessories to it? Don't you worry! We're helping you out!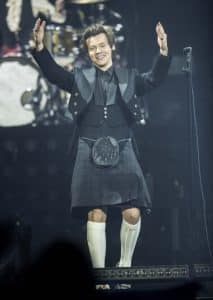 Did you hear when Harry Styles wore a Kilt during a concert in Glasgow, Scotland last April 2018? The British singer opted to wear and was eager to flaunt off his pins; the One Direction member overwhelmed his fan of the Scottish spirit as he performed on the stage. 
Wearing a utility kilt is exciting, flexible, and fun. In some cases, you don't even have to wear underwear! While wearing a kilt, chin up, and don't be afraid when you're drawing attention to your outfit; it's a good thing.
It means you're standing out from the crowd and being an individual. Your attitude is determined by how you wear it, your posture, and how confident you look donning the clothing.  
For people who don't know what a utility kilt is, it is a type of "skirt" that is knee-length with pleats at the back made for men. It is a traditional piece of Gaelic men in the Scottish Highlands. During the early days, it's usually made of tartan, wool, and is heavily-wrapped around. 
It may look like tartan kits are hard to be paired with, but playing around with colours is worth a try. Mix-and-match them with different materials and accessories is fine, but as long as the look is complementary and accessorised appropriately. 
Due to advancements in fashion, utility kilts can be made now of Denim, Leather, Cotton, or combination.  
Denim Kilts – these kilts are great for an everyday look. When you're running errands, having groceries, and chilling out with friends, denim kilts are a good choice. A classic and perfect combination of denim kilts is a classic white shirt. It may not be easy to match denim, but here are some other combinations you can try:  
Denim on Denim

 

Flannel Shirt

 

Tie-dye Shirt

 
Leather Kilts – Can't think of what you wear on your first date? Leather is just 'that thing!' It is a bold and edgy statement to wear and a must if you want to draw attention. The leather-made kilt is an inspiration from the punk area. Commonly, it is styled by front panels, buckle straps, functional pockets, or chains. Below are some combinations best paired with leather kilts:  
Classic White Shirt

 

Leather to Leather

 

Black Turtleneck

 
Cotton Kilts – Comfort and similar to the wool made. This one is effortlessly easy to wear. It is usually worn with colourful t-shirts and vibrant socks. Of all materials that can be used to make kilts, cotton is the perfectly-designed one that provides comfort as compared to leather and denim.
Cotton kilts are best paired with a tucked-up buttoned-down polo shirt and rolled-up sleeves. Thinking of wearing casual with the cotton utility kilt? We got you! You can wear plain t-shirts and sneakers for a more effortless casual getup.  
Ozkilts is a very proud manufacturer of 100% cotton-made premium utility kilts. You can check out the range of utility kilts here. 
Shirt and Tie are also great to pair with a kilt. Here are three basic shirts that are commonly paired with kilts:  
Ghillie shirt –

 this i

s a loose type of shirt and no need for a tie. The leather lace can be tied in a knot or hanged down.

 

Standard Collar shirt –

 this usually is a type of more formal 

wear; requires bow ties, which alternatively, can be substituted with straight neckties for daytime or outdoor event.

 

Victorian shirt –

 

a conventional pairing that requires a bow tie or cravat, which is perfect for weddings. 

 
Whichever shirt you choose will be perfect, so long as it's neatly tucked into your kilt.  
Apart from a mix-and-match in wearing your kilt, accessories are a traditional part of wearing the attire. Here is the list of the accessories: 
Belt &

B

uckle 

–

 

these are worn through the loops at the back and secured at the front just above the sporran.

 

Sporran –

 there are three types of Sporran. 

The f

irst is full dress sporrans. These are the conventional sporrans with fur and tassels at the top. They are pretty large

to the point you could bring a few of your things. 

The s

econd is 

the 

semi-dress sporrans. These are less formal than the full-dress, but could still wear on important events. It is made of leather and has fur on top. Lastly, day or leather sporrans. These are casual

sporrans and can be worn every day. These have simple designs and are completely made out of leather.

 

Fly Plaid & Brooch –

 

f

eeling a little extra? If you want to add extra formality, these are perfect. Fly plaids are secured to your jacket by a plaid brooch.

 

Kilt Pin –

 

th

ese 

a

r

e both embellishing and utilitarian social touch to your outfit, but primarily, it helps your kilt from blowing open!

 

Flashes –

 

th

ese are worn to the side of the calf and keeps your hose from falling. Flashes are a 

great way to add colour to your kilt outfit, you can choose either with matching tartan or a solid colour.

 
Hose –

this is usually worn at the bottom of the knee, like other accessories it should be complimentary and match your tartan and jacket colour.

 

Brogues –

 to complete your outfit, complete it with a great choice of shoes. These are varieties

 of brogues for your casual, formal, or traditional getup need. 

  

 
It is not that complicated to get the hang of wearing a utility kilt. Take the style leap and try what looks best on you today!