As with any piece of clothing, size does matter. But unlike any traditional pants, kilts are not measured the same way. To address the elephant in the room, are utility kilts one size fits all? As with most piece of clothing apparel, the proper size measurement ensures a perfect fit.
Read on and find out why, and let's go through the details on how you can achieve that perfect fit before you acquire your first utility kilt.
Kilt Fitting Notes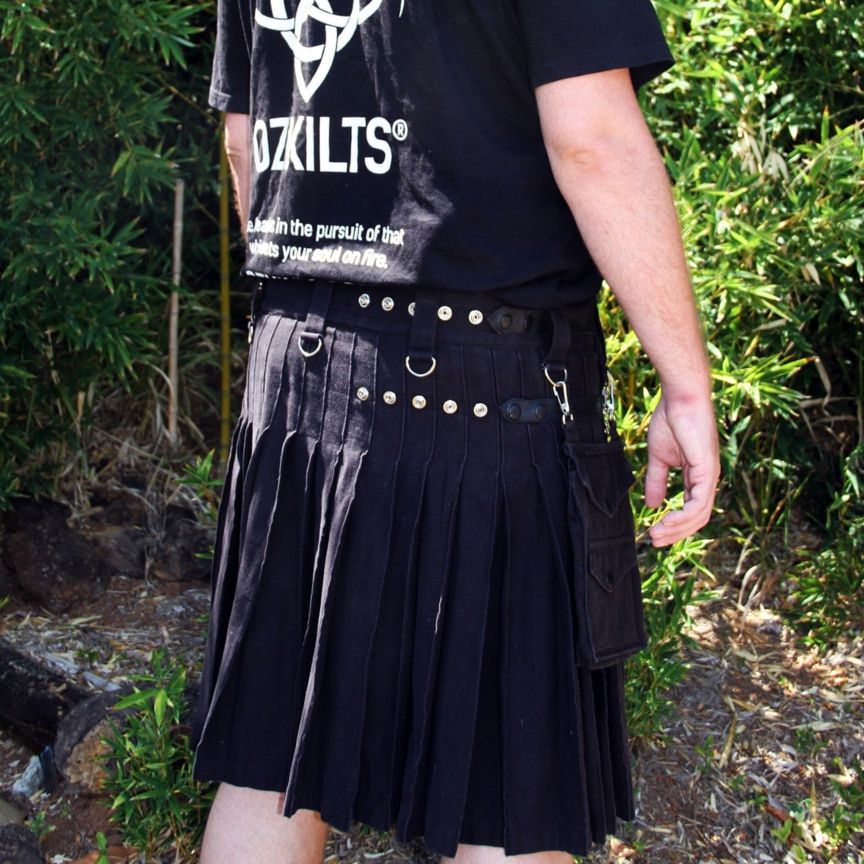 NOTE: All Ozkilts® Utility Kilts are of Standard/Average length drop. 
Getting the right size for kilts is not all that difficult, and it will only take you a minute or two. However, it is vital that you do it properly to ensure that perfect fit the first time around.
One important reminder that we must impart is that, never use your pant size when ordering your kilt, so make sure you measure or get yourself measured correctly.
For emphasis, we reiterate: Your kilt size is not the same as your pant size.
Wanting to be in a kilt ain't too tough, but it is important that you do it, and do it right. Kilt sizing can be quite tricky for even the most experienced kilt wearer. No worries, lucky for you, we are here to sort you out.
You've probably heard the saying "measure twice, cut once." With kilts, it goes double, just replace the word 'cut' with 'buy.' Trust us, it will save you valuable time and money later, as we at Ozkilts® don't usually offer refunds or exchanges for incorrect size orders, so it is advisable for you to measure up correctly.
There are two ways in which two ways measure yourself for a kilt. The choice is yours which one you'd use. Of course, it depends on you on how you'd want to wear your kilt.
The Belly Fit is the more traditional style of wearing a kilt, the other is the Waist/Hip Fit is the most modern way to wear a kilt as it is like wearing any pair of pants or shorts. You can wear a kilt in whichever way you prefer, but it is important to choose your sizing accordingly.
Belly Measurement
Kilts are traditionally measured at the navel level, that's where your belly button is at. This is what we call the "belly measure." Measuring your kilt from this position gives you a traditional fit.
Waist/Hip Measurement
This is the most modern way to measure for a kilt. The measurement is taken where you would like the kilt to sit on your body. The process of getting the measurement is the same position when taking measurements for a pair of pants or shorts.
For best results, we suggest using a cloth measuring tape. After you measure yourself, measure yourself again to ensure you have the right measurements. Note that all Ozkilts® Utility kilts are in inch measurements. We suggest for you not to use your pant sizes when ordering. If you find that you are in between a measurement, we suggest you order the larger size.  
For reference, please use the sizing chart below:
OZKILTS® Sizing chart
Small – 28″-33″ / 71 cm-84 cm
Medium – 34″-39″ / 86 cm-99 cm
Large – 40″-45″ / 101 cm-115 cm
X-Large- 46″-51″ / 116 cm-130 cm
Your Preferred Fit
For Waist/Hip fit, do the following:
Use a cloth tape as it gives the most accurate measurement.

Wrap the tape around your waist, along the area where you want the kilt to settle.

Take the measurement. If your reading falls in between 2 measurements, take the larger reading.

Repeat this process to ensure you get an accurate measurement.
For Traditional Belly Fit, do the following:
Wrap the cloth tape around your belly where you want the kilt to rest.

Go for the larger number in the event the size you get falls in between two measurements

Repeat the process for accuracy.
Getting it right the first time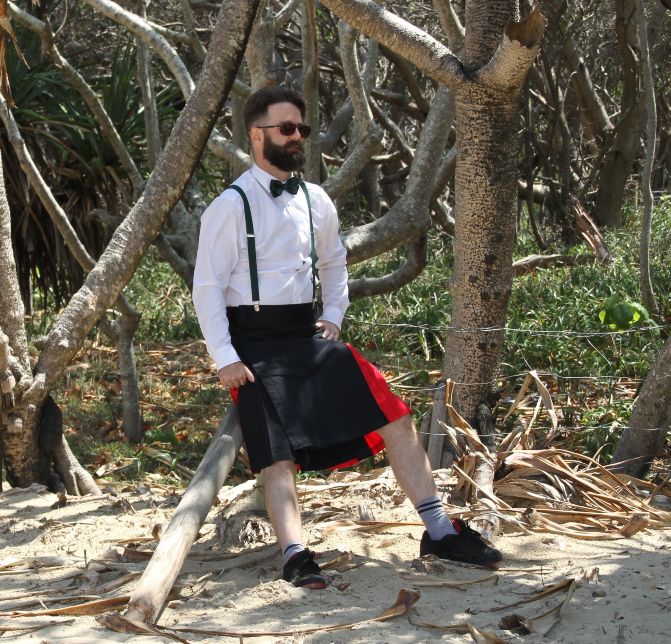 It is not all that difficult to get the right kilt, regardless of style, when you get the measurements right. We understand that for first time kilt wearers, it may feel different when wearing a new kilt. It may not necessarily due to an inaccurate fit.
In instances like these, we suggest giving ample time to get used to the kilt. Move around wearing your new kilt and do what you normally do in the kilt. We guarantee that in no time, it will feel like having a second skin.
Searching for the best quality kilt may be such a challenge, look no further and place your trust in an Ozkilts® Utility Kilt. We offer a range of utility kilts for every occasion that is suitable for formal, casual, to daily use.
Ozkilts® Utility Kilts are made of 100% quality stretch cotton fabric and comes with several convenient features including detachable pockets. Additionally, with your correct measurement, our well-designed strapping system ensures you get the desired fit, ultimate comfort and style, every time.