As the world continues to evolve, clients most want to order anything online. Unfortunately, some encountered cases online by customers, is how their items can be dispatched without taking too much time and spend with their preferred currency. As stated by Forrester Research, as cross-border business transactions thrive worldwide, helping multi-currency payments is pre-eminent in expediting global commerce. 
So, you did notice that we at Ozkilts offer multi-currency on our website. Located on the left side of our website, just right on top of our logo, you can select the currency that applies to your country without worrying about your preferred currency to buy the kilts you dearly desire!  
In this article, we are going to discuss the reasons why we offer multi-currency service at Ozkilts. 
International Satisfaction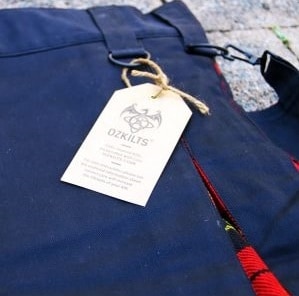 Since Ozkilts wants to be able to cater to clients who appreciably desire to purchase quality and hand-made utility kilts with *free shipping on all orders, and everyone is generally eligible.  
Ozkilts looks after our customers by considering the currencies our clients are comfortable using. We desire our customers to get to experience the smooth, satisfying, and hassle-free service they deserve using their native currency, and also to avoid extra charges for conversion that will get charged on their credit card statements. We don't want our customers to face charges on their end. 
You might ask, what is a multi-currency system? We tend to aim at Ozkilts – a product for everyone, which aims to give access to foreign clients utilising the multi-currency option. It means it is an accounting service that permits businesses to price goods in various currencies to buy and sell internationally. It can parallel to other various currencies applied, dealing with different currencies may be a headache, but choosing the right system would do the job.  
We have known that 76% of customers look for websites that may have prices in their preferred currency, and 19% of customers in the U.S., U.K., and Canada indicate a deficit of payment alternatives that leads to abandoning their cart in the process. According to Netsuite, an American cloud computing company, consumers are anticipated to spend $2.9 Trillion on cross-border e-commerce by the year 2022. Multi-currency saves time and time for both entrepreneurs and customers alike. 
Does currency conversion ring any bell? Currency conversion takes place if the present price of a certain currency varies from the settlement price currency.
Depending on the charge type and the appropriate currency conversion, the present price currency is used for charges while, on the other hand, you can receive payouts in settlement currency, which still depends. In finance, the exchange rate is the amount that will change for another valued as the equivalent of one's country concerning another. 
The currency conversion fee is only gathered by the credit card or debit card network when converting the currency to the domestic currency as part of the financial activity used by the cardholder. Currency conversion does maintain real-time information about the current exchange rates depending on the exchange rates provided by our service providers, which may affect the product price a little. 
Multi-currency is critical and can expedite the documentation of income and expenditures from foreign to domestic currency. Like, for instance, the Euro is very precise and has rounding rules. In businesses that sell products and services, the multi-currency system automatically converts the pricing to the customer's preferred currency.
Changes in exchange rates are automatically traced, affirming the proper gain or loss. Without the right software or system, a business with a multi-currency transaction can be worrisome and difficult at the same time, which could cause trouble and the source of frustration on both ends of the transaction. 
With online purchasing continues to grow dramatically every day – especially during this time when establishments are restricted to cater loads of people at the same time, merchants need to thrive to meet the demands of international customers not only locally, but to improve and as well as succeed in the market industry and as it makes a big difference to a business. 
R
eady to Rock 
A K
ilt Today?
Whatever your circumstances are, we are here to support you fully on your journey in choosing the kilt that best represents your personality and utility needs. A wide range, high-quality kilt selection is available depending on your preference. Maybe you want to feel like a rocker for today, and by tomorrow, you are going to a barbecue, whatever your need is, we have a kilt for you.  
Ozkilts is very proud to say that we are the only company with a utility kilt range designed by professional workwear designers. This gives men (and women) room to breathe and a sense of complete freedom. For more information you can get from donning on a kilt and the multi-currency service that we offer, you can visit this link: https://ozkilts.com/