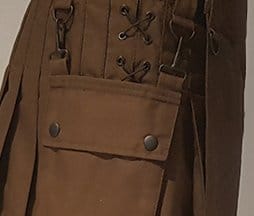 Velcro Fastening System with 'flex pleats
A Velcro along the front apron belt line which can be adjusted for a perfect quick fit. Kilts with our Velcro fastening also come with criss-cross flexible elastic pleats either side of the kilt to add extra comfort and longevity to the garment, each kilt with flex-pleats also contains detachable pockets. This highly versatile fastening system allows for a great range of movement, especially for those sitting, running, or working in their kilts.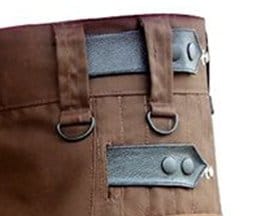 Leather Fastening System
Offers a wide range of adjustment. Not as quick or easy to fit and remove as Velcro , a slightly more rigid fit when compared to the kilt with the Velcro Fastening System with Flex Pleats.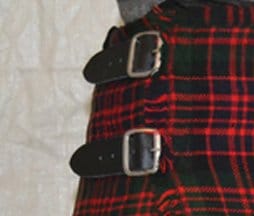 Buckle Hip Fastening System
We no longer produce these as standard across our range in favour for the above two more versatile and modern fastening systems, however we can take bulk special orders, so just send us an email and we will see what we can do.