Come celebrate the hit show on 14th and 15th of March 2020 at the Melbourne Museum. The Carlton Gardens are a feature at this museum and are stunning in their own right. Negotiations are in place for four of the cast members to come amaze you at the event as well.
Multiple Ticket Options Available
Ticket options include a meet-and-greet, but you must purchase a tiered ticket in order to get a meet-and-greet ticket. Options range from the Sapphire at $600 to the Diamond at $2000. Multiple autograph options and lunch are available. Ticket prices go up as your row gets closer to the cast.
As one of the coolest opportunities ever offered to true TV fans, lunch with the cast members is available to Diamond ticket holders only.
Who is Booked for an Appearance?
Your utility kilt is definitely booked for an appearance. This is the place for showing off kilt fashion, in our opinion. The event is a bit upscale, so we recommend the Deluxe Utility Kilt.
Kidding aside, the actors scheduled to appear are Richard Rankin, Sophie Skelton, Graham McTavish, and Ed Speleers. As of the 12th October 2019, negotiations were in place with the agents for these actors to come participate in panels, sign autographs and have lunch with their loyal fans.
The Venue is Gorgeous
We think the choice of venue for this event is perfect. It about all the beauty of Outlander's set. The beautiful Carlton Gardens outside the Melbourne Museum are ideal for taking in some fresh air.
The Ozlander Fan Group is Official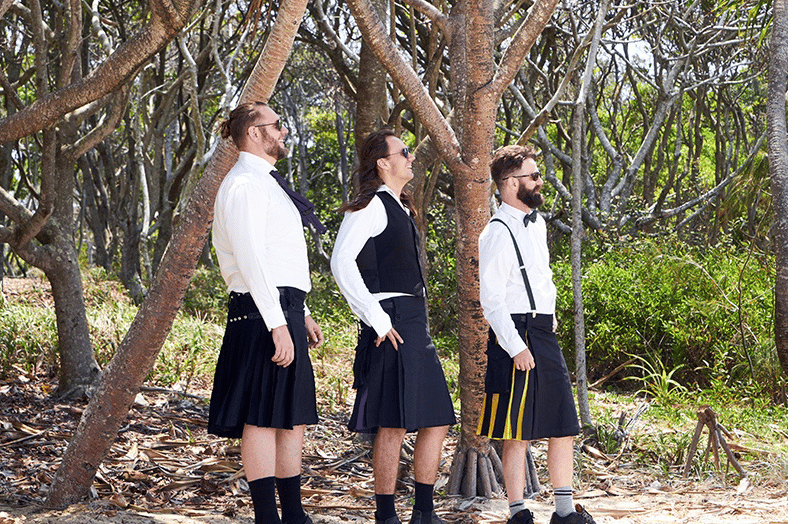 The organisers of the event are OFG, or Ozlander Fan Group. They have been travelling worldwide to meet the actors of this beloved show. They also love to meet other fans. This gathering will be the first of its kind in Australia.
The group has organised some other Outlander events, but they haven't included the actors in the past.
There are some pretty serious clauses involving appropriate dress and safety in the terms and conditions section of OFG's website, so we have to recommend going dressed up in your best and double-checking to make sure nothing sharp remains in your bag. Bags can be searched at this event. All information is available here.
Check out OFG's site for detailed information on their upcoming event, including their mission and sponsoring partners.
Cultural events like this get us really excited to wear our kilts. It's rare to go to truly inaugural events. It looks like OFG has been growing for a while, by the looks of their Facebook page. They seem to have had some other events and parties, some even with swag. This event is definitely one of the fancier events we have seen at Ozkilts in a while, though.
This is really the beginning of what seems to be a large movement in Australia for this TV show. Hopefully the actors will love it as much as we do. With any luck, we'll get them back for a second visit before too long.