Kilts are a surefire way to draw attention to your outfit, allowing you to stand out from the otherwise standardly dressed crowd. It all depends, of course, on the impact you want to achieve, the style and look you are aiming for, and the event you are attending.
No one can stop you from wearing a kilt confidently and in your own style. Dress it up for formal wear using the right accessories, or perhaps put in your own stamp to it to wear as a trendy, casual style.
Regardless if there is an occasion or not, a kilt does make you feel confident and proud about yourself, and there is no escaping the fact that it can be a vital part in any man's wardrobe.
Kilts for Spring, No Kidding!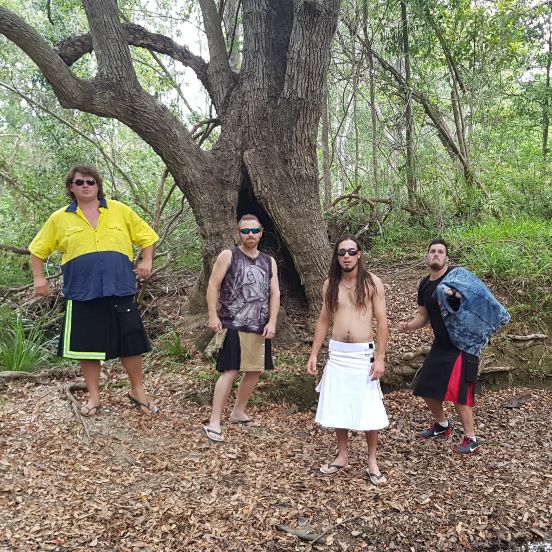 It is but natural to bundle up while the weather is cold. But it may seem a task on its own for people who love wearing kilts every day. But as the weather turns and gets warmer during spring, it's easier to don this fabulous piece of clothing and letting your legs breathe, most especially if you're going out to attend festivities such as festivals, concerts, or sporting events, just to name a few.
In wearing your regular pair of pants, warm to hot weather can be a pain sometimes, since your body heat permeates to your pant material and trap it around your legs. This makes it quite uncomfortable at times, especially when the temperature shoots up unexpectedly.
We do admit that there are men who would shy away from wearing kilts during spring, going into summer. This is especially true among those who choose to wear traditional kilts exclusively. Wool used in traditional kilts for the highlands can be quite heavy, making it unsuitable to be worn in warmer climates.
Thankfully, there is now a workaround to this by opting to wear modern utility kilts. Ozkilts® provide kilts made of premium grade stretch cotton and durable blends that is a perfectly suitable material to wear during warmer Australian spring days.
Look Cool and Feel Cool.
Ozkilts Utility Kilts are unique in its design and their construction keeps you cool and comfortable that you won't get by wearing your normal pair of pants or trousers. Certainly, you won't feel hot and heavy as when donning a traditional woollen kilt.
Cotton is a natural, breathable fabric that keeps the wearer cool even in shifts in temperature between warm and hot. Most certainly, they can be worn in any event or occasion, just because you feel like it. Like we said earlier, no one can stop you from wearing your kilt.
More so, they can easily be complemented with a shirt, jacket, and slap in some accessories for more formal events, and you're better than good to go.
Unrivalled Comfort and Appeal.
Let's face it, if you have never worn a kilt before, we can honestly guarantee that wearing one gives unrivalled comfort and freedom you have never experienced by wearing pants. One primary reason is that they do not cling to your skin that may leave your legs sweaty and irritated under warmer conditions. Just imagine this uncomfortable feeling during hot Australian summers.
Another plus factor of wearing a kilt for spring is the range of motion it provides compared to a pair of pants, even if they are loose fitting. A pair of pants can only go so much before it restricts your movement to the point they might even break if you push them too far. That can be quite embarrassing. No such danger wearing a kilt.
Additionally, this piece of clothing is akin to wearing a military uniform that lends an utterly masculine appeal to someone wearing it. The ruggedness of modern utility kilts attaches itself to the traditional factor brought about by traditional kilts.
In a way, this mix of old yet new, sort of traditional yet modern, exudes a sexy appeal.
Kilts are Versatile
If there is one piece of apparel we can consider a chameleon, we dare say that utility kilts are it. They can be worn as rugged as can be, at work, at play, leisurely, casually, and yes, semiformal and full on formal.
Ozkilts wide range and style of kilts are made for any occasion and can easily be worn as is or accessorised to fit in whichever function, activity or event you will be attending. In a more relaxed setting, you can wear our kilt with a pair of regular tees or shirts during the day, then, switch to a full dress shirt, with or without a jacket for the night, wearing the same kilt. How convenient is that?
A great thing about modern utility kilts is that they are always appropriate to wear. Adding a bit of accessories and appropriate shoes is all it takes to give you a smashing look that will turn heads.
A note of advice, always wear one with respect, and always wear it with pride.
Durabilty
The big advantage of modern utility kilts is their durability, at Ozkilts, we even have a line that can stand heat and resist fire for people working near sources of heat.
But even our line of standard kilts are durable enough that you need not worry getting them ripped or torn, especially if you are partying too hard or simply doing strenuous activities. This is one prime reason why our customers prefer wearing our kilts over any other type, regardless of the season.
To Conclude
Ozkilts Utility Kilts are designed for comfort. It is but natural for any man (or woman) to feel comfortable in whatever we wear during warmer temperatures. Rock your look beginning this spring and onwards. You'll soon find out and tell yourself, "Why haven't I done this sooner?"
If you haven't considered or tried wearing a kilt, there is no best time to try it out, but during spring. Go with the flow as life regrows in spring, and wear a kilt like you are a king.
Today is the perfect time to order your first pair of utility kilt from Ozkilts, and join the kilted clan. To make it headache free for you, we have several payment options available, plus, we provide free shipping for all orders.