Finding the perfect kilt look, though always not that easy, it is also not all that difficult. A great, well taken cared of kilt, will last you a long time. It can even potentially last you a lifetime.
The best news of all is that choosing a kilt means you are already on the right track. At Ozkilts®, we pride ourselves with offering a high quality range of utility kilts and accessories and a smooth ordering process, making it a fast and fun adventure in buying your quality kilt.
Although the utility kilt is a versatile piece of garment, anyone can have in their wardrobe, and it is appropriate wearing on in any occasion, be they be weddings, events, or for general day wear.
Creating The Look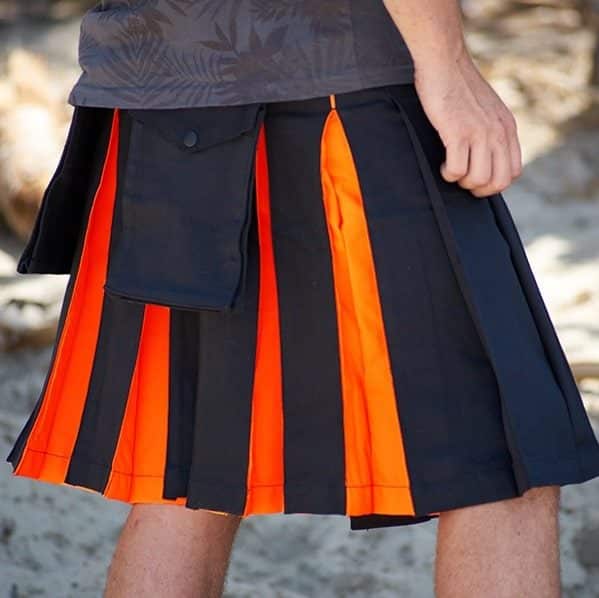 The first step to think about is exactly what are you going for. Are you going full formal, semiformal, or casual? Think about where you will wear your kilt.
The next thing to think about is checking what you already have in your closet that you'd want to wear with your kilt. If you will be attending a black-tie event, opt for a Prince Charlie Jacket and waistcoat instead of wearing a tuxedo jacket.
Perish the thought that a kilt can only be worn for formal events. The kilt is a garment that is suitable for wear for all seasons and occasions. You may even choose to wear it everyday doing all sorts of activities, the good thing about it is you'll be in total comfort and style.
With respect to the utility kilts, Gaelic origins, these modern interpretations are big and bold. Unlike pants, they draw attention.
Let us break it down to make it easier for you to start, shall we?
Casual
To be sprezzy and yet stylish, pair your kilt with a button-down shirt, a round-neck sweater, lovat-coloured kilt socks and boots or brogues. As for accessories, you can adapt any accessory you want. 
Semi-Formal
For any day-time event, go with a pale blue shirt and a neck tie. Add on a charcoal grey jacket with a matching waistcoat, lovat kilt socks and black brogues.
Formal
If you are looking for something a little smarter for a party, apart from what we already have spoken about above – do avoid cheap looking metalwork and go instead for dark brown leather. When worn formally, an excellent fashion sense will be good enough.
High quality and stylish utility kilts such as those from Ozkilts® are designed and hand made to fascinate users. A utility kilt adds glam to the fashion.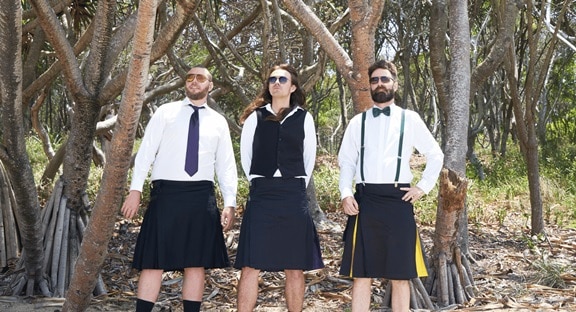 Utility Kilts are your best choice in modern times.
Utility kilts came on the scene beginning in the late 90s. These kilts are the current incarnation and version of old-fashioned kilts. They can now be had in several designs, with a distinct contrast and outlook to its vintage counterparts.
We at Ozkilts® offer a wide range of quality utility kilts with no compromises. If you are still not convinced, let's look at the advantages of wearing a utility kilt.
Unbeatable Comfort
The first and foremost quality of utility kilts is its comfort. Being comfortable in anything you wear lets you in to listen to what your body wishes without the distraction of feeling squeezed or out of breath.
Built for any Weather
Our wide range of high-quality of utility kilts are weather friendly. This means you can be fashionable and comfortable. We understand that it's quite a challenge in extreme Australian hot weather, for instance, but these kilts let you be bold yet stay in your charm.
They are Durable
When selecting material, we looked for extra than just its physical look. We wanted to provide value in the fabric's durability. So we are not only offering durable kilts made of 100% stretch cotton, but also fashionable ones which are able to complete your everyday look.
No Wallets, No Problem
Having pockets in your outfit is a literal game-changer. Having detachable pockets not only looks cool, but it's more purposeful. You'd be able to carry your cash, cards, pens, and what not. Detachable pockets are more stylish and can be a tool for your convenience as well.
Freedom of Movement
Ozkilts® Utility Kilts are the most comfortable kilts that you can wear anytime, anywhere. Utility kilts let you move with complete freedom. Wearing tight pants and formal dresses can be quite uncomfortable and can restrict movement. You can never go wrong with utility kilts.
Which one is right for me?
All our utility kilts are made with comfort and style in mind. It is no rocket science to add them to your wardrobe, and there are no complicated method on how to wear them properly.
Once you are familiar with its use, it will not take you long to consider it as your go-to-wear.
As for which one to choose, we are pleased to inform you that you can pick any that will suit your sense of style and fashion. All Ozkilts® Utility Kilts from our range has something for everyone.
Furthermore, we offer various payment options you can use to pay for your kilt. And to top it all off, we will ship your orders to you for FREE.
One thing we can guarantee is that you can never go wrong wearing an Ozkilts® Utility Kilt.