We've all been in Lockdown for far too long. It honestly felt like 2020 and the better part of 2021 was just a blur. It's still a bit far off, but there's a light at the end of this proverbial tunnel we are all in. Things are getting back to normal, slowly, and I mean very, very, slowly, going back to normalcy. Being a glass-half-full kind of guy I tend to look at the Brightside and when things get back to normal, and we are all up and about, we need to level up our party game.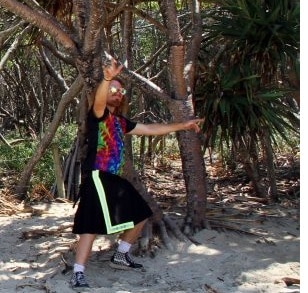 Let's be honest here. The party scene for the last year or so has been sketchy. Sure there were some parties and Festivals that still happened but the looming threat of a highly infectious disease is a definite mood killer. For those party people who elected to stay at home and let this pandemic pass, I'm sorry to say, but your party muscles have atrophied.  Your party game needs a performance boost. You'll need some help to stand out and shine brighter.
Enter our Rave Utility Kilt. To quote our product description, "The Rave kilt is like the Loki of Kilts. Why? Because it was designed for the Glorious Purpose of Standing out and to quote Rihanna "Shine Bright like a diamond. This kilt was made to be noticed.  The main attraction point for the Rave kilt is the Reflective Hi-Visibility Lime/Yellow Strip on the Apron.  You might be wondering "WHY!?!" and we'll say… Because it looks cool."
The Rave utility kilt was made to literally shine bright and attract attention. I mean, wearing a kilt is already eye-catching. Imagine wearing a Hi-Vis vest on your waist. This is basically a Hi-Vis vest in kilt form. It's the kilt form of "Hey, look at me!!!" Putting a reflective strip on the apron of our kilt just makes it even more eye-catching in more ways than one.
Aside from the totally captivating Hi-Vis strip on the apron, there are a number of reasons why The Rave utility kilt is an excellent choice for party wear.
WHY WEAR RAVE TO A FESTIVAL
1.  COMFY AF: Our Utility kilts are made from 100% Heavy-duty cotton. Cotton being a light natural fabric means our kilts are soft without being fragile, and it moves with you. No matter if you're in a mosh pit or showing off your moves on the dancefloor you won't be chafing and if your dance partner gets up close and personal than you'll be confident that you're wearing something soft.
2.  BREEZY WITHOUT BEING TOO CHILLY: You're out in the elements, be it in the grassy field of Coachella or in the desert ala Burning man if you're going to any outdoor event it can get uncomfortably warm, literally. This holds especially true in the daytime. At night, though, it can get cold, very cold.
The great thing about kilts is that the design itself is made to be breathable while keeping your body temp well regulated. During the warmer parts of the day, the kilt basically allows the air to circulate around your bits.
For the cooler times of the day, a kilt traps a pocket of warm air in there. You might be sceptical, but the kilt was developed in Scotland, and it gets properly cold there, think Alaska level cold in the highlands, during winter. Here's the thing. Unlike traditional skirts where if a gust of wind hits it, it tends to get blown up. (Think Marilyn Monroe), when this happens to a kilt it's designed to wrap up even more around your legs.
3.  UTILITY: It's a game-changer for keeping your stuff in. No need to faff around your bag to find something you need. That's one of the advantages of wearing pants is that you have pockets.
While traditional kilts have none. For storage, you need to wear a sporran. Well… good news! Utility kilts have cargo pockets in them. Our utility kits also come with Detachable cargo pockets. No more worrying about where to put your wallet or your phone when rocking out your kilt.
No more need to carry a Sporran as well (sporrans are still pretty kick-ass, though). Carry your wallet, your phone, medications (recreational or otherwise), and other paraphernalia. Your mask (can't be too careful). The utility of pants with the comfort of a kilt. It's a win-win situation.
4.  RUGGED: Our kilts just like what we said before are made of a hundred percent heavy-duty cotton. With the combination of our heavy-duty fabric, our knife pleat design that helps keep our kilts' shape, and our leather fastening system that gives the rave kilt a perfect fit.
Whatever strenuous activity you might be doing out there in that festival be it dancing (of different intensity levels), running from tent to watch your favourite acts, sitting on the grass or the sand (because honestly all that running from tent to tent can get super exhausting), standing in line for either a beer or food, trash at a mosh pit, or whatever else activity you find in the festival you are attending.
Our kilts can take whatever you throw at it, and you can expect it to stay in place and keep you comfortable while you're at it.  This is peak reliability right here.
5.  VERSATILITY: The thing with some Festival wear is that once the event is done, you can barely wear it outside anymore. Especially if we're talking about some high-concept outfits in Coachella and Burning Man.
The awesome thing with the rave kilt is that at the end of the day. It can be worn again and again to almost any event. Sure, it's flashy, I mean its headline feature is a reflective fluro strip in the very front of the apron. But aside from that, it's a normal article of clothing. You can wear it anywhere at any time and match it to your outfit since the kilt is primarily black, and it goes with pretty much anything.
6.  UNIQUENESS: Festivals are the event to express yourself. You can generally wear whatever you want (read the rules first, though). Sure, you can go balls to the wall with how wild you're willing to dress.
But almost nothing can beat a kilt. Kilts have now become a fashionable item without being too commonplace. A kilt retains was once a symbol for freedom, and in some sense it still is. Kilts nowadays are also a symbol of masculinity and uniqueness. Not being afraid of showing people who you are. Not being ashamed of defying social and fashion norms. A kilt is a symbol that you are unique.
So once everything is back to normal and Festivals, parties and concerts are back, and we can fully enjoy them without the looming spectre of the pandemic, raining on our parade, you can rock out and be seen even more in our Rave Utility kilts. Shine bright like the manly diamond you are with our Rave utility kilts. Check it out here and get yours now.