Have you ever thought about wearing your kilt out to the bar or pub? At Ozkilts, we think you certainly should give it a thought. Going out should be a lot of fun, every time. There's almost no better way to guarantee having fun than bringing a great conversation starter.
Kilts come in a huge variety. But utility kilts specifically are a great choice to wear to the bar or pub because they are so comfortable.
At the end of a long day, you should be able to relax at the bar and meet new people. It's hard to do that in a really tight pair of jeans. Not with kilts, though – they are the perfect icebreaker at a bar.
Choosing the Right Kilt
Depending on when you go, you might have better luck meeting the cheerful type at a bar if you wear the right thing. We think that on any given weeknight, whatever utility kilt you've got on is the thing to wear.
Unless you've got shop grease all over it, you should fit right in with everyone else. If you do have shop grease all over it, definitely wash it first.
If it's a weekend or date, you'll need something a bit dressier. Try an all-black piece like our Deluxe Utility Kilt. The Rave Utility Kilt is an exception to the dress-up rule that we think would work on the weekend, even though it's not exactly dressy. It has party written all over it.
Choosing the Right Bar
Of course, no kilt will make up for the wrong bar. We think that kilts should be worn to bars with exceptionally good music for maximum effect. We think that matching tastes is the key here. If you hate the music, your kilt might hate it too.
If you love the music, chances are that you will make friends who appreciate your kilt. More often than not, we find that tastes in clothing and music coincide. Our advice is to love the kilt you're wearing and go where you love the music for a night-out, match made in heaven.
Answering the Questions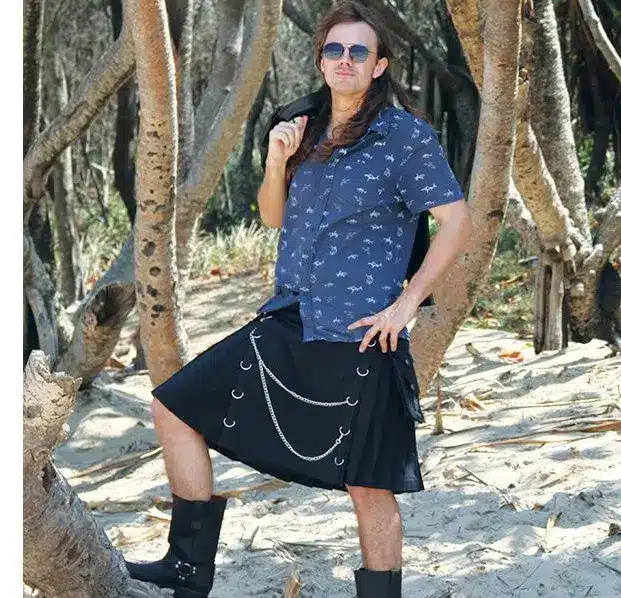 People love to talk about themselves at bars. But more than that, they love to ask people intense questions about their families. Doubt us? Wear your kilt out to any middle-weight bar. Count the questions. You'll see.
Questions like "Are you Scottish?" or "Are you Irish?" ad nauseam might change your mind about the bar you're in. Don't let it change your mind about the kilt! Practice gracefully building on the conversation until you get a really great banter going.
Keep hunting until you find a real gem of a bar to hang out at on the weekends. Find two or three or whatever your rotation preference is.
The more people see you in your kilt, the more they will be required to ask different questions. They can't ask you about your heritage all year!
Ozkilts offers several kilts online in 100 percent cotton. Our kilts are heavy in weight and wash well. Try one out on your next bar adventure.