Kilts have found a place in different modern-day culture, with kilt lovers wearing the garment as everyday wear. They use these graceful garments for work, with even corporate employees embracing it. Even international celebrities have endorsed this humble garment by making it a happening Red-Carpet fashion.
Conquering the fashion world in giant strides, the kilt has now moved to areas where only a few garments can make their presence felt – specialised workwear and festival wear. Fireproof kilts are now available for people in occupations that are prone to a fire hazard.
What Makes these Kilts Fire-Resistant?
The fabric of the kilt and use of fire-resistant treatments make all the difference. The Phoenix Kilt from Ozkilts is a fire-resistant kilt made of cotton, which is the fabric recommended in fire performing circles for its natural fire-resistant qualities.
This heavy-duty cotton fabric combined with the use of Box Pleats allows for less flare-up of the kilt during movement to make it safer in environments like fire performing where staff or poi could catch on the kilt. This kilt also makes use of detachable pockets so that you can remove your pockets as required during more energetic performances to avoid any hazard. This kilt is popular among fire performers and professionals working in fire-prone situations.
The fire-resistant treatment does not, however, translate into 100% fireproofing ability. It only means that the resistance of the kilt to fire and flames is several times higher than normal kilts. Avoid wearing a fireproof kilt in unbearably high temperatures.
Fireproof Kilts are Highly Convenient
With fireproof kilts, there is a greater range of movement. These garments do not cling to the body. With more room for movement, this kilt also makes for sweat-free clothing.
These kilts give you greater freedom of movement, which is highly practical if your work involves moving around most of the time.
In unfortunate cases of fire accidents, fireproof kilts increase the chances of survival, being that the natural cotton in the garment is quite resistant to catching fire. Also, by offering greater freedom of movement, they provide a greater opportunity to escape during such mishaps.
Fireproof Kilts are Practical
Fireproof kilts come with many practical features that make these garments fit for the job at hand.
The Phoenix, for example, comes with flexible side pleats, which give more room for manoeuvrability. There are large side pockets that you can use to carry your professional tools. And, if they affect your work, you can easily detach them!
Fireproof Kilts are Stylish Too
Whoever said work kilts have to be boring? Fireproof kilts are available in a variety of styles, colours and patterns.
The Phoenix, for example, is made of superior quality cotton, which in itself imparts a classic style to the garment. The garment is available in attractive colours including yellow and orange and jet black. It also features a Velcro fastening, which gives you a perfect fit every time.
A fireproof kilt is great as occupational wear as well as a stylish garment that you could try when you are considering something new.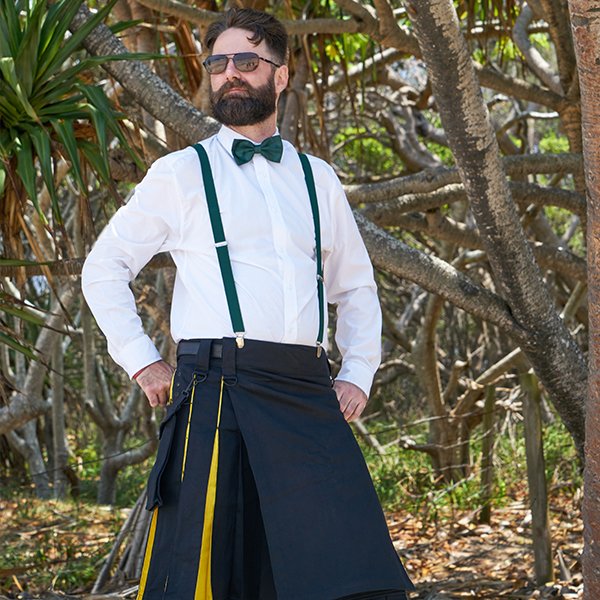 When you think of utility kilts, think of Ozkilts. Our fireproof kilts offer you ultimate comfort and satisfaction in terms of style, utility and safety. In fact, The Phoenix was bestowed upon the title of 'BEST THING IN LIFE' on the well-respected Life In a Kilt Podcast.