Much has been said about men wearing manly kilts in events, festivals, celebrations, or to simply make a fashion statement.
With the Australian summer already in full swing, Australian festivals and party season are also underway. This is the perfect time for men to consider wearing kilts this summer.
Most men would shy away from wearing kilts during summers as the fabric used for traditional kilts are quite heavy, making it unsuitable and unbearable to wear in a hot climate. But not anymore.
Wool, the traditional fabric used for kilts, is quite hot for the summers, but there is a workaround for this by using modern utility kilts, such as what we offer here at Ozkilts®. The most preferable fabric for kilts to wear during hot Australian summer days are those made of cotton. Ozkilts® Utility Kilts are made of 100% quality cotton stretch fabric and durable blends.
We will delve more on this, as we discuss five reasons why Utility Kilts are your perfect wear during summer festivals to rock that look even when it's crazy hot.
1.  Utility Kilts Can Keep You Cool.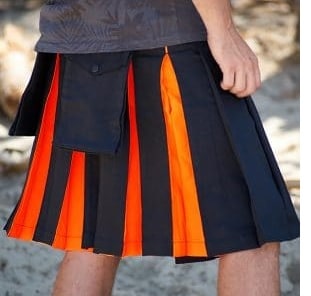 Because of its unique design and cotton construction, utility kilts can keep you cool and comfortable that you won't find or feel by wearing normal pants or traditional woollen kilts. Modern utility kilts can be worn in events and festivals, complemented with an appropriate shirt, jacket, and accessories.
Cotton is a lightweight and breathable fabric, that keeps you cool even in the sweltering summer heat. Apart from wearing utility kilts in festivals, you can wear them every day without getting drenched in sweat, unlike wearing traditional woollen kilts or normal pants that grasp your legs.
2.  Utility Kilts Provide Enhanced Comfort.
Many men choose to wear utility kilts casually as fashion attire as it is a very comfortable, and it also allows for adjustment for multiple sizing. Kilts are comfortable to wear and one of the best garments for summer because they do not cling to your skin that may leave you irritated and sweaty from sun exposure.
Wearing a kilt also gives you a greater range of motion than wearing trousers. Even if pants or trousers are loose-fitting, they can still, in a way, limits movement such as those requiring manual labour and there is a need to move around to get the job done.
Just imagine the freedom of movements you can do when you bust your moves during parades, in concerts, and festivals.
3.  Kilts are Trendy and Versatile.
The kilt is a versatile type of apparel that can be styled in various ways. You can spruce and shake up its look and boost your sense of style with the addition of various accessories and choosing various types of socks and shoes to go with the look you are going for.
Along with modern accessories and the choice of colours, a kilt can easily become a versatile and a stylish statement of your outfit. Additionally, depending on the effect you want to express and the look you're going for, kilts are a great way to draw attention to your outfit and make you stand out in the crowd.
One great thing about kilts is the fact that they are always appropriate to wear – you just have to accessorise it appropriately for any occasion, and pair it with appropriate shoes.
A kilt can fit into every style or outfit combination, and can be dressed up or down to fit any level of interaction. Even those who are fashion risk-takers can make wearing a kilt work, in combination with other apparel. Just make sure to accept it as a fierce part of a true masculine man's wardrobe, treat it with respect, and wear it with pride.
4.  Heightened Appeal.
Don't bite off our head, but men in kilts are sexier than your non-kilt wearing bloke. Like wearing a military uniform, this piece of clothing apparel lends an utterly raw male appeal to the one wearing it. It no wonder why heroes of romantic novels can send a woman's pulse racing.
The ruggedness of modern utility kilts, in addition, have a traditional factor that is attached to it. The mix of old and new, modern, and traditional, in itself is sexy.
Wearing one in public is a great icebreaker, that coming from an avid kilt wearer such as myself.
5.  Utility Kilts Are Durable.
With all the moving and partying you do at gatherings and festivals, it sure would be a big advantage that a utility kilt is the most durable of type of all modern kilts out there.
Wearing them as you party leaves your worries at bay about getting them torn or ripped apart. That is also the prime reason why many people prefer wearing Utility Kilts over any other type, especially during summers, of course.
To Conclude
It is but natural that we would want and need during summer is to feel cool and comfortable in whatever we wear, especially if we plan to attend summer festivals. Wearing kilts to the festivities such as what we offer here at Ozkilts®, is a good option as you'll find out, that wearing one doesn't cling to the skin, breathable, and breezy.
Now that you know the best type of kilt to wear this summer to rock your summer festival look, and you can even wear them to formal events without the feeling of irritation or discomfort.
If you haven't tried wearing a kilt, this summer is the perfect time to order your first pair and join the kilted clan. Try Ozkilts® today. And yes, we provide free shipping for all orders.